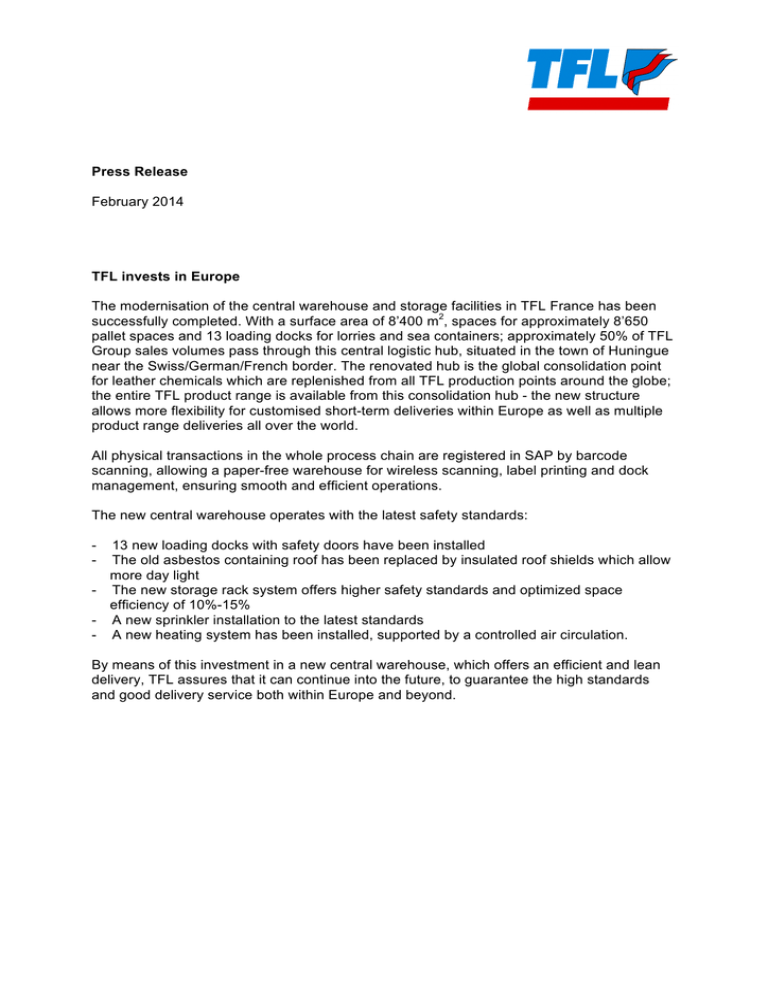 Press Release
February 2014
TFL invests in Europe
The modernisation of the central warehouse and storage facilities in TFL France has been
successfully completed. With a surface area of 8'400 m2, spaces for approximately 8'650
pallet spaces and 13 loading docks for lorries and sea containers; approximately 50% of TFL
Group sales volumes pass through this central logistic hub, situated in the town of Huningue
near the Swiss/German/French border. The renovated hub is the global consolidation point
for leather chemicals which are replenished from all TFL production points around the globe;
the entire TFL product range is available from this consolidation hub - the new structure
allows more flexibility for customised short-term deliveries within Europe as well as multiple
product range deliveries all over the world.
All physical transactions in the whole process chain are registered in SAP by barcode
scanning, allowing a paper-free warehouse for wireless scanning, label printing and dock
management, ensuring smooth and efficient operations.
The new central warehouse operates with the latest safety standards:
-
13 new loading docks with safety doors have been installed
The old asbestos containing roof has been replaced by insulated roof shields which allow
more day light
- The new storage rack system offers higher safety standards and optimized space
efficiency of 10%-15%
- A new sprinkler installation to the latest standards
- A new heating system has been installed, supported by a controlled air circulation.
By means of this investment in a new central warehouse, which offers an efficient and lean
delivery, TFL assures that it can continue into the future, to guarantee the high standards
and good delivery service both within Europe and beyond.