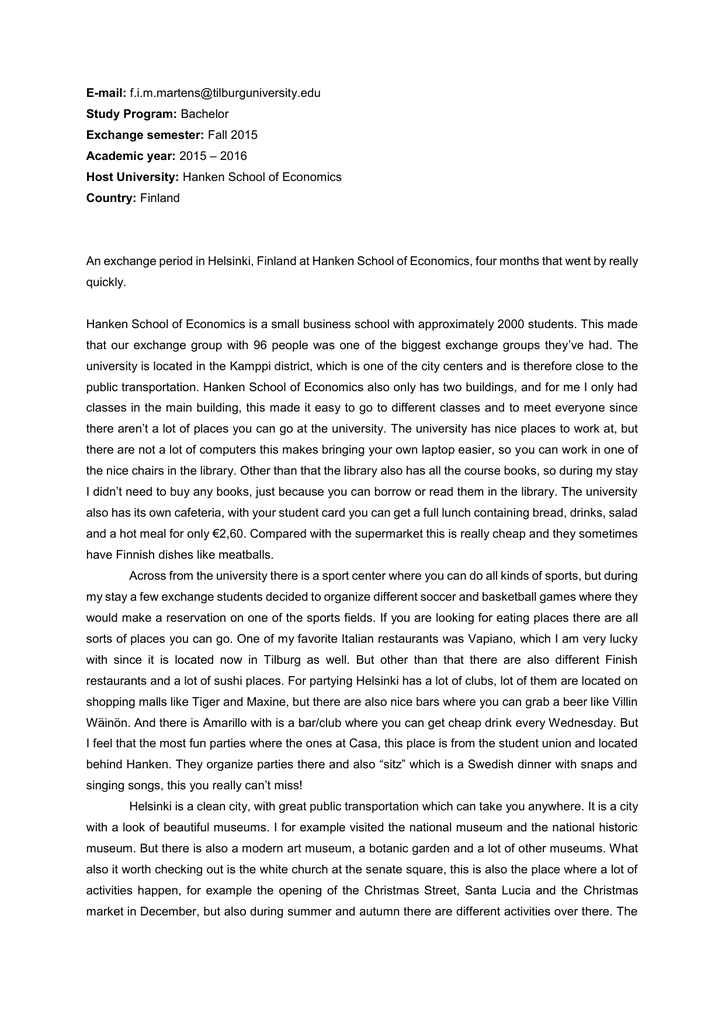 E-mail: [email protected]
Study Program: Bachelor
Exchange semester: Fall 2015
Academic year: 2015 – 2016
Host University: Hanken School of Economics
Country: Finland
An exchange period in Helsinki, Finland at Hanken School of Economics, four months that went by really
quickly.
Hanken School of Economics is a small business school with approximately 2000 students. This made
that our exchange group with 96 people was one of the biggest exchange groups they've had. The
university is located in the Kamppi district, which is one of the city centers and is therefore close to the
public transportation. Hanken School of Economics also only has two buildings, and for me I only had
classes in the main building, this made it easy to go to different classes and to meet everyone since
there aren't a lot of places you can go at the university. The university has nice places to work at, but
there are not a lot of computers this makes bringing your own laptop easier, so you can work in one of
the nice chairs in the library. Other than that the library also has all the course books, so during my stay
I didn't need to buy any books, just because you can borrow or read them in the library. The university
also has its own cafeteria, with your student card you can get a full lunch containing bread, drinks, salad
and a hot meal for only €2,60. Compared with the supermarket this is really cheap and they sometimes
have Finnish dishes like meatballs.
Across from the university there is a sport center where you can do all kinds of sports, but during
my stay a few exchange students decided to organize different soccer and basketball games where they
would make a reservation on one of the sports fields. If you are looking for eating places there are all
sorts of places you can go. One of my favorite Italian restaurants was Vapiano, which I am very lucky
with since it is located now in Tilburg as well. But other than that there are also different Finish
restaurants and a lot of sushi places. For partying Helsinki has a lot of clubs, lot of them are located on
shopping malls like Tiger and Maxine, but there are also nice bars where you can grab a beer like Villin
Wäinön. And there is Amarillo with is a bar/club where you can get cheap drink every Wednesday. But
I feel that the most fun parties where the ones at Casa, this place is from the student union and located
behind Hanken. They organize parties there and also "sitz" which is a Swedish dinner with snaps and
singing songs, this you really can't miss!
Helsinki is a clean city, with great public transportation which can take you anywhere. It is a city
with a look of beautiful museums. I for example visited the national museum and the national historic
museum. But there is also a modern art museum, a botanic garden and a lot of other museums. What
also it worth checking out is the white church at the senate square, this is also the place where a lot of
activities happen, for example the opening of the Christmas Street, Santa Lucia and the Christmas
market in December, but also during summer and autumn there are different activities over there. The
white church is not the only church, because close by there is the Russian church and near Hanken
there is also a cave church which is carved out of the rocks on which Helsinki is build. These are all
beautiful places to visit, but the ones I liked the most myself where the fortress Suomenlinna (Sveaborg
in Swedish) and Seurasaari which is an open air museum which is only open during spring and summer,
but which is also really nice to walk through without being able to look into all the Finnish houses there.
I felt that Helsinki wasn't really different from Tilburg, since Helsinki is also not that bit of a city
and the life people live over there felt quite the same than the life I live myself in Tilburg. The only
difference was that Hanken School of Economics is small compared to Tilburg University, but what I felt
was nice about that is that almost everyone knew each other. This gave me a bit the feeling I have with
the TSB where a lot of people from different studies also know each other.
As I mentioned before Hanken School of Economics is a business school and has great ties
with different big companies like EY and Deloite. During my stay there was for example a network day
where it was possible to talk with all the different organization they had ties with, but it was also possible
to meet up with an organization to do a CV check. This way as a student at Hanken you have a lot of
opportunities to network with big organizations not only on these events, but also during courses. During
the courses corporate sustainability and the organization and labour law, which I took there were
different guest lectures by people from within the work field. Other than that a nice aspect was that it
was also easy to reach teacher and you could do this in an informal way. It was even allowed to call
teachers by their first name. Hanken offers a range of different courses by which most are related to
organization and management, since it is a business school. My knowledge of these aspects was not
that great yet, but during the courses I took I got a better understanding of business.
Before departure pre-arrival information came quite late which was a bit stressful, but they assured me
that everything was arranged. I forgot my password for the site and wasn't therefore able to register for
the courses, but the mobility team was really helpful and managed to register me for the courses before
I arrived in Finland. Online you could register for the pickup service where a student from the exchange
committee picked you up from the airport and take you to your place of staying. I felt this was really nice,
since I got to know a few people already when I arrived and I knew I would arrive at my hotel safely.
I arrived on a Monday and on Wednesday the introduction started. At this event we got a lot of
practical information needed which was really nice. We could arrange our public transport card with a
discount and we met everyone from the exchange committee who were going to organize a lot of trips
for us. Other than that they organized a really nice bus tour around the city for us and a tour through the
university, so we all knew where to go if the courses would start. The exchange committee organized
our first get together that week, which helped us get to know everyone better and they also organized
our first sitz with an after party.
The administration was well prepared for our arrival, but I felt that the only downside was that
the student office where you could ask all you questions was only open in the mornings. But luckily for
Margareta, the exchange coordinator at Hanken was always available through mail, although it
sometimes took a while for her to answer.
Housing in Helsinki is something which is rather difficult. It is possible to apply for a HOAS
apartment, but you need to register from the first day you can register because you will be to late
otherwise. The housing from HOAS is really nice, they had renovated the apartments so everything was
brand new, but the downside is that one of the apartment buildings was 30 minutes by metro. I
unfortunately didn't get a HOAS apartment so I needed to find my own place. The university didn't really
help with this, but luckily there were different facebook pages where apartments were offered. So
eventually I shared a nice apartment with a French exchange student, which was only 2 kilometers from
Hanken and very close to the sea and Seurasaari, which was one of my favorite places.
Finland is more expensive than the Netherlands, but this was something I was already aware of
before I went to Finland. So in order to prepare myself I had saved up money from work and DUO, so I
knew I would be able to go on all the trips provided. I spend around €1000,- a month, but half of this
amount was paid on rent. Other than that I spend a lot of money on trips and activities on the trips. The
costs for these trips vary between approximately 70 euro to go on a daytrip to Tallinn and around 300
euro's to go Saint Petersburg (without any activities). Food and drinks are more expensive in Finland,
so I decided to go to Lidl instead of going to a K-market to save some costs on those expenses. Through
the university we could get our public transport card with a discount which made the public transport for
4 months only €100,- approximately. And at last I can really recommend getting a Finnish phone card
with unlimited internet. I feel that this is one of the only things which is a lot cheaper compared to the
Netherlands since unlimited internet only costed me €17,- a month.
As mentioned before Hanken has an exchange committee which organized different trips and
activities. This committee consists out of around 13 Hanken students, also known as the tutors and I
must say they are amazing people. You could ask them anything if you had a problem and they always
had some fun ideas to do. We were with a large exchange group, but we also were quite close so most
of the times when the exchange committee organized something everyone was there. One of the first
things we did together was visit the fortress of Suomenlinna which is a beautiful place just like all the
other trips we have done. The first day trip was Tallinn, a beautiful city in Estonia, which by boat is only
a few hours away. Second we went to Stockholm by boat as well, here we spend the night in a hostel
and since we were with so many exchange students we were even divided between two hostels.
Stockholm was also an amazing city, where we were able to do a lot of sightseeing and were we also
went to a Swedish club. The trip to Saint Petersburg, Russia was the third trip. Since we went there by
boat we could stay there for 72 hours without a visa. The exchange committee had organized activities
to see the amazing Hermitage, visit different cathedrals, see a ballet performance and even riding
around in a limousine. And at last they organized a trip to Levi in Finnish Lapland and I feel that this
was the most beautiful trip I have taken. Sledding with huskies and reindeers, seeing the Northern Light
and riding a snowmobile are things I will never forget. In between those amazing trips we met a lot as
exchange students at the university, but also because of the facebook page we had. If someone was
planning on going to the zoo everyone who felt like joining could join. Because of this I have seen so
much of the city of Helsinki and the surroundings, Espoo and Vantaa as well. We even went with a little
group of exchange student to the Fazer cholate factory.
As far as cultural differences I feel that Finnish and Dutch people live in quite the same way,
and do the same things. The only big difference I felt was that in Tilburg and also in the village I come
from it is quite normal if you pass someone on the street that you say hello to them and in Finland they
don't do this. They sometimes could also be a little bit rude for example pushing in a club or trying to
pass the line in a supermarket and I feel that in the Netherlands they don't really do this, especially
pushing in a club, they would say sorry here. But on the other hand if you would ask someone on the
street for help if you get lost or something they will always help you and be really kind. Another thing I
would like to mention is that during the cultural awareness module at Tilburg University they said that
we as Dutch people are really direct and that for example Finnish can be a bit shy. I felt that this was
not the case at all the tutors and also the other Finnish students were really interested in talking to you
an really kind always wanting to help and I felt that with the tutors since I know them better is that they
are also really direct. The same also counts for the other exchange students and I felt that I wasn't more
direct than the other students. Language wise I also didn't have any difficulties. Finnish people are really
good in English and since Hanken is a Swedish university and I took a Swedish course I eventually was
also able to understand the tutors when they were talking with each other in Swedish. Which I thought
was fun, since they most of the times didn't expect me to understand them. During the trips English was
also a language spoken really well by the Estonian and Swedish people, only in Russia language was
in issue since they don't speak any English over there.
As far I my personal development I have learned a lot from all the different nationalities and
backgrounds of all the exchange students and also the Finnish people. I always feel quite shy when I'm
with people I don't know well, but that changed a lot since I was there all by myself and in order to get
to know people you need to approach them yourself. I have also learned a lot from the courses I took
about business, negotiation processes and sustainability which I am grateful for since I didn't knew a lot
about that before I went on exchange. Looking at future career possibilities I feel that I have an
advantage since I know how to deal with different nationalities now and due to the courses I feel I have
a better view in how business works. The only negative thing I noticed with myself was that I was a bit
homesick at some point which didn't make me feel like doing anything at that time, but I am really glad
with the good friends I had over there to get me through that and eventually get me over my
homesickness. This was also thanks to my parents and friend coming over to visit me. I really opened
my eyes in how important family and friends are in one's life.
During my stay I have taken a lot of interesting courses. Most courses at Hanken are given in English
and otherwise they are given in Swedish, but they had a large range of courses you could take as an
exchange student. As mentioned before since Hanken is a Swedish school I decided instead of taking
a Finnish language course, which is a really difficult language, to take a Swedish course which was a
really nice course with different written and oral assignments which lead to me speaking quite a bit of
Swedish and understanding it even more. Other courses I took were "corporate sustainability" which
was a really nice course where there was a guest lecture every week. You also needed to hand in an
assignment every week, which made it a course with quite a high workload, but there wasn't an exam
in the end which leaded for me that I had one week of. I have learned a lot about sustainability from that
course and different issues that are going on in the world right now related to sustainability. The third
course I took was "managing negotiations". This course had a lecture and seminar every week and I
thought it was interesting due to the fact that we had to do our own negotiation every week with another
student. Due to this I also got to know different Finnish students, which was a lot of fun. And I think that
because of this course I am better at bargaining and negotiating different problems and what I want to
get out of these negotiations. I also took the course "international economics" since I knew my
knowledge about economics wasn't that big, because during my bachelor I only had one real economics
course. From this course I have gained a lot of knowledge about different economical models and I also
gained more knowledge about TTIP, with a group assignment, which is currently also in the news. And
at last I took the course "the corporation and labor law". I felt this was interesting since I'm doing HR
studies and therefor also have to deal with labor law, but this course turned out to be not as interesting
as I thought it would be. There were only 2 lectures and other than that everything was self-study and I
feel I don't really learn from self-study as much as I would have with lectures. There was also a big
assignment by which we didn't really get any guidance which also made it difficult. As far as the
academic level I feel that it is the same in Finland as in the Netherlands, but that Hanken made it more
practical with a lot more assignments. They also involve, with for example "corporate sustainability", the
business life which I found really interesting.
Eventually I did manage to pass all my courses, and even I even took an exam from a course
back in the Netherlands as well. So I am really glad with my academic achievements credit wise, but I
am also really happy with all the knowledge I gained from the interesting courses.
Course
5623-A Swedish
Prerequisites
None
Exam
Written/Oral
ECTS
3
3859 Corporate
Sustainability
Pre-assignment,
only a certain
amount of slots
available
None
8
22013 Managing
Negotiations
None
None
8
2645 International
Economics
37002 The
Corporation and
Labour Law
None
Written/
Assignment
Written/
Assignment
6
None
8
Comments
Easy language to learn
with different written and
oral assignments,
practical
Each week an
assignment with a
different interesting
topic, one group
negotiation, mix of
theory and practice
Every week a
negotiation which are
getting bigger every
week, really practical
Group assignment,
theoretical
Self-study course,
theoretical
To everyone who is reading this and is in doubt whether to go on exchange or not, DO IT! It has been
the most amazing experience in my life I had. I have had the opportunity to meet amazing people and
see amazing places, while taking courses at a really nice university. Helsinki is an amazing place to
spend while you are on exchange, because it has amazing nature, great and fun people, and it also
gives you the possibility to visit a lot of other beautiful countries as well. If you decide to go to Hanken,
be quick with registering for a HOAS apartment, so you don't need to search yourself and other than
that just let it happen and you will have an amazing time in Finland.
Oh and pack both you swimming suit and ski pants, because you might need both.