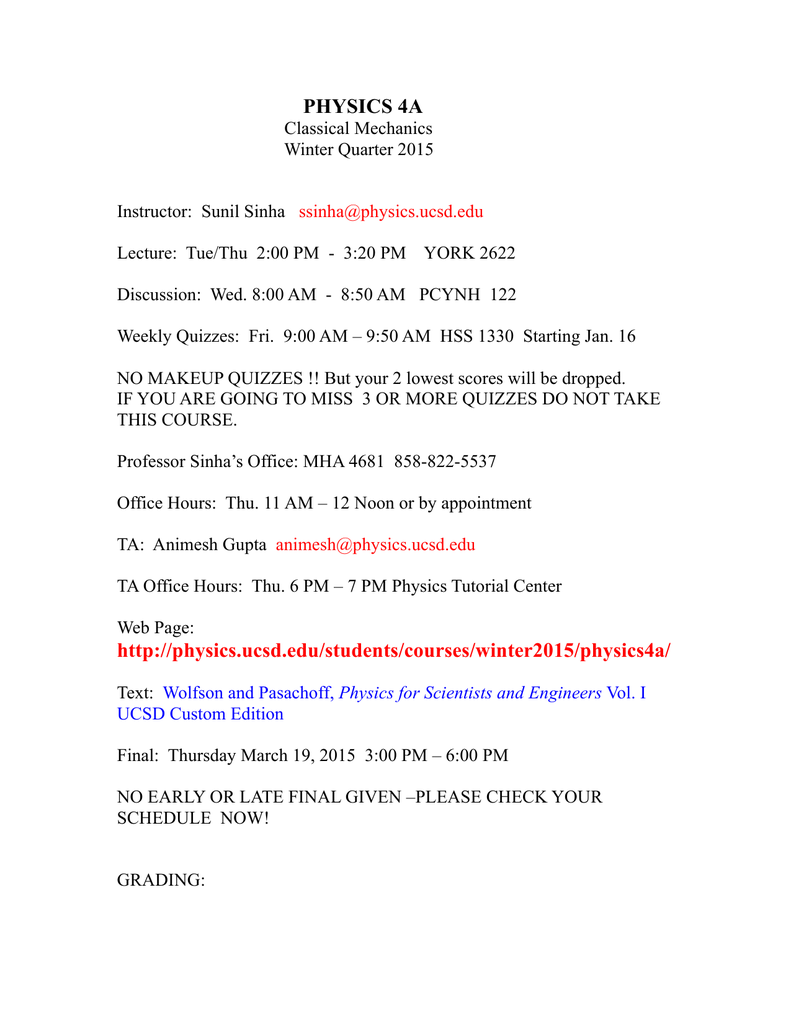 PHYSICS 4A
Classical Mechanics
Winter Quarter 2015
Instructor: Sunil Sinha [email protected]
Lecture: Tue/Thu 2:00 PM - 3:20 PM YORK 2622
Discussion: Wed. 8:00 AM - 8:50 AM PCYNH 122
Weekly Quizzes: Fri. 9:00 AM – 9:50 AM HSS 1330 Starting Jan. 16
NO MAKEUP QUIZZES !! But your 2 lowest scores will be dropped.
IF YOU ARE GOING TO MISS 3 OR MORE QUIZZES DO NOT TAKE
THIS COURSE.
Professor Sinha's Office: MHA 4681 858-822-5537
Office Hours: Thu. 11 AM – 12 Noon or by appointment
TA: Animesh Gupta [email protected]
TA Office Hours: Thu. 6 PM – 7 PM Physics Tutorial Center
Web Page:
http://physics.ucsd.edu/students/courses/winter2015/physics4a/
Text: Wolfson and Pasachoff, Physics for Scientists and Engineers Vol. I
UCSD Custom Edition
Final: Thursday March 19, 2015 3:00 PM – 6:00 PM
NO EARLY OR LATE FINAL GIVEN –PLEASE CHECK YOUR
SCHEDULE NOW!
GRADING:
Quizzes 60%; Final 40 %
Homework will be assigned weekly, but will not be collected or graded.
Solutions to odd-numbered problems are in the textbook supplement.
Answers to even-numbered problems will be posted.
The Quiz and Final Exam Problems will be of the same level of difficulty as
the Homework Problems, so the best way to prepare for them is to work all
the homework problems, preferably on your own.