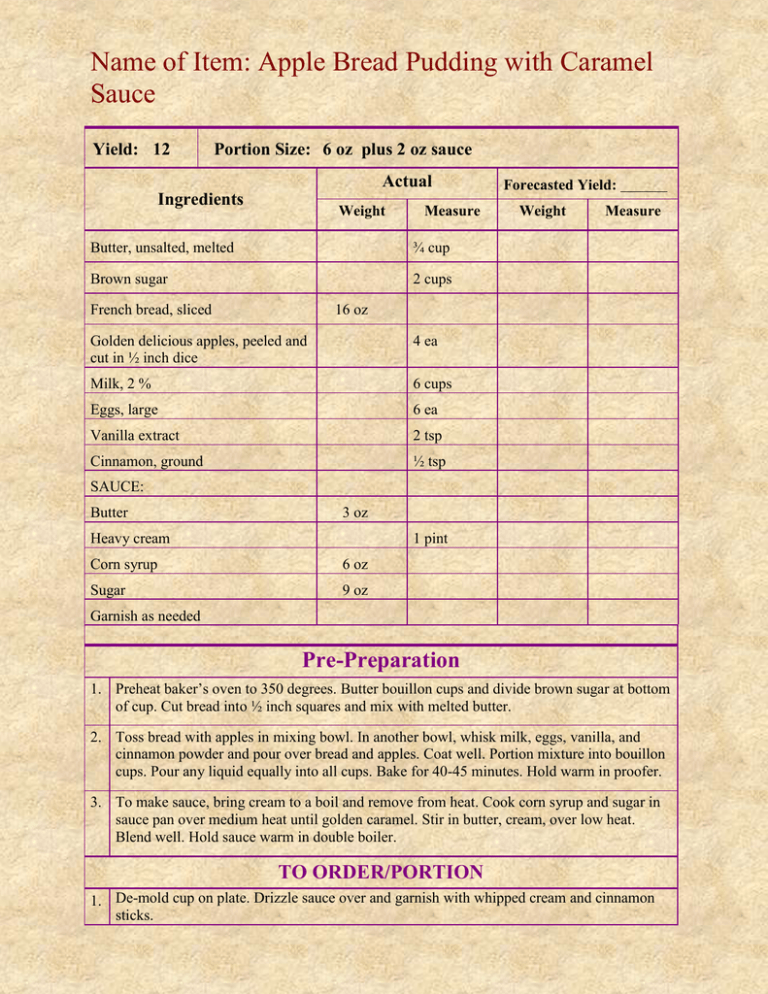 Name of Item: Apple Bread Pudding with Caramel
Sauce
Yield: 12
Portion Size: 6 oz plus 2 oz sauce
Actual
Ingredients
Weight
Measure
Butter, unsalted, melted
¾ cup
Brown sugar
2 cups
French bread, sliced
Forecasted Yield:
Weight
Measure
16 oz
Golden delicious apples, peeled and
cut in ½ inch dice
4 ea
Milk, 2 %
6 cups
Eggs, large
6 ea
Vanilla extract
2 tsp
Cinnamon, ground
½ tsp
SAUCE:
Butter
3 oz
Heavy cream
1 pint
Corn syrup
6 oz
Sugar
9 oz
Garnish as needed
Pre-Preparation
1. Preheat baker's oven to 350 degrees. Butter bouillon cups and divide brown sugar at bottom
of cup. Cut bread into ½ inch squares and mix with melted butter.
2. Toss bread with apples in mixing bowl. In another bowl, whisk milk, eggs, vanilla, and
cinnamon powder and pour over bread and apples. Coat well. Portion mixture into bouillon
cups. Pour any liquid equally into all cups. Bake for 40-45 minutes. Hold warm in proofer.
3. To make sauce, bring cream to a boil and remove from heat. Cook corn syrup and sugar in
sauce pan over medium heat until golden caramel. Stir in butter, cream, over low heat.
Blend well. Hold sauce warm in double boiler.
TO ORDER/PORTION
1. De-mold cup on plate. Drizzle sauce over and garnish with whipped cream and cinnamon
sticks.