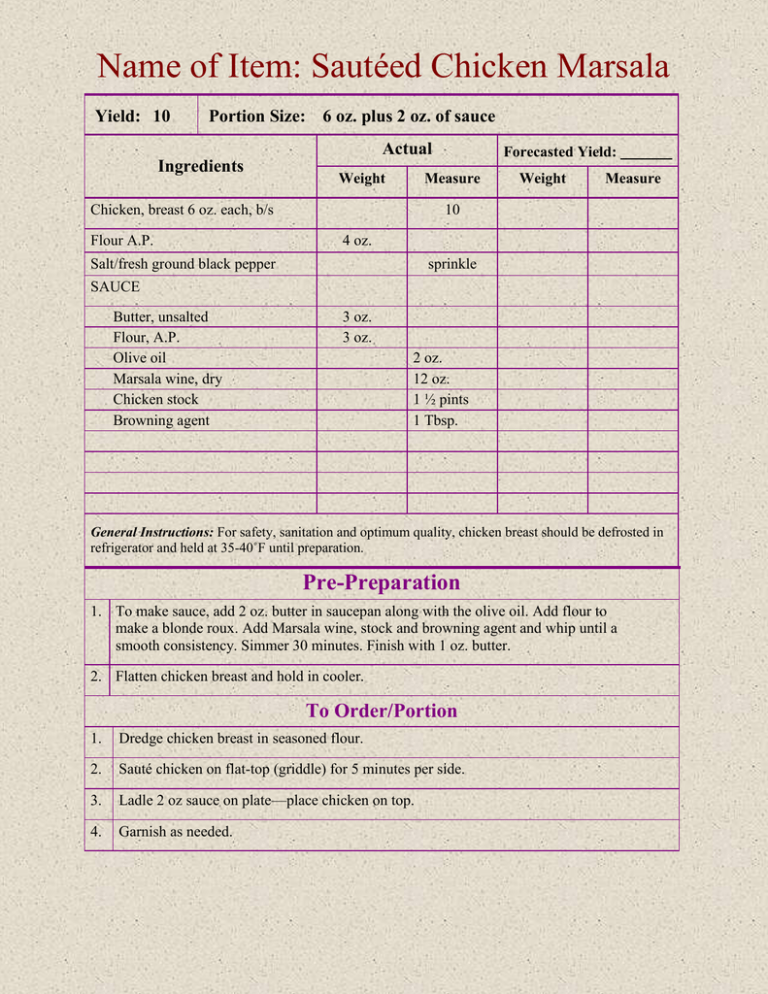 Name of Item: Sautéed Chicken Marsala
Yield: 10
Portion Size: 6 oz. plus 2 oz. of sauce
Actual
Ingredients
Weight
Measure
Chicken, breast 6 oz. each, b/s
Flour A.P.
Forecasted Yield:
Weight
Measure
10
4 oz.
Salt/fresh ground black pepper
sprinkle
SAUCE
Butter, unsalted
Flour, A.P.
Olive oil
Marsala wine, dry
Chicken stock
Browning agent
3 oz.
3 oz.
2 oz.
12 oz.
1 ½ pints
1 Tbsp.
General Instructions: For safety, sanitation and optimum quality, chicken breast should be defrosted in
refrigerator and held at 35-40˚F until preparation.
Pre-Preparation
1. To make sauce, add 2 oz. butter in saucepan along with the olive oil. Add flour to
make a blonde roux. Add Marsala wine, stock and browning agent and whip until a
smooth consistency. Simmer 30 minutes. Finish with 1 oz. butter.
2. Flatten chicken breast and hold in cooler.
To Order/Portion
1.
Dredge chicken breast in seasoned flour.
2.
Sauté chicken on flat-top (griddle) for 5 minutes per side.
3.
Ladle 2 oz sauce on plate—place chicken on top.
4.
Garnish as needed.