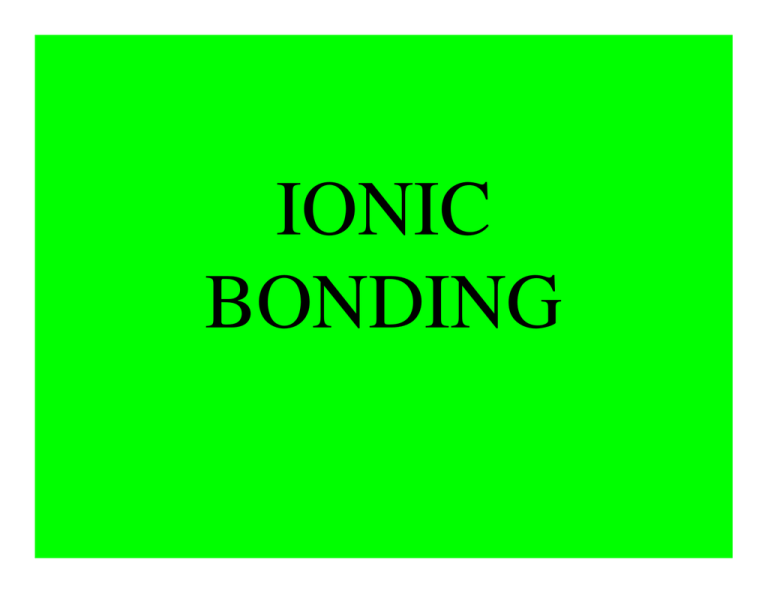 IONIC
BONDING
I. FORMATION OF
IONIC
COMPOUNDS
A. FORMED BY ONE
ATOM LOSING AN
ELECTRON AND
ANOTHER ATOM
GAINING AN ELECTRON.
II. CHARACTERISTICS
OF IONIC BONDING
A. IONS MINIMIZE THEIR
POTENTIAL ENERGY BY
FORMING CRYSTAL LATTICE
STRUCTURES
B. THERE ARE DIFFERENT
CRYSTAL LATTICE STRUCTURES
III. POLYATOMIC
IONS
A.A CHARGED GROUP OF
COVALENTLY BONDED
ATOMS
METALLIC
BONDING
I. THE METALLIC
BOND MODEL
A. METALS
GENERALLY HAVE
VERY FEW
ELECTRONS IN THEIR
OUTER LEVELS
B. THE VACANT
ORBITALS OVERLAP
WITHIN A METAL.
C. THIS ALLOWS
ELECTRONS TO
ROAM FREELY
BETWEEN ATOMS.
D. THESE FREELY ROAMING
ELECTRONS ARE KNOWN
AS DELOCALIZED
ELECTRONS.
E. THEY BECOME A SEA OF
ELECTRONS THAT
SURROUNDS THE METAL
ATOMS IN A TIGHTLY
PACKED LATTICE.
F. DEFINITION OF
METALLIC BONDING
1. THE CHEMICAL BONDING
THAT RESULTS FROM THE
ATTRACTION BETWEEN
METAL ATOMS AND THE
SURROUNDING SEA OF
ELECTRONS.
G. METALLIC
PROPERTIES
1. BECAUSE ELECTRONS ARE
DELOCALIZED AND MOBILE,
THEY CAN MOVE FROM ONE
NUCLEUS TO ANOTHER. THIS
ACCOUNTS FOR THERMAL
AND ELECTRICAL
CONDUCTIVITY.
2. THE LUSTER OF METALS
IS CAUSED BY THE
EMISSION OF PHOTONS
WHEN EXCITED
ELECTRONS RETURN TO
THE GROUND STATE.
REMEMBER THE
PHOTOELECTRIC EFFECT?
3. DUCTILITY AND
MALLEABILITY ARE
POSSIBLE BECAUSE
METALLIC BONDING
IS THE SAME IN ALL
DIRECTIONS.
H. METALLIC BOND
STRENGTH
1. CAN BE DETERMINED FROM
THE HEAT OF VAPORIZATION
OR THE AMOUNT OF HEAT
REQUIRED TO VAPORIZE A
METAL.