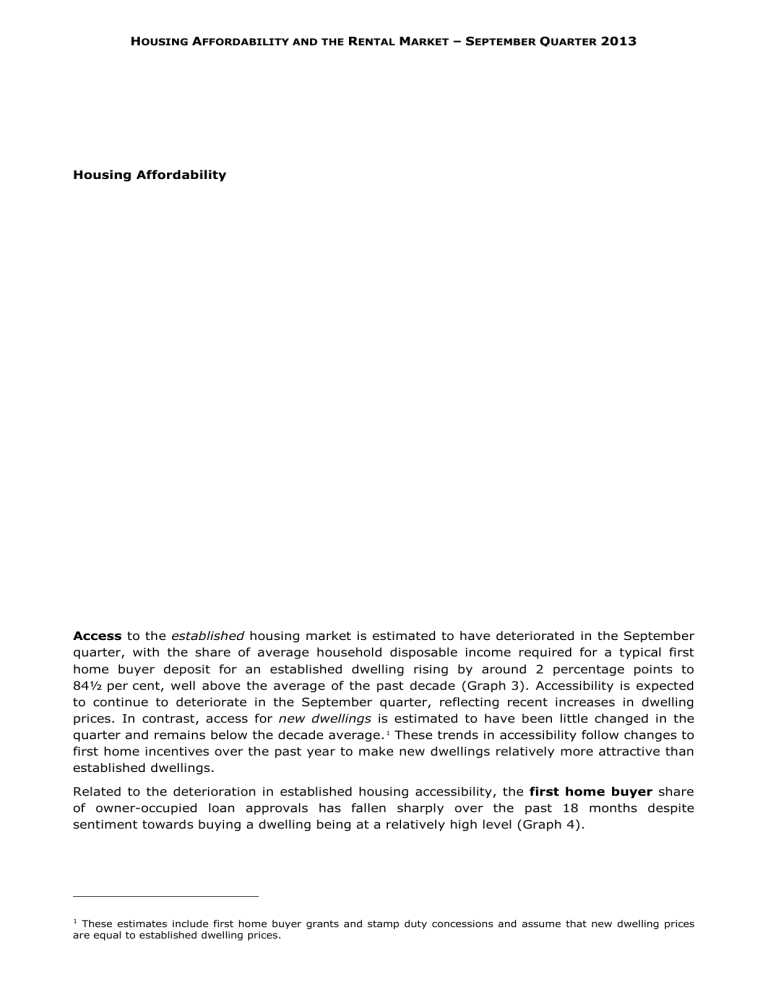 H OUSING A FFORDABILITY AND THE R ENTAL M ARKET – S EPTEMBER Q UARTER 2013
Housing Affordability
Access to the established housing market is estimated to have deteriorated in the September quarter, with the share of average household disposable income required for a typical first home buyer deposit for an established dwelling rising by around 2 percentage points to
84½ per cent, well above the average of the past decade (Graph 3). Accessibility is expected to continue to deteriorate in the September quarter, reflecting recent increases in dwelling prices. In contrast, access for new dwellings is estimated to have been little changed in the quarter and remains below the decade average.
1 These trends in accessibility follow changes to first home incentives over the past year to make new dwellings relatively more attractive than established dwellings.
Related to the deterioration in established housing accessibility, the first home buyer share of owner-occupied loan approvals has fallen sharply over the past 18 months despite sentiment towards buying a dwelling being at a relatively high level (Graph 4).
1 These estimates include first home buyer grants and stamp duty concessions and assume that new dwelling prices are equal to established dwelling prices.
Economic Analysis Department
16 December 2013