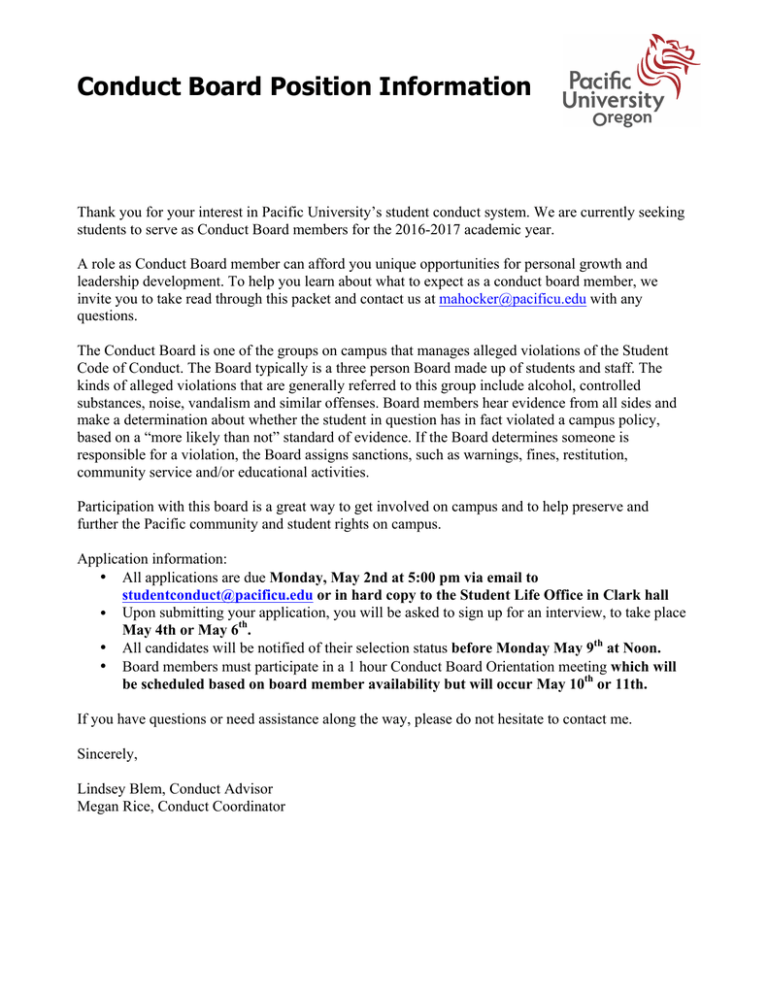 Conduct Board Position Information
Thank you for your interest in Pacific University's student conduct system. We are currently seeking
students to serve as Conduct Board members for the 2016-2017 academic year.
A role as Conduct Board member can afford you unique opportunities for personal growth and
leadership development. To help you learn about what to expect as a conduct board member, we
invite you to take read through this packet and contact us at mahocker@pacificu.edu with any
questions.
The Conduct Board is one of the groups on campus that manages alleged violations of the Student
Code of Conduct. The Board typically is a three person Board made up of students and staff. The
kinds of alleged violations that are generally referred to this group include alcohol, controlled
substances, noise, vandalism and similar offenses. Board members hear evidence from all sides and
make a determination about whether the student in question has in fact violated a campus policy,
based on a "more likely than not" standard of evidence. If the Board determines someone is
responsible for a violation, the Board assigns sanctions, such as warnings, fines, restitution,
community service and/or educational activities.
Participation with this board is a great way to get involved on campus and to help preserve and
further the Pacific community and student rights on campus.
Application information:
• All applications are due Monday, May 2nd at 5:00 pm via email to
studentconduct@pacificu.edu or in hard copy to the Student Life Office in Clark hall
• Upon submitting your application, you will be asked to sign up for an interview, to take place
May 4th or May 6th.
• All candidates will be notified of their selection status before Monday May 9th at Noon.
• Board members must participate in a 1 hour Conduct Board Orientation meeting which will
be scheduled based on board member availability but will occur May 10th or 11th.
If you have questions or need assistance along the way, please do not hesitate to contact me.
Sincerely,
Lindsey Blem, Conduct Advisor
Megan Rice, Conduct Coordinator
Conduct Board Position
Information and Qualifications
Successful applicants for the Conduct Hearing Officer position will:
• Be a current or incoming (Fall 2016) Pacific University student. First year, Transfer and
Graduate level students are encouraged to apply
• Be in, and/or remain in good standing with the University (including but no limited to the
areas of student conduct, academics, and business office)
• Have or maintain a 2.25 GPA
How will being a Conduct Board officer benefit me?
• Board members will receive modest, non-Work-Study compensation for their time.
• You will work alongside professional staff from various areas of campus
• You will have the potential to gain marketable job skills in the following areas:
o Working with confidential materials and maintaining confidentiality
o Displaying professionalism and objectivity
o Understanding how policies shape an organization
o Participation in group communication and decision making
o Learning guidelines for making ethical decisions
o The ability to understand and explain the rationale for policies
While students pursuing any major are encouraged to apply, serving on the Conduct Board could be
especially relatable to those pursuing: Criminal Justice, Law and Society, Education, Social Work,
Politics and Government, and Business Administration
Here is what former and current board members have to say:
"As a conduct board member I have learned a lot of skills that not only pertain to the working world but as well as the
social aspects of life. As a conduct board member you have to learn to make tough decisions that affect other people's
lives. Possessing that skill will help you make tough decisions in the work place as well as in your life." -Nicole George
'16, Environmental Studies, Politics & Government
"Being part of the conduct board taught me the importance of communicating and reasoning. When I interviewed with my
potential managers, they were impressed and especially emphasized the value of communication in any team." Alexandrea Beh '15, Biology
"I gained experience working within a confidential setting and improved my professional skills by holding organized
student conduct hearings." -Ashley Silva '16, Biology,
"I learned guidelines for making ethical decisions, and I also learned how to explain the rationale behind those decisions.
Putting this on my resume shows companies that I am trustworthy and capable of resolving conflicts in a constructive
way." –Alexandrea Beh '15, Biology
"I learned a lot about patience and people skills. Working face to face with often frustrated students helped me work on
remaining calm during tense situations and gave me more confidence when speaking with people." –Ashley Silva '16,
Biology
Conduct Board
Ethics and Standards
All Conduct Board members must abide by the following ethical and procedural standards:
Confidentiality
I understand that individuals' education records are
classified and protected by federal law. The nature,
content, status, and outcome of conduct hearings are part
of an individual's educational record. I will keep all such
matters confidential and will not release such information
to anyone who is not authorized to receive it by law. I
understand that my oath of confidentiality is permanent
and does not terminate when my association with the
Board of Pacific University ends.
Bias and Conflict of Interest
I understand that the adjudication of conduct complaints
requires a fair and unbiased decision-making process. I
will strive to be aware of my own biases and conflicts of
interest. I agree to remove myself from a hearing upon
discovery that a bias of a conflict of interest exists. I will
avoid circumstances that may lessen the real or perceived
objectivity of the board.
Conduct Authority
I understand that the Board has the duty to dispose charges
under University Policies. As a member of the Board, I
accept the responsibility to execute this duty by upholding
University policies without regard for my various personal
dictates.
Due Process
I understand that conduct complaints must be adjudicated
within the bounds of due process, which include standards
of proof and evidence. I will strive to conduct my behavior
and my decision-making during hearings within these
parameters.
Integrity of the Board and Process
I acknowledge and accept that my conduct as a private
person bears upon the integrity of the board and my
perceived and real ability to sit in judgment upon my
peers. I will demonstrate concern for the legal and ethical
expectations of my community and strive to conduct
myself in accord with legal and ethical expectations.
I agree that once the Board has deliberated and decided, I
will regard the decision as that of the whole Board. I will
support the Board positively or resign my position if I find
that I am unable to do so. I will clearly distinguish between
statements that represent my personal view and those that
represent the view of the Board.
Timeliness
• Board members are expected to arrive at least 15
minutes before the hearing start time in order to
properly prepare for the hearing.
• Board members are expected to attend all hearings
they are scheduled to hear. If a member cannot
attend the hearing, the member shall secure a
replacement from the pool of board members.
Respect, Courtesy, and Decorum
Ultimately, Respondents and Complaints should feel
as though the Board took them seriously and
considered matters fairly and thoroughly.
• Board members are expected to treat all members,
Respondents, Complainants, and witnesses with
respect and courtesy. Board members should refrain
from demeaning participants. Questions should be
asked in a non-condescending and un-accusatory
fashion.
• Board members are expected to attend hearings in
attire that is fitting the task at hand. There is not a
specific dress code; members are encouraged to use
good judgment.
• Board members are to create an attentive presence.
Members should demonstrate that they are listening
to participants by their eye contact and posture.
Participation
• Board members are expected to participate in the
decision-making process by sharing their opinion
with other board members, even if they are in the
majority.
• Board members should request voting by secret
ballot if they feel it is necessary.
• Board members are expected to ask questions of
respondents, complainants, and witnesses whenever
appropriate or necessary.
• Board members are expected to assist in the smooth
operation of hearings. They may be required
occasionally serve as chair or help with other
functions.
• Board members are required to attend a Fall and
mid-year training session provided by the Conduct
Advisor at a date to be determined.
Conduct Board Application
Page 1 of 2
Part 1 - Personal Information
Last Name:
Boxer ID#:
First Name:
UC Box:
E-mail:
Middle Initial:
Cell/Local Phone #:
@pacificu.edu
Part 2 - Academic Information
Anticipated graduation date:
Last Term GPA:
Major(s):
Minor(s):
Cumulative GPA:
Part 3 – Conduct History
1.
Have you ever been found in violation of Pacific's Student Code of Conduct? (circle one)
yes
no
2.
Are you currently on academic warning or probation?
(circle one)
yes
no
3.
Have you ever been convicted of a felony?
(circle one)
yes
no
If you answered "yes" to any of these questions, please attach an explanation of the situation and what you learned.
Part 4 – Resume
Please attach a copy of your resume. Include employment experience, unpaid leadership/volunteer experiences, and
relevant skills. *For helpful information on creating a resume, contact the Career Development Center in Chapman Hall.
Part 5 – Responses
Please respond to all of the following questions on separate sheets of paper. Please place your name on the top of each
page, in case the pages are separated when they are reviewed. There is no length requirement for the questions;
however, we have provided some guidance on length. Please also note that college-level writing is expected.
1.
Please include weekly class and commitments schedule, in calendar format, for Fall 2016. Most hearings take
place M-F during business hours and Board members are assigned certain time blocks for hearings.
2.
After reading the description of the position, please describe why you would like to be member of the Conduct
Board. Also discuss at least two of your strengths and two areas of challenge as they relate to the areas of
responsibility outlined in the description (1-2 pages).
3.
How do you define a healthy community? Reflecting on the Pacific community, what do you see as the strengths
and areas of challenge of this community? How would your work as a member of the Conduct Board impact the
Pacific community? (1 page).
Part 6 – References
Please provide the names and contact information for two references who can speak to your ability to fulfill the
requirements of this position. References may not be from an immediate family member.
First reference
Name:
Phone:
Second reference (if applicable)
Name:
Phone:
(continued on next page)
Relationship To You:
E-mail:
Relationship To You:
E-mail (if available):
Conduct Board Officer Application
Department of Residence Life
Page 2 of 2
Part 7 – Signature, Consent, and Release
I hereby grant the Student Conduct Board Selection Committee license to verify and investigate the information I have provided about my
educational and conduct records at Pacific University with any University office that holds such records. I consent to the release of this
information to the selection committee(s) listed above for the purpose of considering my application to be a staff member. I understand
that the selection committees may include students and/or University staff.
I attest all of the information that I have provided in this application is true and complete to the best of my knowledge. I understand that
if I have provided false or misleading information, my application will be rendered null and void and my employment terminated. I certify
that I am a continuing student at Pacific University and that I am in good academic, financial, and disciplinary standing with the University
and do not currently have any cases pending against me. I know of no reason why I would be ineligible to hold the position(s) for which I
am applying. I attest that I have completed this application of my own free will. I have read the position description(s) for the position(s)
I am seeking and I have the ability and the want to fulfill the duties and responsibilities described therein.
Signature:
Date:
All application materials (this form, resume, essays) are due to Student Life by Monday, May 2nd,
2016, 5pm. Upon submitting your application, you will be asked to sign up for an interview, to take place
May 4th or May 6th.
If you have any questions please do not hesitate to contact Megan Rice at mahocker@pacificu.edu.