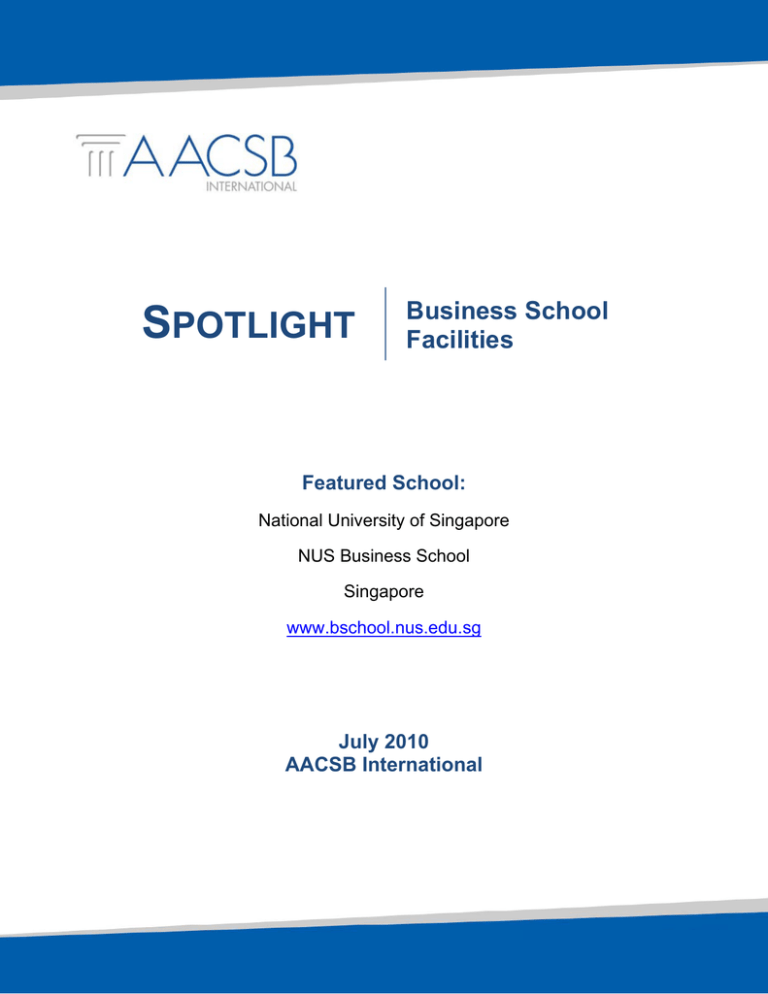 SPOTLIGHT
Business School
Facilities
Featured School:
National University of Singapore
NUS Business School
Singapore
www.bschool.nus.edu.sg
July 2010
AACSB International
SPOTLIGHT | Business School Facilities
National University of Singapore | 2
Mochtar Riady Building
Construction began: November 2007
Open for Business: December 2009
Size: 16,800 m2
Floors: 9
Cost: S$ 65 million
Architectural Firm: Professor Philip Cox of Australia's Cox Group, and the Singaporean firm Design
Environment Group Architect
More Information: http://bschool.nus.edu.sg/AboutUs/NewMochtarRiadyBuilding.aspx
Offices: 154 faculty offices, 11 department chair/director offices, 15 administrative support offices, 9
meeting rooms, 8 interactive rooms for faculty discussions, 7 Dean's offices, 1 Board Room, Career
Service Assessment Centre, Career Resource Centre
Classrooms: 8 executive education breakout rooms, 7 executive education classrooms, 6 undergrad and
5 graduate case-study rooms, 2 research seminar rooms, 1 EMBA classroom, CAMRI Trading Lab
Other: 13 kitchenettes, 8 storage rooms, 3 lounges (student, EMBA, and executive), 3 Career Services
interview rooms, 3 Function Rooms, Document Services Room (faculty), breakout areas for students, 5story 472 m2 atrium, 241 m2 courtyard, 186 m2 café, 20-lot car park. Wireless internet access equipped
for the building and Conferencing Facility.
© AACSB International. All Rights Reserved.