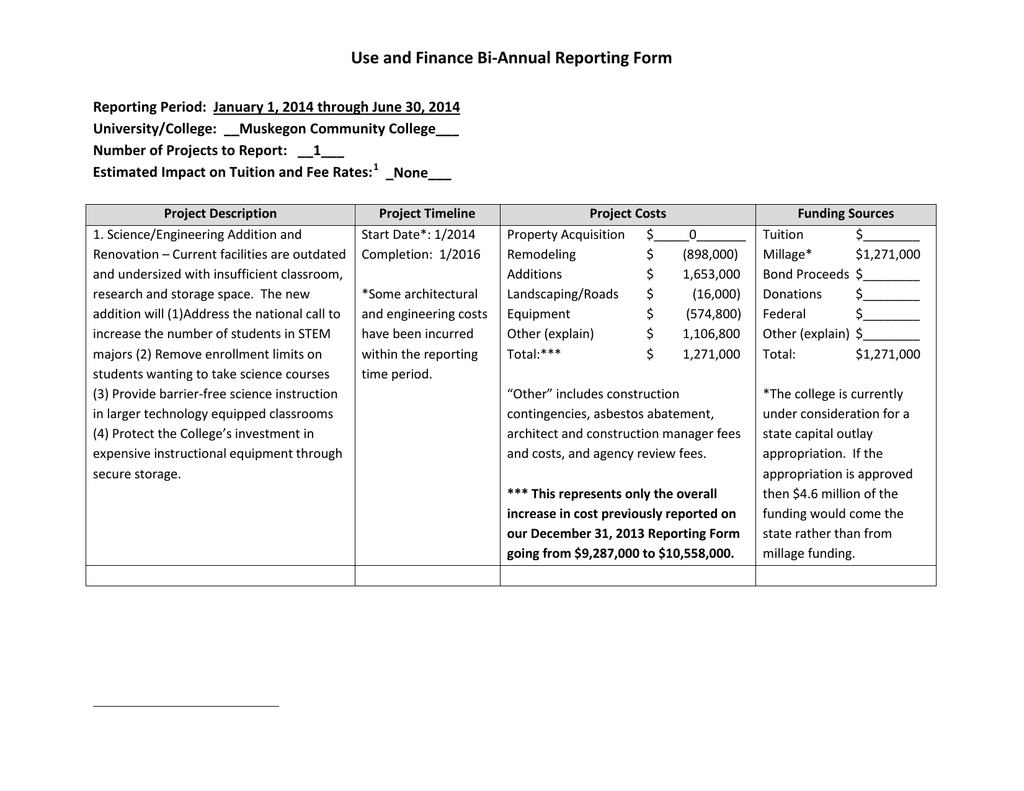 Use and Finance Bi-Annual Reporting Form
Reporting Period: January 1, 2014 through June 30, 2014
University/College: __Muskegon Community College___
Number of Projects to Report: __1___
Estimated Impact on Tuition and Fee Rates: 1 _None___
Project Description
1. Science/Engineering Addition and
Renovation – Current facilities are outdated
and undersized with insufficient classroom,
research and storage space. The new
addition will (1)Address the national call to
increase the number of students in STEM
majors (2) Remove enrollment limits on
students wanting to take science courses
(3) Provide barrier-free science instruction
in larger technology equipped classrooms
(4) Protect the College's investment in
expensive instructional equipment through
secure storage.
Project Timeline
Start Date*: 1/2014
Completion: 1/2016
*Some architectural
and engineering costs
have been incurred
within the reporting
time period.
Project Costs
Property Acquisition
$_____0_______
Remodeling
$
(898,000)
Additions
$
1,653,000
Landscaping/Roads
$
(16,000)
Equipment
$
(574,800)
Other (explain)
$
1,106,800
Total:***
$
1,271,000
Funding Sources
Tuition
$________
Millage*
$1,271,000
Bond Proceeds $________
Donations
$________
Federal
$________
Other (explain) $________
Total:
$1,271,000
"Other" includes construction
contingencies, asbestos abatement,
architect and construction manager fees
and costs, and agency review fees.
*The college is currently
under consideration for a
state capital outlay
appropriation. If the
appropriation is approved
then $4.6 million of the
funding would come the
state rather than from
millage funding.
*** This represents only the overall
increase in cost previously reported on
our December 31, 2013 Reporting Form
going from $9,287,000 to $10,558,000.