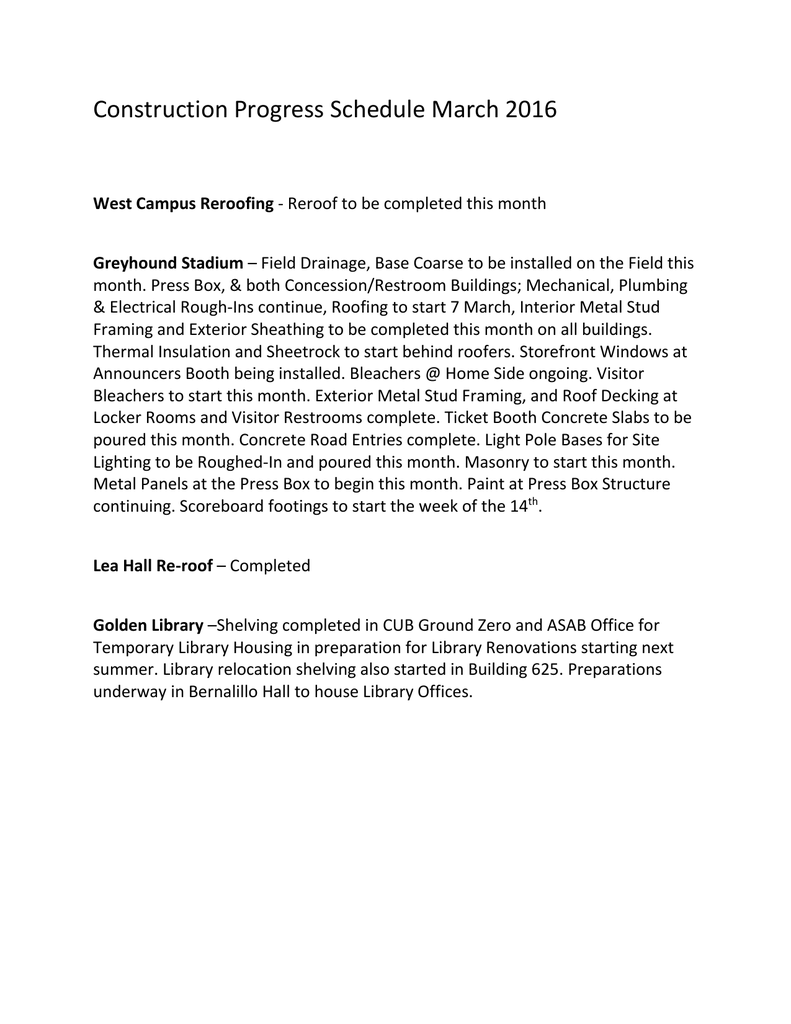 Construction Progress Schedule March 2016
West Campus Reroofing - Reroof to be completed this month
Greyhound Stadium – Field Drainage, Base Coarse to be installed on the Field this
month. Press Box, & both Concession/Restroom Buildings; Mechanical, Plumbing
& Electrical Rough-Ins continue, Roofing to start 7 March, Interior Metal Stud
Framing and Exterior Sheathing to be completed this month on all buildings.
Thermal Insulation and Sheetrock to start behind roofers. Storefront Windows at
Announcers Booth being installed. Bleachers @ Home Side ongoing. Visitor
Bleachers to start this month. Exterior Metal Stud Framing, and Roof Decking at
Locker Rooms and Visitor Restrooms complete. Ticket Booth Concrete Slabs to be
poured this month. Concrete Road Entries complete. Light Pole Bases for Site
Lighting to be Roughed-In and poured this month. Masonry to start this month.
Metal Panels at the Press Box to begin this month. Paint at Press Box Structure
continuing. Scoreboard footings to start the week of the 14th.
Lea Hall Re-roof – Completed
Golden Library –Shelving completed in CUB Ground Zero and ASAB Office for
Temporary Library Housing in preparation for Library Renovations starting next
summer. Library relocation shelving also started in Building 625. Preparations
underway in Bernalillo Hall to house Library Offices.