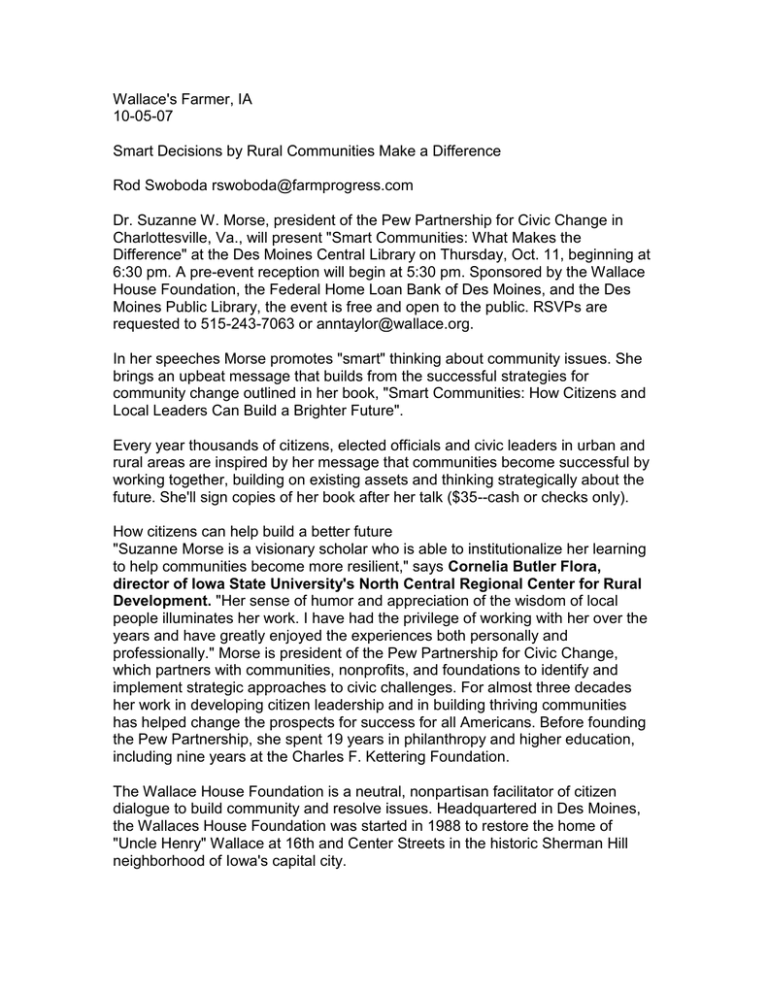 Wallace's Farmer, IA
10-05-07
Smart Decisions by Rural Communities Make a Difference
Rod Swoboda [email protected]
Dr. Suzanne W. Morse, president of the Pew Partnership for Civic Change in
Charlottesville, Va., will present "Smart Communities: What Makes the
Difference" at the Des Moines Central Library on Thursday, Oct. 11, beginning at
6:30 pm. A pre-event reception will begin at 5:30 pm. Sponsored by the Wallace
House Foundation, the Federal Home Loan Bank of Des Moines, and the Des
Moines Public Library, the event is free and open to the public. RSVPs are
requested to 515-243-7063 or [email protected]
In her speeches Morse promotes "smart" thinking about community issues. She
brings an upbeat message that builds from the successful strategies for
community change outlined in her book, "Smart Communities: How Citizens and
Local Leaders Can Build a Brighter Future".
Every year thousands of citizens, elected officials and civic leaders in urban and
rural areas are inspired by her message that communities become successful by
working together, building on existing assets and thinking strategically about the
future. She'll sign copies of her book after her talk ($35--cash or checks only).
How citizens can help build a better future
"Suzanne Morse is a visionary scholar who is able to institutionalize her learning
to help communities become more resilient," says Cornelia Butler Flora,
director of Iowa State University's North Central Regional Center for Rural
Development. "Her sense of humor and appreciation of the wisdom of local
people illuminates her work. I have had the privilege of working with her over the
years and have greatly enjoyed the experiences both personally and
professionally." Morse is president of the Pew Partnership for Civic Change,
which partners with communities, nonprofits, and foundations to identify and
implement strategic approaches to civic challenges. For almost three decades
her work in developing citizen leadership and in building thriving communities
has helped change the prospects for success for all Americans. Before founding
the Pew Partnership, she spent 19 years in philanthropy and higher education,
including nine years at the Charles F. Kettering Foundation.
The Wallace House Foundation is a neutral, nonpartisan facilitator of citizen
dialogue to build community and resolve issues. Headquartered in Des Moines,
the Wallaces House Foundation was started in 1988 to restore the home of
"Uncle Henry" Wallace at 16th and Center Streets in the historic Sherman Hill
neighborhood of Iowa's capital city.
The Wallace House also serves as a museum about the influential Wallace
family. Wallace family members founded Wallaces' Farmer magazine, Pioneer
Hi-Bred International, and Hy-Line International, and served the nation as a vice
president of the United States, a U.S. secretary of commerce, and there were
two Wallaces who served as U.S. secretaries of agriculture. The museum is open
to the public and there is no charge.