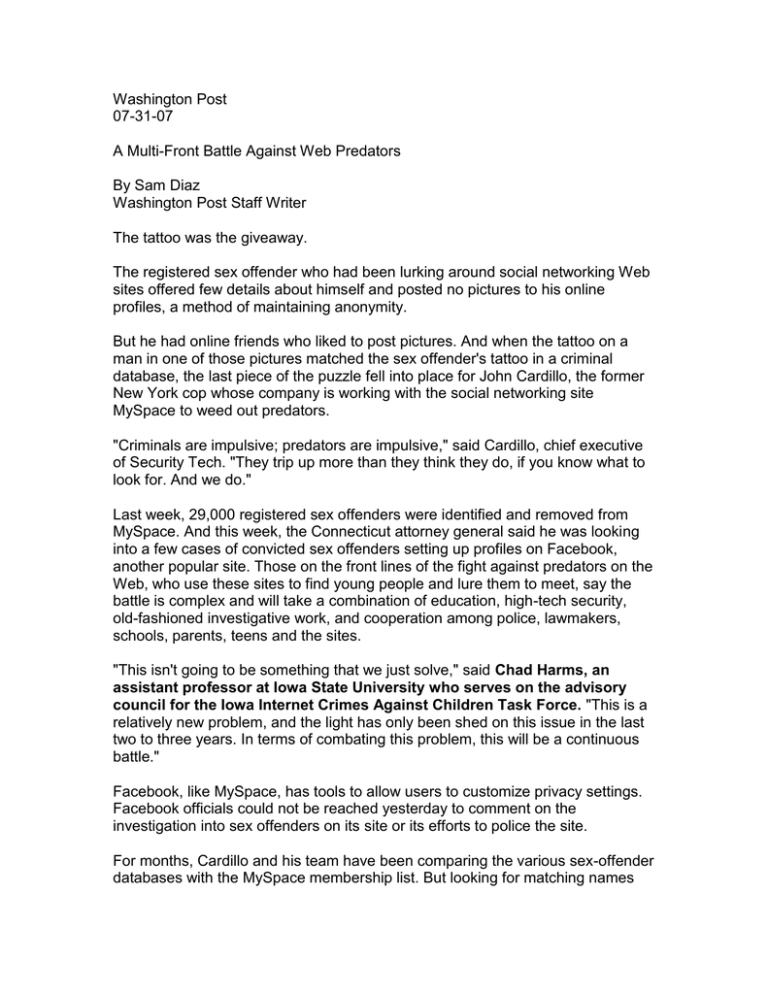 Washington Post
07-31-07
A Multi-Front Battle Against Web Predators
By Sam Diaz
Washington Post Staff Writer
The tattoo was the giveaway.
The registered sex offender who had been lurking around social networking Web
sites offered few details about himself and posted no pictures to his online
profiles, a method of maintaining anonymity.
But he had online friends who liked to post pictures. And when the tattoo on a
man in one of those pictures matched the sex offender's tattoo in a criminal
database, the last piece of the puzzle fell into place for John Cardillo, the former
New York cop whose company is working with the social networking site
MySpace to weed out predators.
"Criminals are impulsive; predators are impulsive," said Cardillo, chief executive
of Security Tech. "They trip up more than they think they do, if you know what to
look for. And we do."
Last week, 29,000 registered sex offenders were identified and removed from
MySpace. And this week, the Connecticut attorney general said he was looking
into a few cases of convicted sex offenders setting up profiles on Facebook,
another popular site. Those on the front lines of the fight against predators on the
Web, who use these sites to find young people and lure them to meet, say the
battle is complex and will take a combination of education, high-tech security,
old-fashioned investigative work, and cooperation among police, lawmakers,
schools, parents, teens and the sites.
"This isn't going to be something that we just solve," said Chad Harms, an
assistant professor at Iowa State University who serves on the advisory
council for the Iowa Internet Crimes Against Children Task Force. "This is a
relatively new problem, and the light has only been shed on this issue in the last
two to three years. In terms of combating this problem, this will be a continuous
battle."
Facebook, like MySpace, has tools to allow users to customize privacy settings.
Facebook officials could not be reached yesterday to comment on the
investigation into sex offenders on its site or its efforts to police the site.
For months, Cardillo and his team have been comparing the various sex-offender
databases with the MySpace membership list. But looking for matching names
and addresses is only a small part of the work. He is also looking for missteps
that might reveal more information about the criminals.
It's an approach, he said, that keeps offenders on the run and forces them to
spend extra time to cover their online tracks. "For every minute that an offender
has to spend covering his tracks, that's a minute that he can't spend stalking a
child," Cardillo said.
Ten states, including Virginia, have passed laws that require sex offenders to
also register their e-mail addresses. MySpace executives support that legislative
effort but aren't willing to back a call for parental permission for minors to join
social networking sites. They say such a law would create a false sense of
security and could give predators an alternate way into the site.
"You can have an individual who is a predator who comes online in disguise, gets
verified using false information and now is seen as an accepted individual," said
Hemanshu Nigam, a former federal prosecutor who joined MySpace as its chief
security officer last year. "Now, he is more dangerous than he ever was before."
North Carolina Attorney General Roy Cooper disagrees. He views parental
permission as part of the solution and is pushing for lawmakers in his state -- and
others across the country -- to pass legislation that requires it.
"If we require parental permission, there will be significantly fewer children at risk
because there will be fewer children on social networking sites," he said. "We
believe this law will give parents another tool to protect their kids. This helps to
give parents a choice."
Parents, Nigam said, need tools, as do teachers and police officers. MySpace
has created guidebooks for teachers, law enforcement officers and parents that
highlight the site's safety features, such as the ability to mark a profile as private
and out of reach to casual onlookers. The company also has established a law
enforcement hotline, which is answered by real people around the clock.
Increasingly, it's the teens who are starting to protect themselves.
According to a study by the Pew Internet & American Life Project, about onefourth of teenagers with online profiles post their full names on the Web. But only
11 percent make profiles with full names visible to the public eye. Most are
marking their social networking profiles as private, accessible only to people they
know.
Nigam said MySpace is also working on a pilot program, code-named Zephyr,
that gives parents more tools to monitor usage, including a "lockdown" feature
that would prevent teens from misrepresenting their ages and gives them the
authority to have a profile deleted from the system.
"Parents are our first line of defense, and we want to empower them," Nigam
said.