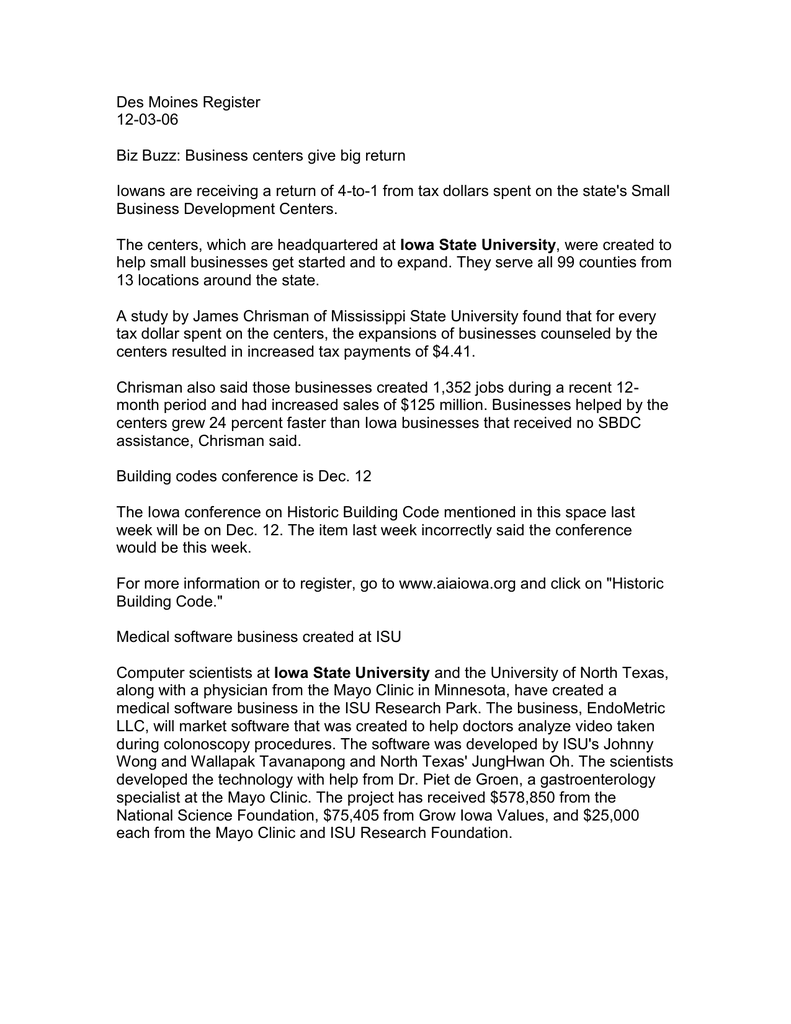 Des Moines Register
12-03-06
Biz Buzz: Business centers give big return
Iowans are receiving a return of 4-to-1 from tax dollars spent on the state's Small
Business Development Centers.
The centers, which are headquartered at Iowa State University, were created to
help small businesses get started and to expand. They serve all 99 counties from
13 locations around the state.
A study by James Chrisman of Mississippi State University found that for every
tax dollar spent on the centers, the expansions of businesses counseled by the
centers resulted in increased tax payments of $4.41.
Chrisman also said those businesses created 1,352 jobs during a recent 12month period and had increased sales of $125 million. Businesses helped by the
centers grew 24 percent faster than Iowa businesses that received no SBDC
assistance, Chrisman said.
Building codes conference is Dec. 12
The Iowa conference on Historic Building Code mentioned in this space last
week will be on Dec. 12. The item last week incorrectly said the conference
would be this week.
For more information or to register, go to www.aiaiowa.org and click on "Historic
Building Code."
Medical software business created at ISU
Computer scientists at Iowa State University and the University of North Texas,
along with a physician from the Mayo Clinic in Minnesota, have created a
medical software business in the ISU Research Park. The business, EndoMetric
LLC, will market software that was created to help doctors analyze video taken
during colonoscopy procedures. The software was developed by ISU's Johnny
Wong and Wallapak Tavanapong and North Texas' JungHwan Oh. The scientists
developed the technology with help from Dr. Piet de Groen, a gastroenterology
specialist at the Mayo Clinic. The project has received $578,850 from the
National Science Foundation, $75,405 from Grow Iowa Values, and $25,000
each from the Mayo Clinic and ISU Research Foundation.