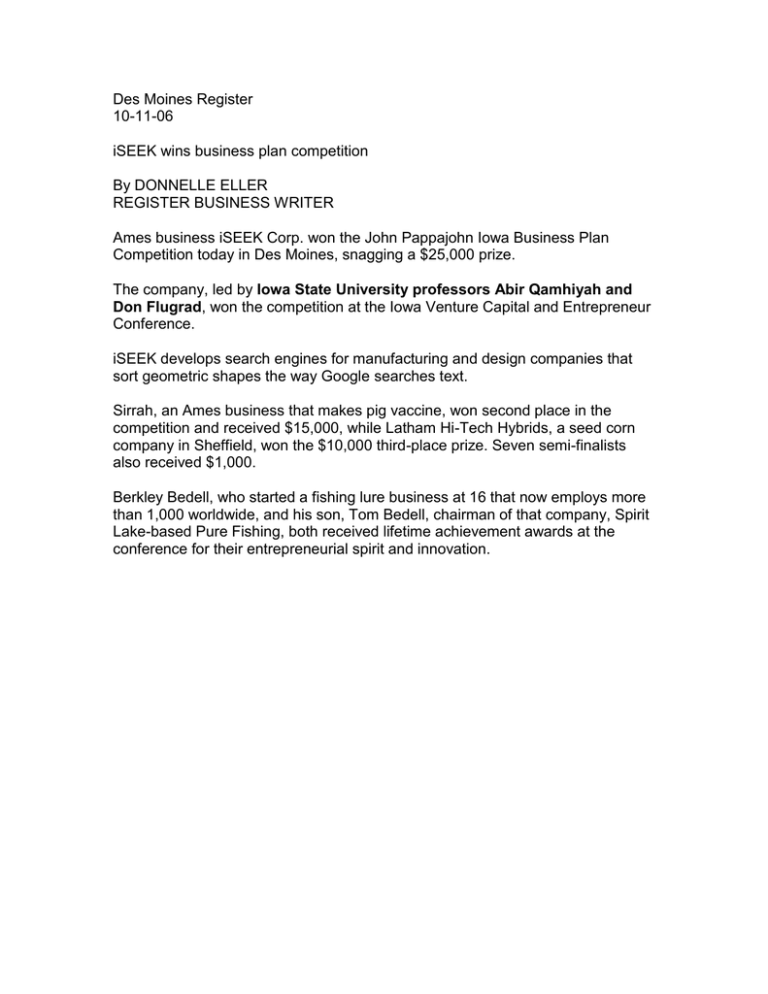 Des Moines Register
10-11-06
iSEEK wins business plan competition
By DONNELLE ELLER
REGISTER BUSINESS WRITER
Ames business iSEEK Corp. won the John Pappajohn Iowa Business Plan
Competition today in Des Moines, snagging a $25,000 prize.
The company, led by Iowa State University professors Abir Qamhiyah and
Don Flugrad, won the competition at the Iowa Venture Capital and Entrepreneur
Conference.
iSEEK develops search engines for manufacturing and design companies that
sort geometric shapes the way Google searches text.
Sirrah, an Ames business that makes pig vaccine, won second place in the
competition and received $15,000, while Latham Hi-Tech Hybrids, a seed corn
company in Sheffield, won the $10,000 third-place prize. Seven semi-finalists
also received $1,000.
Berkley Bedell, who started a fishing lure business at 16 that now employs more
than 1,000 worldwide, and his son, Tom Bedell, chairman of that company, Spirit
Lake-based Pure Fishing, both received lifetime achievement awards at the
conference for their entrepreneurial spirit and innovation.