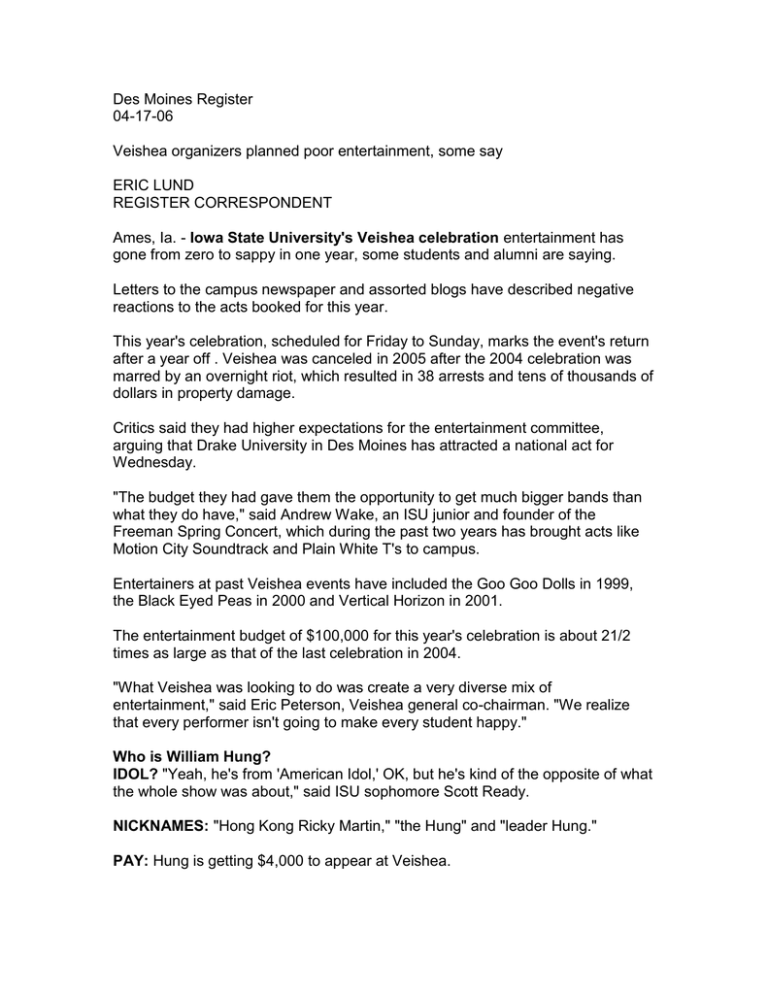 Des Moines Register
04-17-06
Veishea organizers planned poor entertainment, some say
ERIC LUND
REGISTER CORRESPONDENT
Ames, Ia. - Iowa State University's Veishea celebration entertainment has
gone from zero to sappy in one year, some students and alumni are saying.
Letters to the campus newspaper and assorted blogs have described negative
reactions to the acts booked for this year.
This year's celebration, scheduled for Friday to Sunday, marks the event's return
after a year off . Veishea was canceled in 2005 after the 2004 celebration was
marred by an overnight riot, which resulted in 38 arrests and tens of thousands of
dollars in property damage.
Critics said they had higher expectations for the entertainment committee,
arguing that Drake University in Des Moines has attracted a national act for
Wednesday.
"The budget they had gave them the opportunity to get much bigger bands than
what they do have," said Andrew Wake, an ISU junior and founder of the
Freeman Spring Concert, which during the past two years has brought acts like
Motion City Soundtrack and Plain White T's to campus.
Entertainers at past Veishea events have included the Goo Goo Dolls in 1999,
the Black Eyed Peas in 2000 and Vertical Horizon in 2001.
The entertainment budget of $100,000 for this year's celebration is about 21/2
times as large as that of the last celebration in 2004.
"What Veishea was looking to do was create a very diverse mix of
entertainment," said Eric Peterson, Veishea general co-chairman. "We realize
that every performer isn't going to make every student happy."
Who is William Hung?
IDOL? "Yeah, he's from 'American Idol,' OK, but he's kind of the opposite of what
the whole show was about," said ISU sophomore Scott Ready.
NICKNAMES: "Hong Kong Ricky Martin," "the Hung" and "leader Hung."
PAY: Hung is getting $4,000 to appear at Veishea.
NOT A POPULAR CHOICE: William Hung has been booked to host the Cyclone
Idol competition during Iowa State University's Veishea celebration this week.
What is Veishea?
Veishea is an annual celebration held at Iowa State University each spring. This
year, it will be held Friday to Sunday. Started in 1922, Veishea has grown into
one of the largest student-run celebrations in the world. The celebration
showcases Iowa State University and features events such as a parade, a
concert, athletic tournaments and a musical production called "Stars Over
Veishea."
What does Veishea stand for?
Veishea was named in 1922 by professor Frank Paine of the department of
general engineering. He combined the first letters of the colleges at that time,
and the name has stuck ever since. The word VEISHEA (pronounced "VEE-sha")
stands for: Veterinary medicine, Engineering, Industrial Science, Home
Economics, Agriculture.
Check out the music festival
According to ISU's official Veishea Web site, www.veishea.iastate.edu,
a Saturday music festival will feature 12 bands, including Cross Canadian
Ragweed, Stroke 9, Nappy Roots, and Robert Earl Keen.