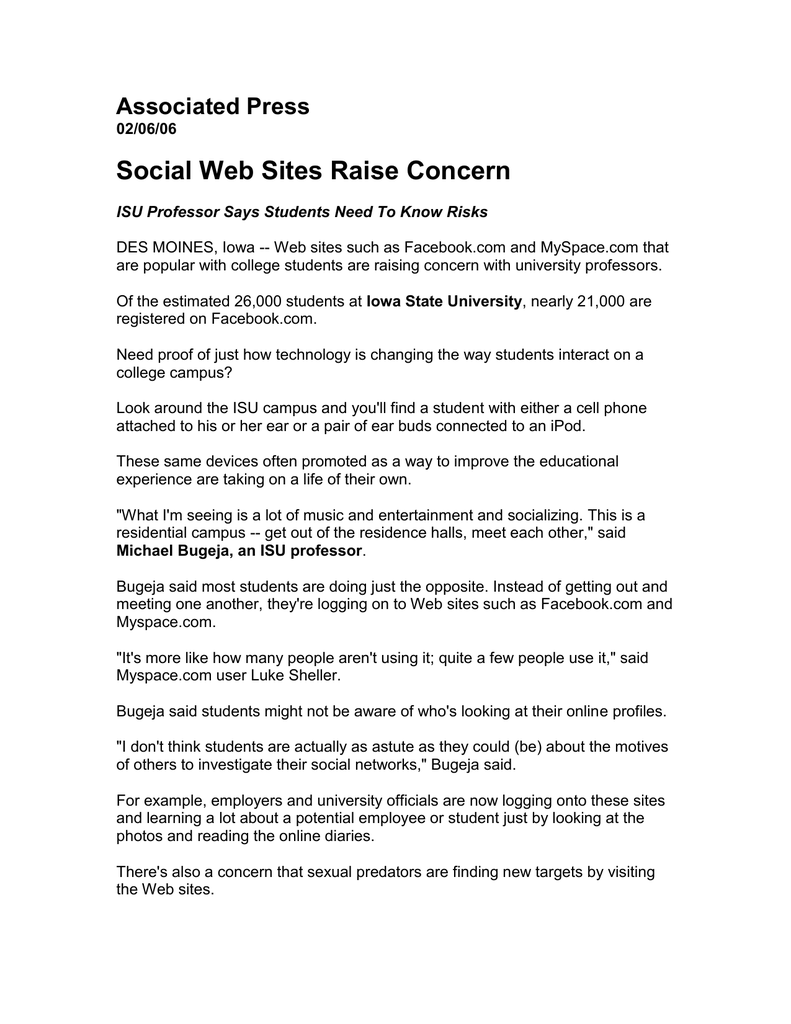 Associated Press
02/06/06
Social Web Sites Raise Concern
ISU Professor Says Students Need To Know Risks
DES MOINES, Iowa -- Web sites such as Facebook.com and MySpace.com that
are popular with college students are raising concern with university professors.
Of the estimated 26,000 students at Iowa State University, nearly 21,000 are
registered on Facebook.com.
Need proof of just how technology is changing the way students interact on a
college campus?
Look around the ISU campus and you'll find a student with either a cell phone
attached to his or her ear or a pair of ear buds connected to an iPod.
These same devices often promoted as a way to improve the educational
experience are taking on a life of their own.
"What I'm seeing is a lot of music and entertainment and socializing. This is a
residential campus -- get out of the residence halls, meet each other," said
Michael Bugeja, an ISU professor.
Bugeja said most students are doing just the opposite. Instead of getting out and
meeting one another, they're logging on to Web sites such as Facebook.com and
Myspace.com.
"It's more like how many people aren't using it; quite a few people use it," said
Myspace.com user Luke Sheller.
Bugeja said students might not be aware of who's looking at their online profiles.
"I don't think students are actually as astute as they could (be) about the motives
of others to investigate their social networks," Bugeja said.
For example, employers and university officials are now logging onto these sites
and learning a lot about a potential employee or student just by looking at the
photos and reading the online diaries.
There's also a concern that sexual predators are finding new targets by visiting
the Web sites.
"I don't think a lot of people realize what kind of danger that could be to them if
the wrong people got that kind of information or people that didn't need to have
that kind of information," said Alexis Guzman, an ISU student.
Bugeja said universities need to do more to educate students about the potential
risks so students understand that more people than just their group of friends are
checking out such Web sites.
"We get the feeling on the other side of our computer that no one is looking back
at us through windows, and yet, everybody could be," Bugeja said. Also ran in:
KCCI.com, IA
Copyright 2006 by KCCI.com. The Associated Press contributed to this report.
All rights reserved. This material may not be published, broadcast, rewritten or
redistributed.