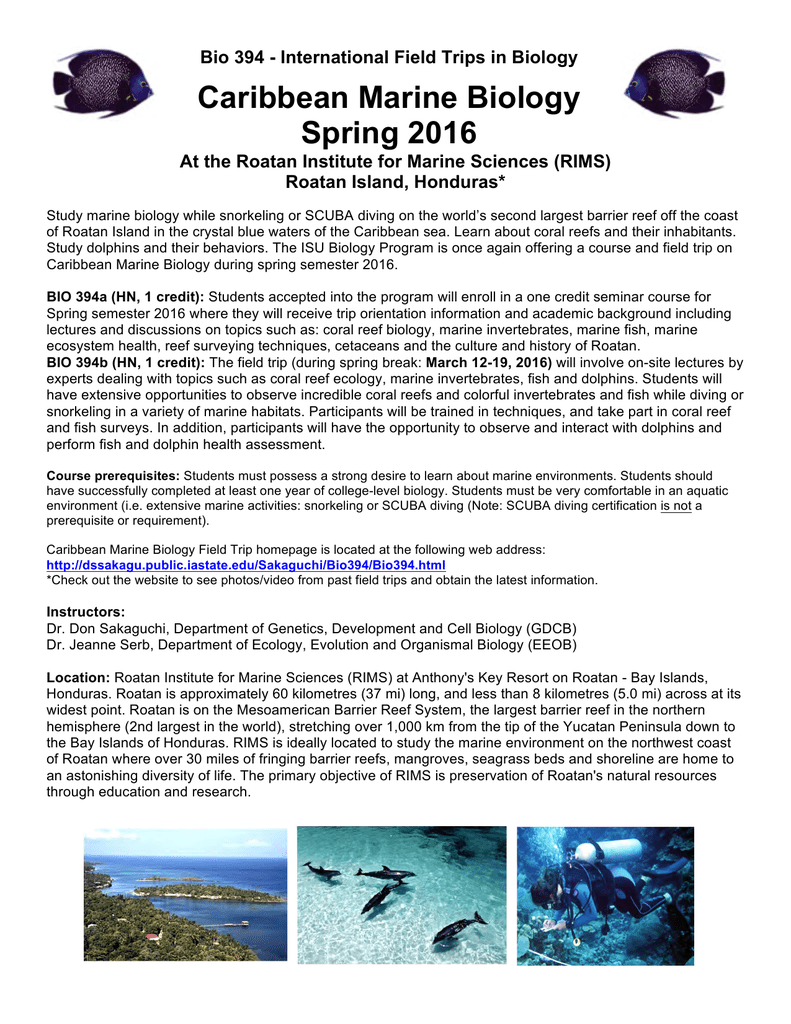 Bio 394 - International Field Trips in Biology
Caribbean Marine Biology
Spring 2016
At the Roatan Institute for Marine Sciences (RIMS)
Roatan Island, Honduras*
Study marine biology while snorkeling or SCUBA diving on the world's second largest barrier reef off the coast
of Roatan Island in the crystal blue waters of the Caribbean sea. Learn about coral reefs and their inhabitants.
Study dolphins and their behaviors. The ISU Biology Program is once again offering a course and field trip on
Caribbean Marine Biology during spring semester 2016.
BIO 394a (HN, 1 credit): Students accepted into the program will enroll in a one credit seminar course for
Spring semester 2016 where they will receive trip orientation information and academic background including
lectures and discussions on topics such as: coral reef biology, marine invertebrates, marine fish, marine
ecosystem health, reef surveying techniques, cetaceans and the culture and history of Roatan.
BIO 394b (HN, 1 credit): The field trip (during spring break: March 12-19, 2016) will involve on-site lectures by
experts dealing with topics such as coral reef ecology, marine invertebrates, fish and dolphins. Students will
have extensive opportunities to observe incredible coral reefs and colorful invertebrates and fish while diving or
snorkeling in a variety of marine habitats. Participants will be trained in techniques, and take part in coral reef
and fish surveys. In addition, participants will have the opportunity to observe and interact with dolphins and
perform fish and dolphin health assessment.
Course prerequisites: Students must possess a strong desire to learn about marine environments. Students should
have successfully completed at least one year of college-level biology. Students must be very comfortable in an aquatic
environment (i.e. extensive marine activities: snorkeling or SCUBA diving (Note: SCUBA diving certification is not a
prerequisite or requirement).
Caribbean Marine Biology Field Trip homepage is located at the following web address:
http://dssakagu.public.iastate.edu/Sakaguchi/Bio394/Bio394.html
*Check out the website to see photos/video from past field trips and obtain the latest information.
Instructors:
Dr. Don Sakaguchi, Department of Genetics, Development and Cell Biology (GDCB)
Dr. Jeanne Serb, Department of Ecology, Evolution and Organismal Biology (EEOB)
Location: Roatan Institute for Marine Sciences (RIMS) at Anthony's Key Resort on Roatan - Bay Islands,
Honduras. Roatan is approximately 60 kilometres (37 mi) long, and less than 8 kilometres (5.0 mi) across at its
widest point. Roatan is on the Mesoamerican Barrier Reef System, the largest barrier reef in the northern
hemisphere (2nd largest in the world), stretching over 1,000 km from the tip of the Yucatan Peninsula down to
the Bay Islands of Honduras. RIMS is ideally located to study the marine environment on the northwest coast
of Roatan where over 30 miles of fringing barrier reefs, mangroves, seagrass beds and shoreline are home to
an astonishing diversity of life. The primary objective of RIMS is preservation of Roatan's natural resources
through education and research.
The estimated cost of the trip: approximately $3,360 (subject to change). The price is subject to change, as
we are still in the process of negotiating airfares.
Price includes the following:
Airfare: Des Moines to Roatan, round-trip.
Accommodations and 3 meals daily at Anthony's Key Resort (AKR) (Sat. - Sat.)
Roatan Institute for Marine Science (RIMS) marine biology program:
Two dives/snorkels daily, one night dive/snorkel, RIMS lectures on coral reef biology/ecology and
dolphins, educational dolphin platform sessions and dolphin snorkel.
Trip insurance.
Tips for baggage handling, housekeeping service, waiters, divemasters and boat.
(price does not include: Study Abroad fee, SCUBA class and materials (for those interested), SCUBA
certification, and rental of SCUBA/snorkeling gear).
Accommodations: RIMS guests are housed in quad occupancy louvered wooden bungalows overlooking the
lagoon reefs. Each has ceiling fan, 24-hour electricity, and a bathroom, including hot water shower; three
ample meals a day are served (food has been described as excellent by past participants).
Roatan Institute for Marine Sciences (RIMS) Services:
Fully equipped dry and wet laboratories
A large air-conditioned classroom with A/V equipment
Specimen collections and reference library
Tours and use of Roatan Museum that displays the cultural and archaeological history of the region
One all purpose dive boat with guides, use of tanks, weights and belts
Vehicles for transport with guides to terrestrial sites (1 trip)
Recompression chamber and medical clinic (doctor on call 24-hours)
Recreational services and facilities of adjacent AKR
Escorted round-trip transfer from airport to Institute
A passport is required!!!. (Note: passport must be valid for 6 months after return from Roatan)
SCUBA Certification: is not a prerequisite or requirement for this course.
For those interested in becoming SCUBA certified, certification courses are available through various SCUBA
shops and facilities in the Midwest area. Check the internet for additional information.
Additional fees are associated with SCUBA class and certification.
Application process:
You must submit a complete application for consideration as a participant in this field trip.
The application is online at: Study Abroad website
Applications must be completed by 5:00 PM, Monday, October 26, 2015.
Admission into this Program will be based upon your completed application.