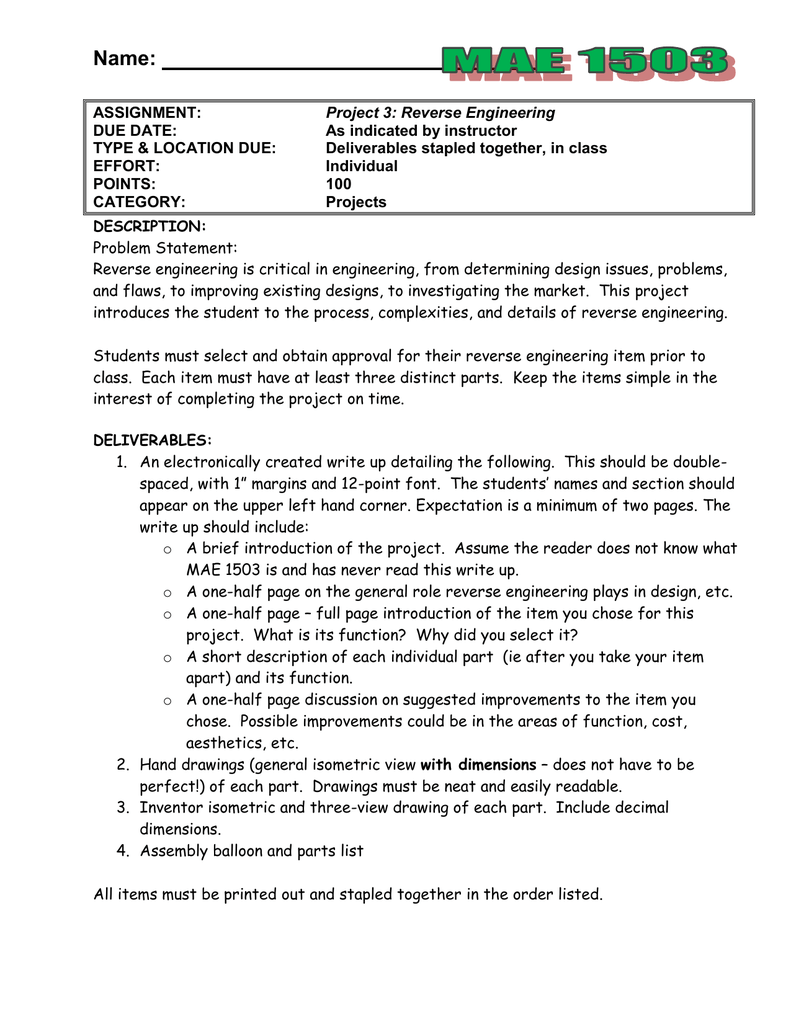 Name:
ASSIGNMENT:
DUE DATE:
TYPE & LOCATION DUE:
EFFORT:
POINTS:
CATEGORY:
Project 3: Reverse Engineering
As indicated by instructor
Deliverables stapled together, in class
Individual
100
Projects
DESCRIPTION:
Problem Statement:
Reverse engineering is critical in engineering, from determining design issues, problems,
and flaws, to improving existing designs, to investigating the market. This project
introduces the student to the process, complexities, and details of reverse engineering.
Students must select and obtain approval for their reverse engineering item prior to
class. Each item must have at least three distinct parts. Keep the items simple in the
interest of completing the project on time.
DELIVERABLES:
1. An electronically created write up detailing the following. This should be doublespaced, with 1" margins and 12-point font. The students' names and section should
appear on the upper left hand corner. Expectation is a minimum of two pages. The
write up should include:
o A brief introduction of the project. Assume the reader does not know what
MAE 1503 is and has never read this write up.
o A one-half page on the general role reverse engineering plays in design, etc.
o A one-half page – full page introduction of the item you chose for this
project. What is its function? Why did you select it?
o A short description of each individual part (ie after you take your item
apart) and its function.
o A one-half page discussion on suggested improvements to the item you
chose. Possible improvements could be in the areas of function, cost,
aesthetics, etc.
2. Hand drawings (general isometric view with dimensions – does not have to be
perfect!) of each part. Drawings must be neat and easily readable.
3. Inventor isometric and three-view drawing of each part. Include decimal
dimensions.
4. Assembly balloon and parts list
All items must be printed out and stapled together in the order listed.