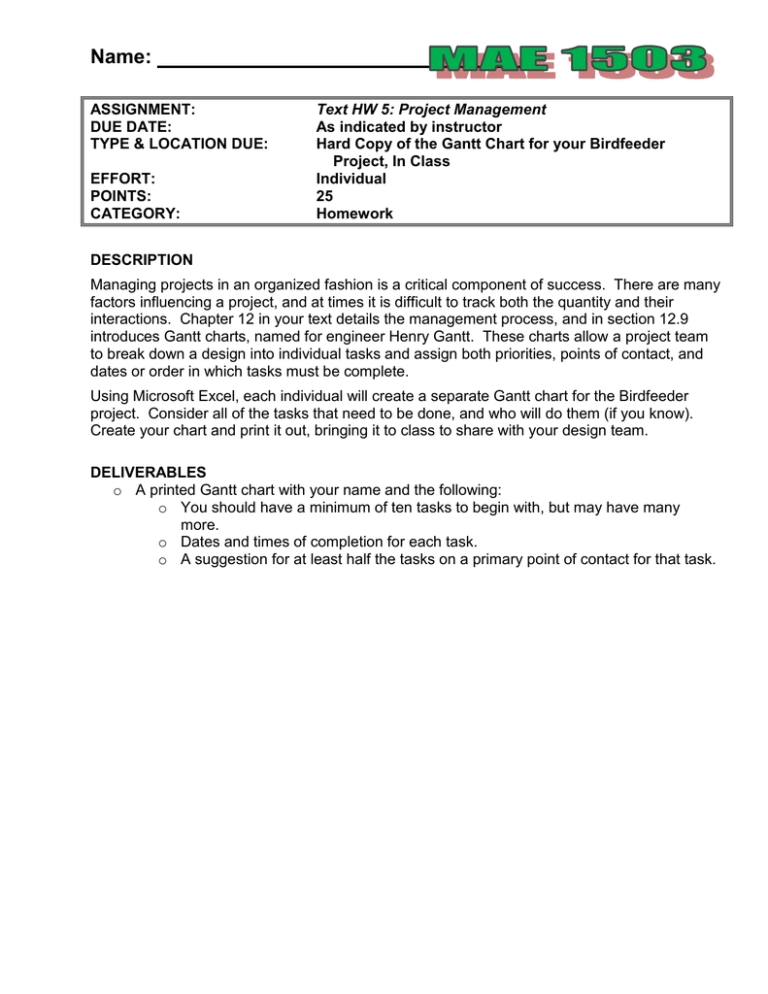 Name:
ASSIGNMENT:
DUE DATE:
TYPE & LOCATION DUE:
EFFORT:
POINTS:
CATEGORY:
Text HW 5: Project Management
As indicated by instructor
Hard Copy of the Gantt Chart for your Birdfeeder
Project, In Class
Individual
25
Homework
DESCRIPTION
Managing projects in an organized fashion is a critical component of success. There are many
factors influencing a project, and at times it is difficult to track both the quantity and their
interactions. Chapter 12 in your text details the management process, and in section 12.9
introduces Gantt charts, named for engineer Henry Gantt. These charts allow a project team
to break down a design into individual tasks and assign both priorities, points of contact, and
dates or order in which tasks must be complete.
Using Microsoft Excel, each individual will create a separate Gantt chart for the Birdfeeder
project. Consider all of the tasks that need to be done, and who will do them (if you know).
Create your chart and print it out, bringing it to class to share with your design team.
DELIVERABLES
o A printed Gantt chart with your name and the following:
o You should have a minimum of ten tasks to begin with, but may have many
more.
o Dates and times of completion for each task.
o A suggestion for at least half the tasks on a primary point of contact for that task.