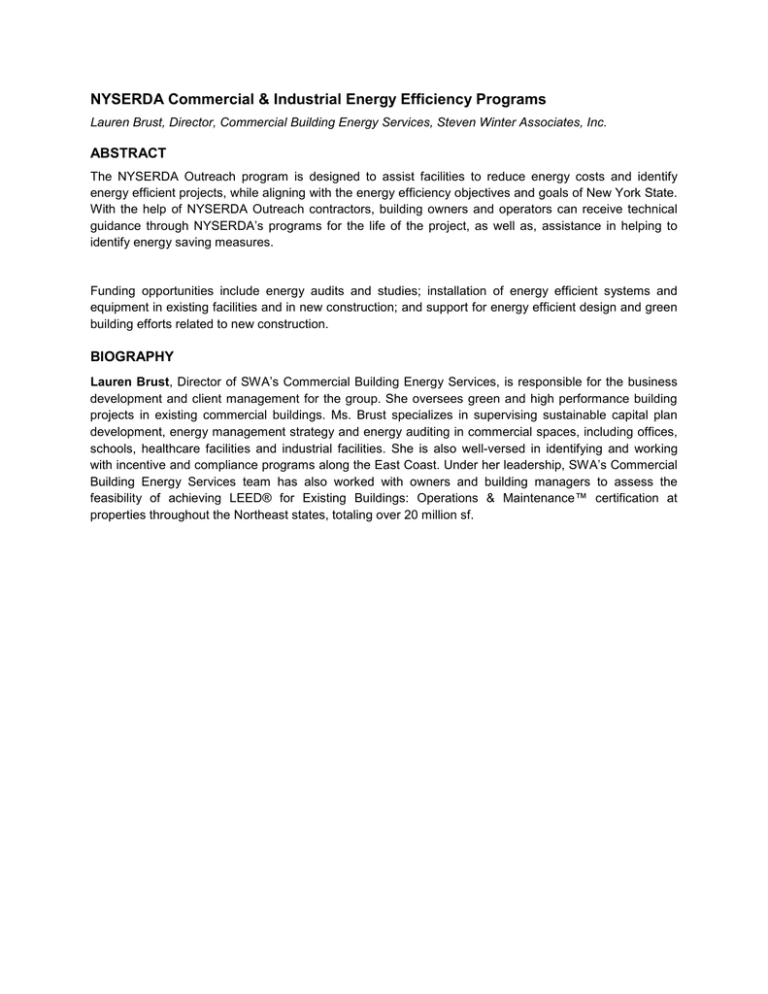 NYSERDA Commercial & Industrial Energy Efficiency Programs
Lauren Brust, Director, Commercial Building Energy Services, Steven Winter Associates, Inc.
ABSTRACT
The NYSERDA Outreach program is designed to assist facilities to reduce energy costs and identify
energy efficient projects, while aligning with the energy efficiency objectives and goals of New York State.
With the help of NYSERDA Outreach contractors, building owners and operators can receive technical
guidance through NYSERDA's programs for the life of the project, as well as, assistance in helping to
identify energy saving measures.
Funding opportunities include energy audits and studies; installation of energy efficient systems and
equipment in existing facilities and in new construction; and support for energy efficient design and green
building efforts related to new construction.
BIOGRAPHY
Lauren Brust, Director of SWA's Commercial Building Energy Services, is responsible for the business
development and client management for the group. She oversees green and high performance building
projects in existing commercial buildings. Ms. Brust specializes in supervising sustainable capital plan
development, energy management strategy and energy auditing in commercial spaces, including offices,
schools, healthcare facilities and industrial facilities. She is also well-versed in identifying and working
with incentive and compliance programs along the East Coast. Under her leadership, SWA's Commercial
Building Energy Services team has also worked with owners and building managers to assess the
feasibility of achieving LEED® for Existing Buildings: Operations & Maintenance™ certification at
properties throughout the Northeast states, totaling over 20 million sf.