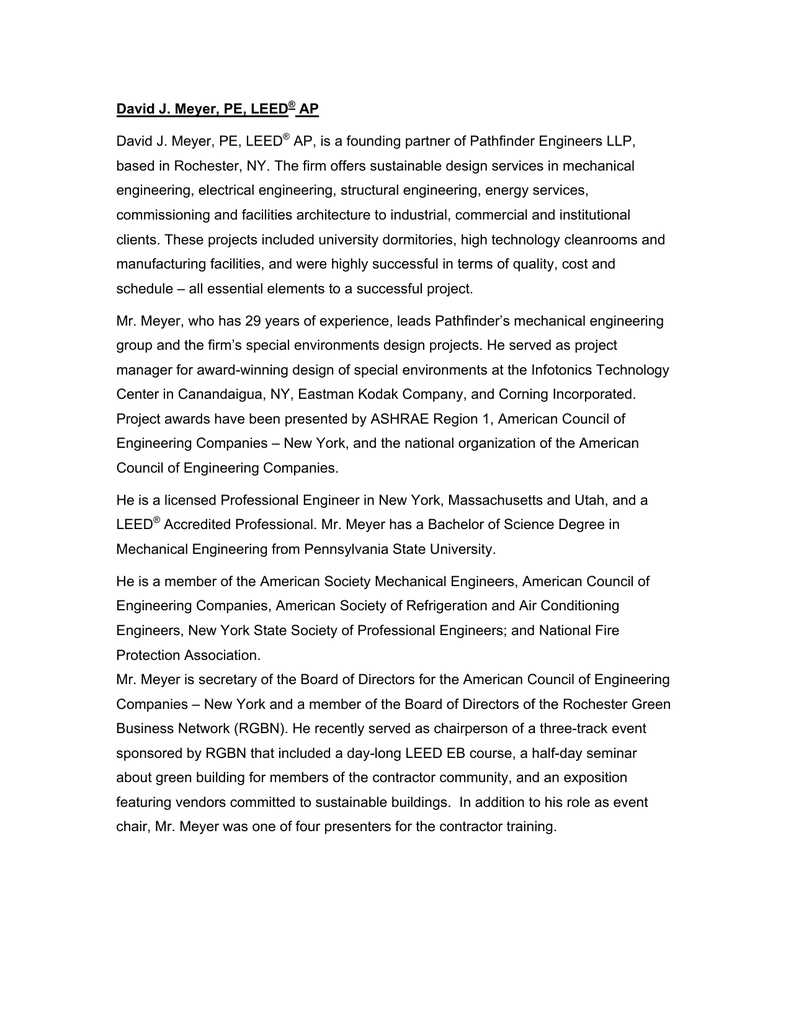 David J. Meyer, PE, LEED® AP
David J. Meyer, PE, LEED® AP, is a founding partner of Pathfinder Engineers LLP,
based in Rochester, NY. The firm offers sustainable design services in mechanical
engineering, electrical engineering, structural engineering, energy services,
commissioning and facilities architecture to industrial, commercial and institutional
clients. These projects included university dormitories, high technology cleanrooms and
manufacturing facilities, and were highly successful in terms of quality, cost and
schedule – all essential elements to a successful project.
Mr. Meyer, who has 29 years of experience, leads Pathfinder's mechanical engineering
group and the firm's special environments design projects. He served as project
manager for award-winning design of special environments at the Infotonics Technology
Center in Canandaigua, NY, Eastman Kodak Company, and Corning Incorporated.
Project awards have been presented by ASHRAE Region 1, American Council of
Engineering Companies – New York, and the national organization of the American
Council of Engineering Companies.
He is a licensed Professional Engineer in New York, Massachusetts and Utah, and a
LEED® Accredited Professional. Mr. Meyer has a Bachelor of Science Degree in
Mechanical Engineering from Pennsylvania State University.
He is a member of the American Society Mechanical Engineers, American Council of
Engineering Companies, American Society of Refrigeration and Air Conditioning
Engineers, New York State Society of Professional Engineers; and National Fire
Protection Association.
Mr. Meyer is secretary of the Board of Directors for the American Council of Engineering
Companies – New York and a member of the Board of Directors of the Rochester Green
Business Network (RGBN). He recently served as chairperson of a three-track event
sponsored by RGBN that included a day-long LEED EB course, a half-day seminar
about green building for members of the contractor community, and an exposition
featuring vendors committed to sustainable buildings. In addition to his role as event
chair, Mr. Meyer was one of four presenters for the contractor training.