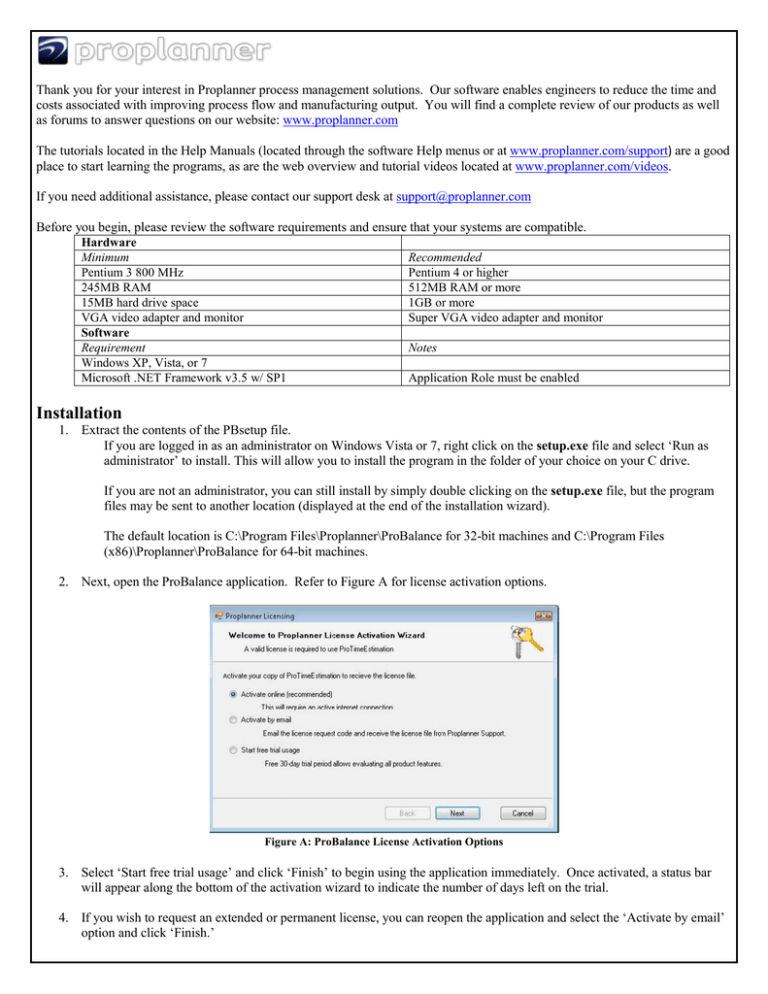 Thank you for your interest in Proplanner process management solutions. Our software enables engineers to reduce the time and
costs associated with improving process flow and manufacturing output. You will find a complete review of our products as well
as forums to answer questions on our website: www.proplanner.com
The tutorials located in the Help Manuals (located through the software Help menus or at www.proplanner.com/support) are a good
place to start learning the programs, as are the web overview and tutorial videos located at www.proplanner.com/videos.
If you need additional assistance, please contact our support desk at [email protected]
Before you begin, please review the software requirements and ensure that your systems are compatible.
Hardware
Minimum
Pentium 3 800 MHz
245MB RAM
15MB hard drive space
VGA video adapter and monitor
Software
Requirement
Windows XP, Vista, or 7
Microsoft .NET Framework v3.5 w/ SP1
Recommended
Pentium 4 or higher
512MB RAM or more
1GB or more
Super VGA video adapter and monitor
Notes
Application Role must be enabled
Installation
1. Extract the contents of the PBsetup file.
If you are logged in as an administrator on Windows Vista or 7, right click on the setup.exe file and select 'Run as
administrator' to install. This will allow you to install the program in the folder of your choice on your C drive.
If you are not an administrator, you can still install by simply double clicking on the setup.exe file, but the program
files may be sent to another location (displayed at the end of the installation wizard).
The default location is C:\Program Files\Proplanner\ProBalance for 32-bit machines and C:\Program Files
(x86)\Proplanner\ProBalance for 64-bit machines.
2. Next, open the ProBalance application. Refer to Figure A for license activation options.
Figure A: ProBalance License Activation Options
3. Select 'Start free trial usage' and click 'Finish' to begin using the application immediately. Once activated, a status bar
will appear along the bottom of the activation wizard to indicate the number of days left on the trial.
4. If you wish to request an extended or permanent license, you can reopen the application and select the 'Activate by email'
option and click 'Finish.'
5. You will see a screen similar to the one in Figure B; enter your Company name and click the 'Copy Info' button. This will
copy the necessary license request information to your clipboard.
Figure B: License Request Information
6. Paste the copied information into an email to [email protected], along with a request specifying the product (i.e.
ProBalance) you wish to license.
7. Proplanner will then determine your eligibility for an extended license and will email you a license file with further
instructions.