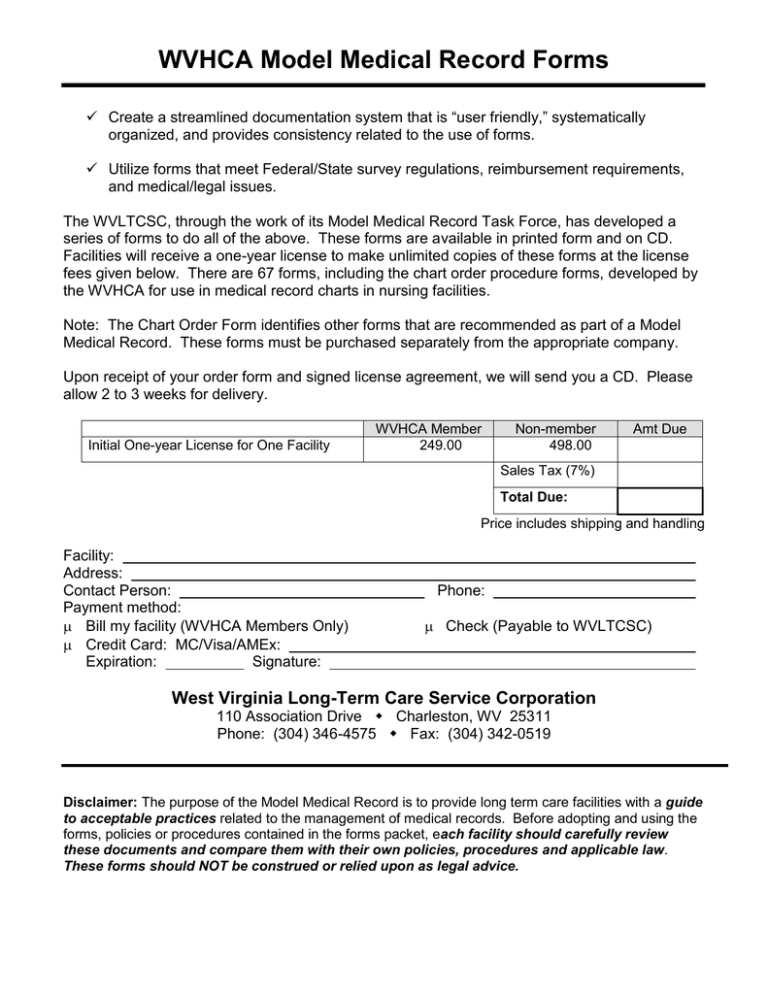 WVHCA Model Medical Record Forms
 Create a streamlined documentation system that is "user friendly," systematically
organized, and provides consistency related to the use of forms.
 Utilize forms that meet Federal/State survey regulations, reimbursement requirements,
and medical/legal issues.
The WVLTCSC, through the work of its Model Medical Record Task Force, has developed a
series of forms to do all of the above. These forms are available in printed form and on CD.
Facilities will receive a one-year license to make unlimited copies of these forms at the license
fees given below. There are 67 forms, including the chart order procedure forms, developed by
the WVHCA for use in medical record charts in nursing facilities.
Note: The Chart Order Form identifies other forms that are recommended as part of a Model
Medical Record. These forms must be purchased separately from the appropriate company.
Upon receipt of your order form and signed license agreement, we will send you a CD. Please
allow 2 to 3 weeks for delivery.
Initial One-year License for One Facility
WVHCA Member
249.00
Non-member
498.00
Amt Due
Sales Tax (7%)
Total Due:
Price includes shipping and handling
Facility:
Address:
Contact Person:
Payment method:
 Bill my facility (WVHCA Members Only)
 Credit Card: MC/Visa/AMEx:
Expiration:
Signature:
Phone:
 Check (Payable to WVLTCSC)
West Virginia Long-Term Care Service Corporation
110 Association Drive  Charleston, WV 25311
Phone: (304) 346-4575  Fax: (304) 342-0519
Disclaimer: The purpose of the Model Medical Record is to provide long term care facilities with a guide
to acceptable practices related to the management of medical records. Before adopting and using the
forms, policies or procedures contained in the forms packet, each facility should carefully review
these documents and compare them with their own policies, procedures and applicable law.
These forms should NOT be construed or relied upon as legal advice.