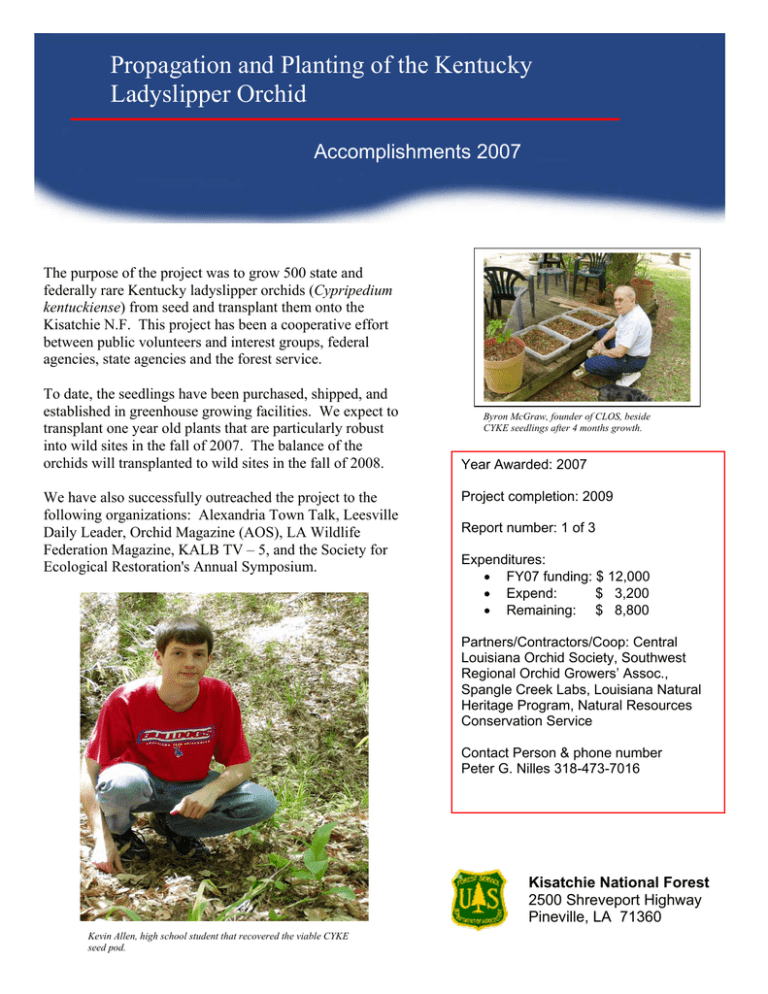 Propagation and Planting of the Kentucky
Ladyslipper Orchid
Accomplishments 2007
The purpose of the project was to grow 500 state and
federally rare Kentucky ladyslipper orchids (Cypripedium
kentuckiense) from seed and transplant them onto the
Kisatchie N.F. This project has been a cooperative effort
between public volunteers and interest groups, federal
agencies, state agencies and the forest service.
To date, the seedlings have been purchased, shipped, and
established in greenhouse growing facilities. We expect to
transplant one year old plants that are particularly robust
into wild sites in the fall of 2007. The balance of the
orchids will transplanted to wild sites in the fall of 2008.
We have also successfully outreached the project to the
following organizations: Alexandria Town Talk, Leesville
Daily Leader, Orchid Magazine (AOS), LA Wildlife
Federation Magazine, KALB TV – 5, and the Society for
Ecological Restoration's Annual Symposium.
Byron McGraw, founder of CLOS, beside
CYKE seedlings after 4 months growth.
Year Awarded: 2007
Project completion: 2009
Report number: 1 of 3
Expenditures:
• FY07 funding: $ 12,000
• Expend:
$ 3,200
• Remaining: $ 8,800
Partners/Contractors/Coop: Central
Louisiana Orchid Society, Southwest
Regional Orchid Growers' Assoc.,
Spangle Creek Labs, Louisiana Natural
Heritage Program, Natural Resources
Conservation Service
Contact Person & phone number
Peter G. Nilles 318-473-7016
Kisatchie National Forest
2500 Shreveport Highway
Pineville, LA 71360
Kevin Allen, high school student that recovered the viable CYKE
seed pod.