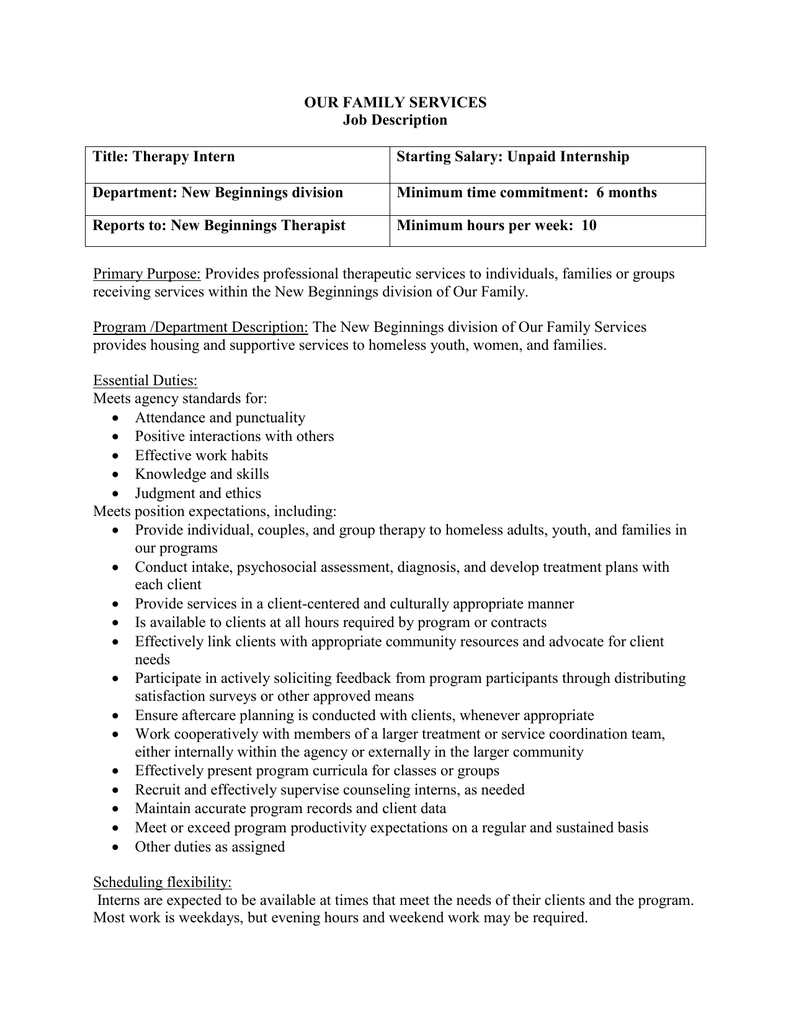 OUR FAMILY SERVICES
Job Description
Title: Therapy Intern
Starting Salary: Unpaid Internship
Department: New Beginnings division
Minimum time commitment: 6 months
Reports to: New Beginnings Therapist
Minimum hours per week: 10
Primary Purpose: Provides professional therapeutic services to individuals, families or groups
receiving services within the New Beginnings division of Our Family.
Program /Department Description: The New Beginnings division of Our Family Services
provides housing and supportive services to homeless youth, women, and families.
Essential Duties:
Meets agency standards for:
 Attendance and punctuality
 Positive interactions with others
 Effective work habits
 Knowledge and skills
 Judgment and ethics
Meets position expectations, including:
 Provide individual, couples, and group therapy to homeless adults, youth, and families in
our programs
 Conduct intake, psychosocial assessment, diagnosis, and develop treatment plans with
each client
 Provide services in a client-centered and culturally appropriate manner
 Is available to clients at all hours required by program or contracts
 Effectively link clients with appropriate community resources and advocate for client
needs
 Participate in actively soliciting feedback from program participants through distributing
satisfaction surveys or other approved means
 Ensure aftercare planning is conducted with clients, whenever appropriate
 Work cooperatively with members of a larger treatment or service coordination team,
either internally within the agency or externally in the larger community
 Effectively present program curricula for classes or groups
 Recruit and effectively supervise counseling interns, as needed
 Maintain accurate program records and client data
 Meet or exceed program productivity expectations on a regular and sustained basis
 Other duties as assigned
Scheduling flexibility:
Interns are expected to be available at times that meet the needs of their clients and the program.
Most work is weekdays, but evening hours and weekend work may be required.
Qualifications:
 Must be in a Master's Level Behavioral Health Program (i.e. Social Work, Counseling)
 One (1) year experience relevant to position
 Eligible to receive and maintain state fingerprint clearance
 Must complete Our Family's CORE training
 Strong communication and people skills
 Ability to work with diverse populations
 Since position may require driving to client homes or other community locations to
provide services, a valid Arizona driver's license, reliable transportation, current auto
insurance, and clean driving record are preferred. Mileage compensation may be
available from Our Family, though arrangements must be made with your supervisor for
approved mileage in advance. Volunteers are not covered by our insurance to drive
agency-owned vehicles or transport clients.
 Must have the sensory capabilities to locate, engage, assess, and provide services to
clients
 Computer and technological skills necessary to complete program paperwork, keep
accurate and timely case records, maintain appropriate correspondence, enter and retrieve
client information on a database, use agency email, and locate information on internet.