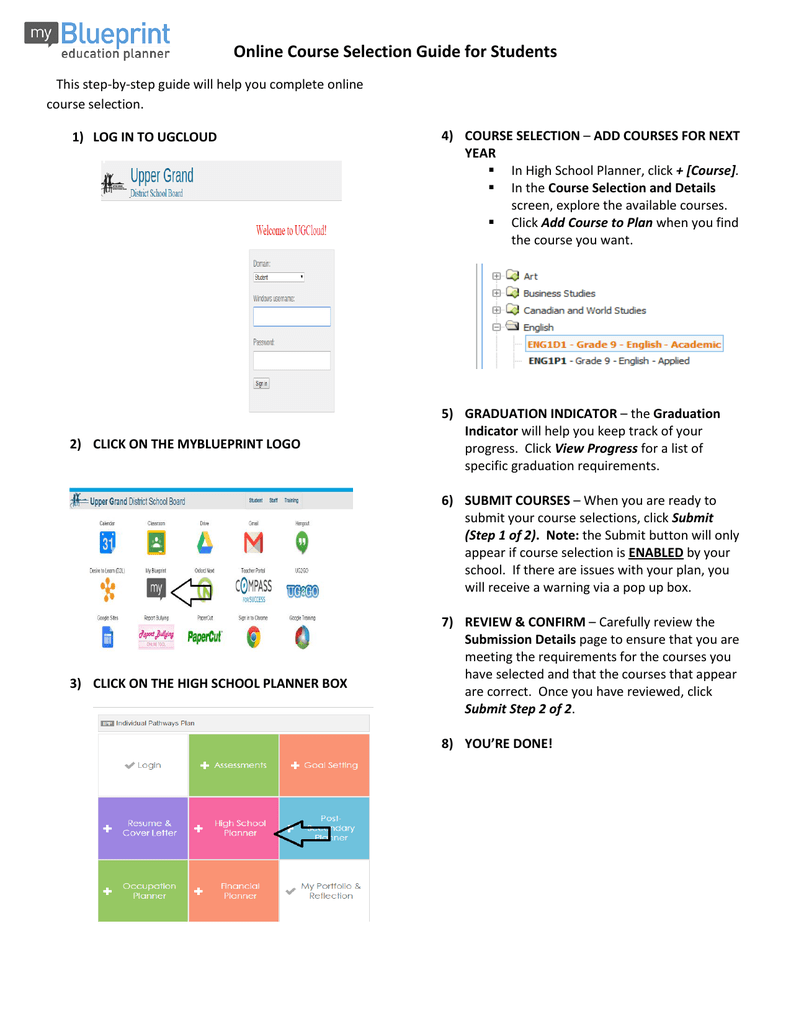 Online Course Selection Guide for Students
This step-by-step guide will help you complete online
course selection.
1) LOG IN TO UGCLOUD
2) CLICK ON THE MYBLUEPRINT LOGO
4) COURSE SELECTION – ADD COURSES FOR NEXT
YEAR
 In High School Planner, click + [Course].
 In the Course Selection and Details
screen, explore the available courses.
 Click Add Course to Plan when you find
the course you want.
5) GRADUATION INDICATOR – the Graduation
Indicator will help you keep track of your
progress. Click View Progress for a list of
specific graduation requirements.
6) SUBMIT COURSES – When you are ready to
submit your course selections, click Submit
(Step 1 of 2). Note: the Submit button will only
appear if course selection is ENABLED by your
school. If there are issues with your plan, you
will receive a warning via a pop up box.
3) CLICK ON THE HIGH SCHOOL PLANNER BOX
7) REVIEW & CONFIRM – Carefully review the
Submission Details page to ensure that you are
meeting the requirements for the courses you
have selected and that the courses that appear
are correct. Once you have reviewed, click
Submit Step 2 of 2.
8) YOU'RE DONE!