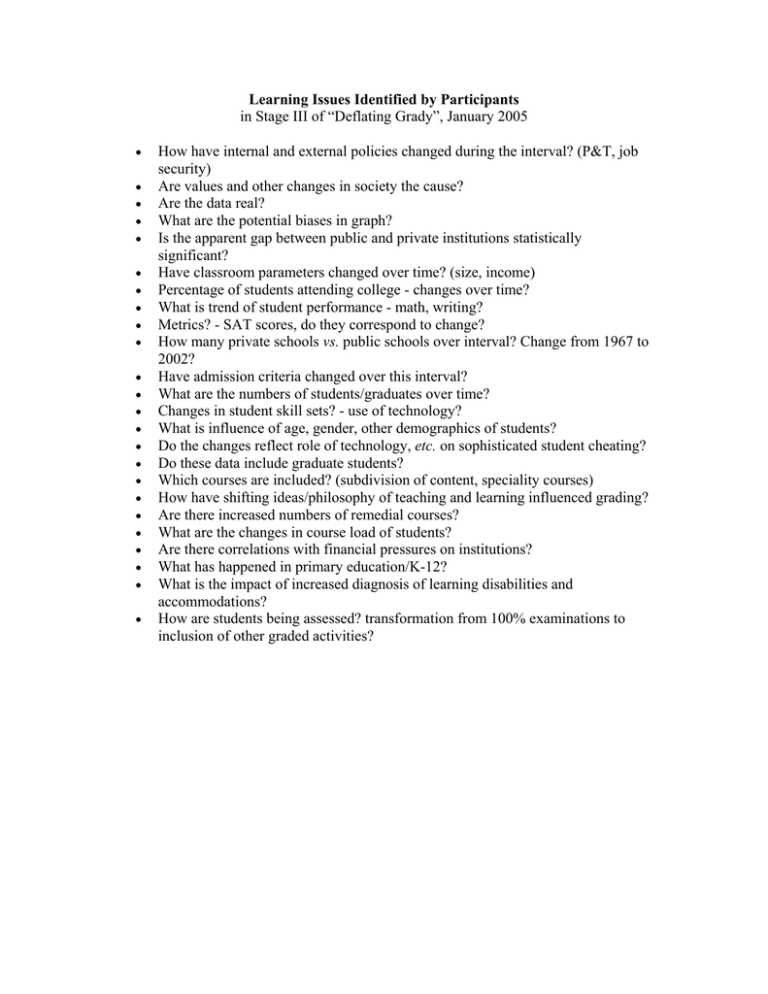 Learning Issues Identified by Participants
in Stage III of "Deflating Grady", January 2005
•
•
•
•
•
•
•
•
•
•
•
•
•
•
•
•
•
•
•
•
•
•
•
•
How have internal and external policies changed during the interval? (P&T, job
security)
Are values and other changes in society the cause?
Are the data real?
What are the potential biases in graph?
Is the apparent gap between public and private institutions statistically
significant?
Have classroom parameters changed over time? (size, income)
Percentage of students attending college - changes over time?
What is trend of student performance - math, writing?
Metrics? - SAT scores, do they correspond to change?
How many private schools vs. public schools over interval? Change from 1967 to
2002?
Have admission criteria changed over this interval?
What are the numbers of students/graduates over time?
Changes in student skill sets? - use of technology?
What is influence of age, gender, other demographics of students?
Do the changes reflect role of technology, etc. on sophisticated student cheating?
Do these data include graduate students?
Which courses are included? (subdivision of content, speciality courses)
How have shifting ideas/philosophy of teaching and learning influenced grading?
Are there increased numbers of remedial courses?
What are the changes in course load of students?
Are there correlations with financial pressures on institutions?
What has happened in primary education/K-12?
What is the impact of increased diagnosis of learning disabilities and
accommodations?
How are students being assessed? transformation from 100% examinations to
inclusion of other graded activities?