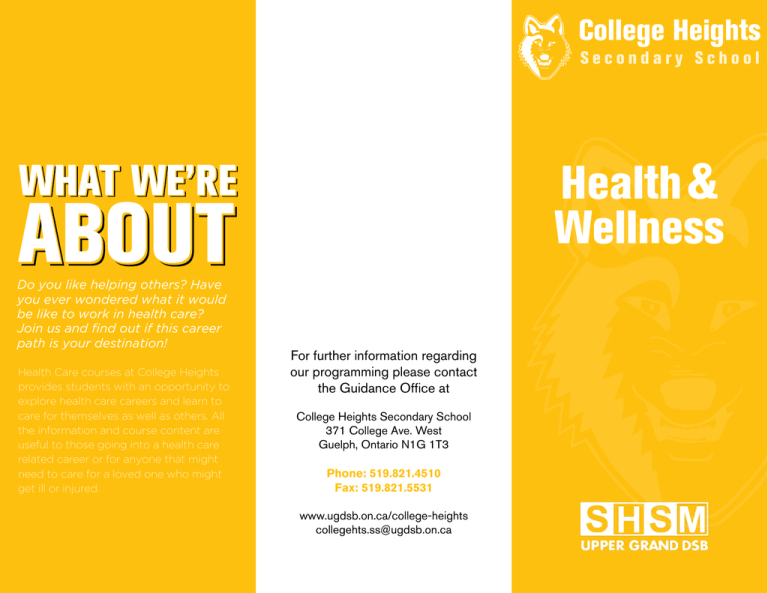 College Heights
Secondary School
Health &
Wellness
Do you like helping others? Have
you ever wondered what it would
be like to work in health care?
Join us and find out if this career
path is your destination!
Health Care courses at College Heights
provides students with an opportunity to
explore health care careers and learn to
care for themselves as well as others. All
the information and course content are
useful to those going into a health care
related career or for anyone that might
need to care for a loved one who might
get ill or injured.
For further information regarding
our programming please contact
the Guidance Office at
College Heights Secondary School
371 College Ave. West
Guelph, Ontario N1G 1T3
Phone: 519.821.4510
Fax: 519.821.5531
www.ugdsb.on.ca/college-heights
collegehts.ss@ugdsb.on.ca
GRADE 9
GRADE 11
JOB OPPORTUNITIES
This exploratory course introduces students
to concepts and skills related to health care
which encompasses caring for themselves
as well as others. Come and discover the
diversified field of health care!
This interesting course focuses on
anatomy and physiology of the major body
systems. Students will learn proper medical
terminology and be exposed to mobility
techniques such as turning and transferring
clients/patients. This class will spark your
interest into the world of health!
There are many job opportunities in the Health
Care industry and these are just a few:
GRADE 12
Early Childhood Educator (ECE)
GRADE 10
In this course, students will be introduced
to personal fitness and recreation, nutrition,
injury care and prevention, as well as
treatment and therapies. Students will
learn about personal care and develop an
awareness of environmental and societal
issues. Come and explore the exciting
careers in this field!
Child Development & Gerontology
This course enables students to examine
the stages of child development and the
aging process. Explore the social, emotional,
physical and mental development
throughout a persons life span. Students
will study the processes of disease and
factors that contribute to health and wellbeing in early and later stages of life. This
course is suited to students that would like
to work with children or the elderly.
Personal Support Worker (PSW)
Providing daily care to people who cannot
complete activities of daily living (ADL) on
their own.
Working with and providing daily activities for
children who are in pre-school or kindergarten.
Registered Massage Therapist
An RMT (Registered Massage Therapist) works
with people who have work and life related
stress in their muscles. Can also treat conditions
such as carpal tunnel, scoliosis, tendinitis and
many more.
Registered Practical Nurse (RPN)
Providing patient care. Includes distributing
medication, providing wound care and meeting
patients needs.