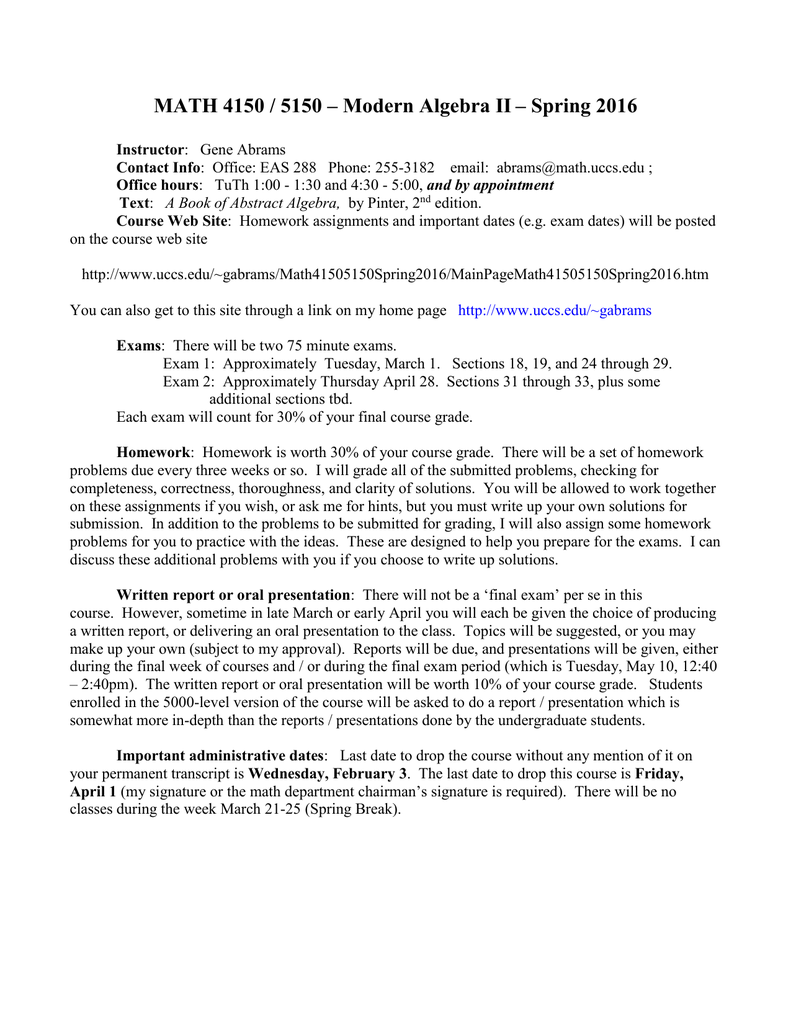 MATH 4150 / 5150 – Modern Algebra II – Spring 2016
Instructor: Gene Abrams
Contact Info: Office: EAS 288 Phone: 255-3182 email: [email protected] ;
Office hours: TuTh 1:00 - 1:30 and 4:30 - 5:00, and by appointment
Text: A Book of Abstract Algebra, by Pinter, 2nd edition.
Course Web Site: Homework assignments and important dates (e.g. exam dates) will be posted
on the course web site
http://www.uccs.edu/~gabrams/Math41505150Spring2016/MainPageMath41505150Spring2016.htm
You can also get to this site through a link on my home page http://www.uccs.edu/~gabrams
Exams: There will be two 75 minute exams.
Exam 1: Approximately Tuesday, March 1. Sections 18, 19, and 24 through 29.
Exam 2: Approximately Thursday April 28. Sections 31 through 33, plus some
additional sections tbd.
Each exam will count for 30% of your final course grade.
Homework: Homework is worth 30% of your course grade. There will be a set of homework
problems due every three weeks or so. I will grade all of the submitted problems, checking for
completeness, correctness, thoroughness, and clarity of solutions. You will be allowed to work together
on these assignments if you wish, or ask me for hints, but you must write up your own solutions for
submission. In addition to the problems to be submitted for grading, I will also assign some homework
problems for you to practice with the ideas. These are designed to help you prepare for the exams. I can
discuss these additional problems with you if you choose to write up solutions.
Written report or oral presentation: There will not be a 'final exam' per se in this
course. However, sometime in late March or early April you will each be given the choice of producing
a written report, or delivering an oral presentation to the class. Topics will be suggested, or you may
make up your own (subject to my approval). Reports will be due, and presentations will be given, either
during the final week of courses and / or during the final exam period (which is Tuesday, May 10, 12:40
– 2:40pm). The written report or oral presentation will be worth 10% of your course grade. Students
enrolled in the 5000-level version of the course will be asked to do a report / presentation which is
somewhat more in-depth than the reports / presentations done by the undergraduate students.
Important administrative dates: Last date to drop the course without any mention of it on
your permanent transcript is Wednesday, February 3. The last date to drop this course is Friday,
April 1 (my signature or the math department chairman's signature is required). There will be no
classes during the week March 21-25 (Spring Break).