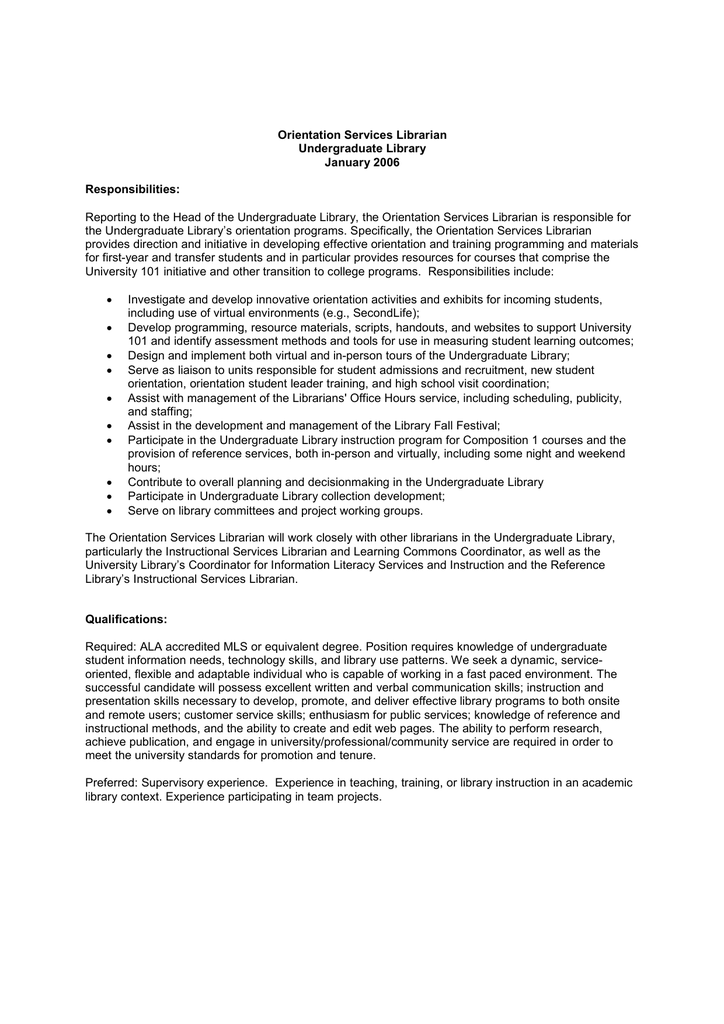 Orientation Services Librarian
Undergraduate Library
January 2006
Responsibilities:
Reporting to the Head of the Undergraduate Library, the Orientation Services Librarian is responsible for
the Undergraduate Library's orientation programs. Specifically, the Orientation Services Librarian
provides direction and initiative in developing effective orientation and training programming and materials
for first-year and transfer students and in particular provides resources for courses that comprise the
University 101 initiative and other transition to college programs. Responsibilities include:
•
•
•
•
•
•
•
•
•
•
Investigate and develop innovative orientation activities and exhibits for incoming students,
including use of virtual environments (e.g., SecondLife);
Develop programming, resource materials, scripts, handouts, and websites to support University
101 and identify assessment methods and tools for use in measuring student learning outcomes;
Design and implement both virtual and in-person tours of the Undergraduate Library;
Serve as liaison to units responsible for student admissions and recruitment, new student
orientation, orientation student leader training, and high school visit coordination;
Assist with management of the Librarians' Office Hours service, including scheduling, publicity,
and staffing;
Assist in the development and management of the Library Fall Festival;
Participate in the Undergraduate Library instruction program for Composition 1 courses and the
provision of reference services, both in-person and virtually, including some night and weekend
hours;
Contribute to overall planning and decisionmaking in the Undergraduate Library
Participate in Undergraduate Library collection development;
Serve on library committees and project working groups.
The Orientation Services Librarian will work closely with other librarians in the Undergraduate Library,
particularly the Instructional Services Librarian and Learning Commons Coordinator, as well as the
University Library's Coordinator for Information Literacy Services and Instruction and the Reference
Library's Instructional Services Librarian.
Qualifications:
Required: ALA accredited MLS or equivalent degree. Position requires knowledge of undergraduate
student information needs, technology skills, and library use patterns. We seek a dynamic, serviceoriented, flexible and adaptable individual who is capable of working in a fast paced environment. The
successful candidate will possess excellent written and verbal communication skills; instruction and
presentation skills necessary to develop, promote, and deliver effective library programs to both onsite
and remote users; customer service skills; enthusiasm for public services; knowledge of reference and
instructional methods, and the ability to create and edit web pages. The ability to perform research,
achieve publication, and engage in university/professional/community service are required in order to
meet the university standards for promotion and tenure.
Preferred: Supervisory experience. Experience in teaching, training, or library instruction in an academic
library context. Experience participating in team projects.