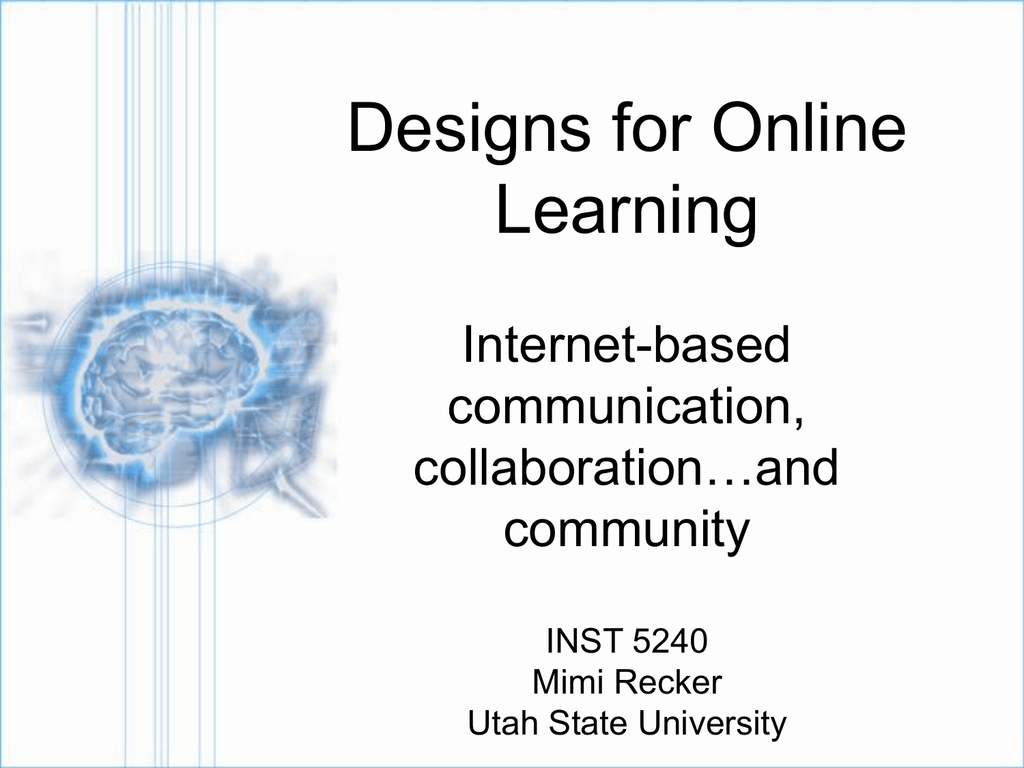 Designs for Online
Learning
Internet-based
communication,
collaboration…and
community
INST 5240
Mimi Recker
Utah State University
Internet
Communications Tools
Location
Same
Same
Time
Different
Different
Issues in Online
Communication
o
o
o
o
o
Mailing-lists vs. bulletin boards: pros
and cons?
Chat tools: pros and cons?
Non-anonymous vs. pseudoanonymous vs anonymous: pros and
cons?
Privacy and monitoring?
Role of moderators?
Representing discussions
o
Star structure
o
Tree/threaded structure
o
Linear (date, subject
or person sorted)
Representing discussions
o
o
To cope with increasing number of
threads, people may specialize
Specialization can lead to community
a
fragmentation
aa
b
c
d
Video/Audio Conferencing
o
Conferencing over Internet:
o
o
o
o
o
o
Streaming
Point-to-point
Multi-point
Applications often include chat, whiteboard,
application sharing, video/audio
conferencing.
Examples: Netmeeting, CU-SeeMe,
Sorensen Vision, ProShare, …
Personal experiences?
How to make a site
"sticky"?
o
o
o
o
o
o
Design for:
Active participation
Interactive learning, peer discussions
and exchange
Multiple perspectives
Navigation: spatial metaphor to ease
the transition from face2face
Others?
Design for Learning
Communities
"People in virtual communities do just
about everything people do in real life
but we leave our bodies behind."
--H. Rheingold
Implications for design?
Design for Learning
Communities
o
Create a shared participatory experience:
o
o
o
o
o
o
o
A shared understood goal
Mutual respect, tolerance, and trust
Continuous but not continual communication
Use formal and informal environments
Use outsiders for complementary insights and
information
Example: www.tappedin.org
How does it create community?