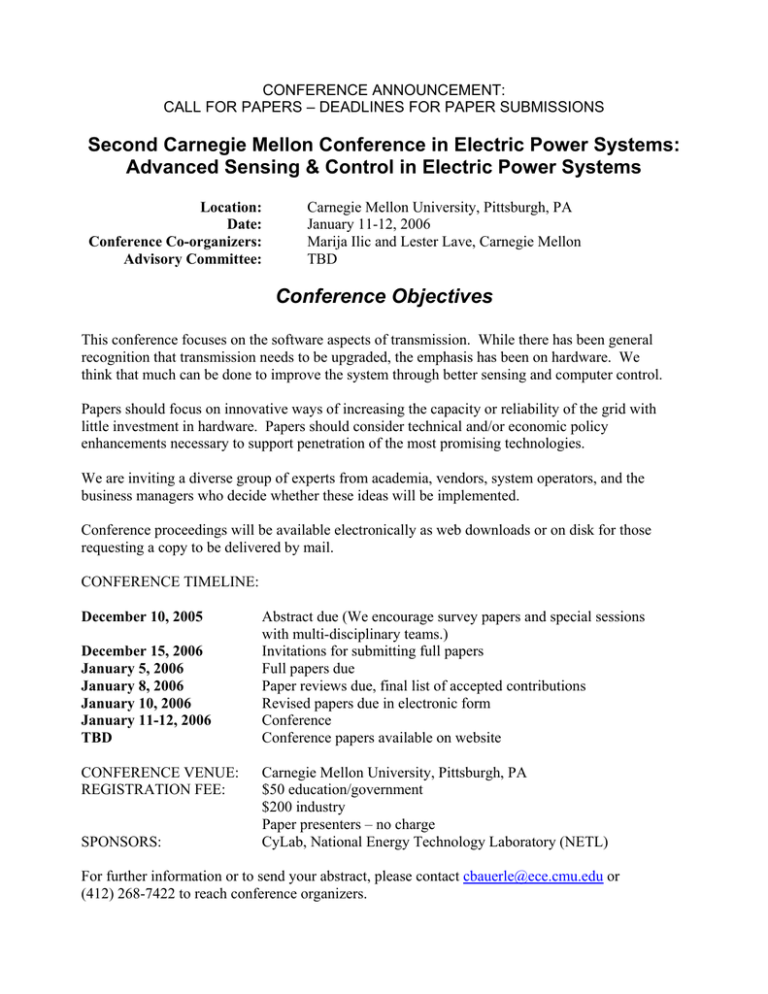 CONFERENCE ANNOUNCEMENT:
CALL FOR PAPERS – DEADLINES FOR PAPER SUBMISSIONS
Second Carnegie Mellon Conference in Electric Power Systems:
Advanced Sensing & Control in Electric Power Systems
Location:
Date:
Conference Co-organizers:
Advisory Committee:
Carnegie Mellon University, Pittsburgh, PA
January 11-12, 2006
Marija Ilic and Lester Lave, Carnegie Mellon
TBD
Conference Objectives
This conference focuses on the software aspects of transmission. While there has been general
recognition that transmission needs to be upgraded, the emphasis has been on hardware. We
think that much can be done to improve the system through better sensing and computer control.
Papers should focus on innovative ways of increasing the capacity or reliability of the grid with
little investment in hardware. Papers should consider technical and/or economic policy
enhancements necessary to support penetration of the most promising technologies.
We are inviting a diverse group of experts from academia, vendors, system operators, and the
business managers who decide whether these ideas will be implemented.
Conference proceedings will be available electronically as web downloads or on disk for those
requesting a copy to be delivered by mail.
CONFERENCE TIMELINE:
December 10, 2005
December 15, 2006
January 5, 2006
January 8, 2006
January 10, 2006
January 11-12, 2006
TBD
CONFERENCE VENUE:
REGISTRATION FEE:
SPONSORS:
Abstract due (We encourage survey papers and special sessions
with multi-disciplinary teams.)
Invitations for submitting full papers
Full papers due
Paper reviews due, final list of accepted contributions
Revised papers due in electronic form
Conference
Conference papers available on website
Carnegie Mellon University, Pittsburgh, PA
$50 education/government
$200 industry
Paper presenters – no charge
CyLab, National Energy Technology Laboratory (NETL)
For further information or to send your abstract, please contact cbauerle@ece.cmu.edu or
(412) 268-7422 to reach conference organizers.