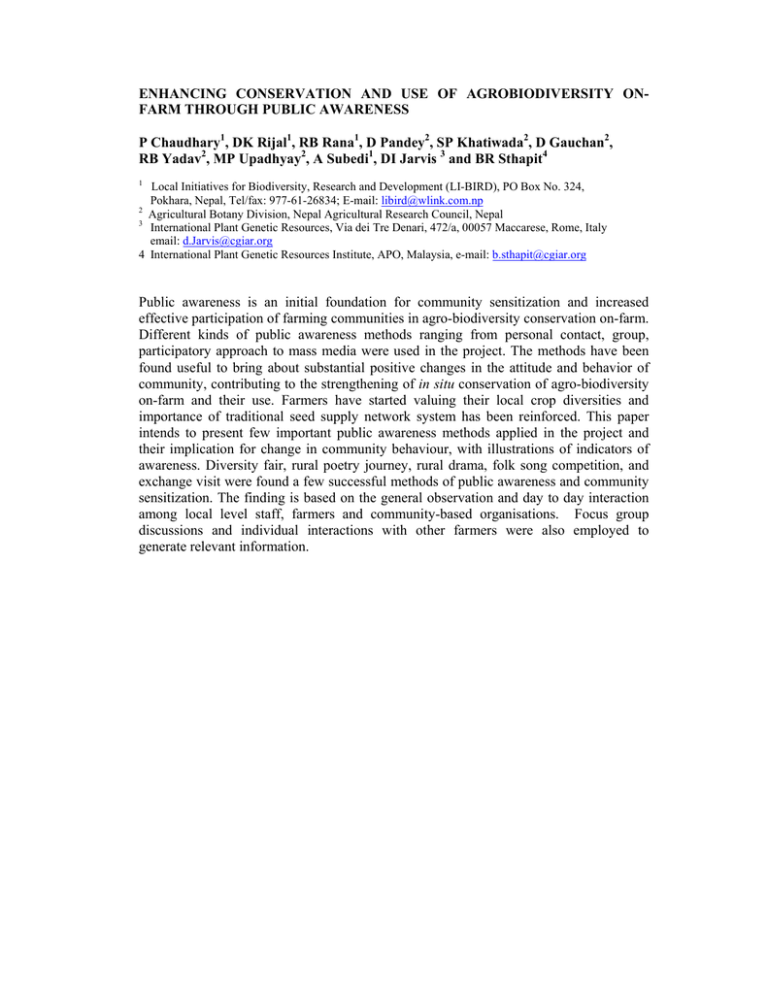 ENHANCING CONSERVATION AND USE OF AGROBIODIVERSITY ONFARM THROUGH PUBLIC AWARENESS
P Chaudhary1, DK Rijal1, RB Rana1, D Pandey2, SP Khatiwada2, D Gauchan2,
RB Yadav2, MP Upadhyay2, A Subedi1, DI Jarvis 3 and BR Sthapit4
1
Local Initiatives for Biodiversity, Research and Development (LI-BIRD), PO Box No. 324,
Pokhara, Nepal, Tel/fax: 977-61-26834; E-mail: libird@wlink.com.np
2
Agricultural Botany Division, Nepal Agricultural Research Council, Nepal
3
International Plant Genetic Resources, Via dei Tre Denari, 472/a, 00057 Maccarese, Rome, Italy
email: d.Jarvis@cgiar.org
4 International Plant Genetic Resources Institute, APO, Malaysia, e-mail: b.sthapit@cgiar.org
Public awareness is an initial foundation for community sensitization and increased
effective participation of farming communities in agro-biodiversity conservation on-farm.
Different kinds of public awareness methods ranging from personal contact, group,
participatory approach to mass media were used in the project. The methods have been
found useful to bring about substantial positive changes in the attitude and behavior of
community, contributing to the strengthening of in situ conservation of agro-biodiversity
on-farm and their use. Farmers have started valuing their local crop diversities and
importance of traditional seed supply network system has been reinforced. This paper
intends to present few important public awareness methods applied in the project and
their implication for change in community behaviour, with illustrations of indicators of
awareness. Diversity fair, rural poetry journey, rural drama, folk song competition, and
exchange visit were found a few successful methods of public awareness and community
sensitization. The finding is based on the general observation and day to day interaction
among local level staff, farmers and community-based organisations. Focus group
discussions and individual interactions with other farmers were also employed to
generate relevant information.