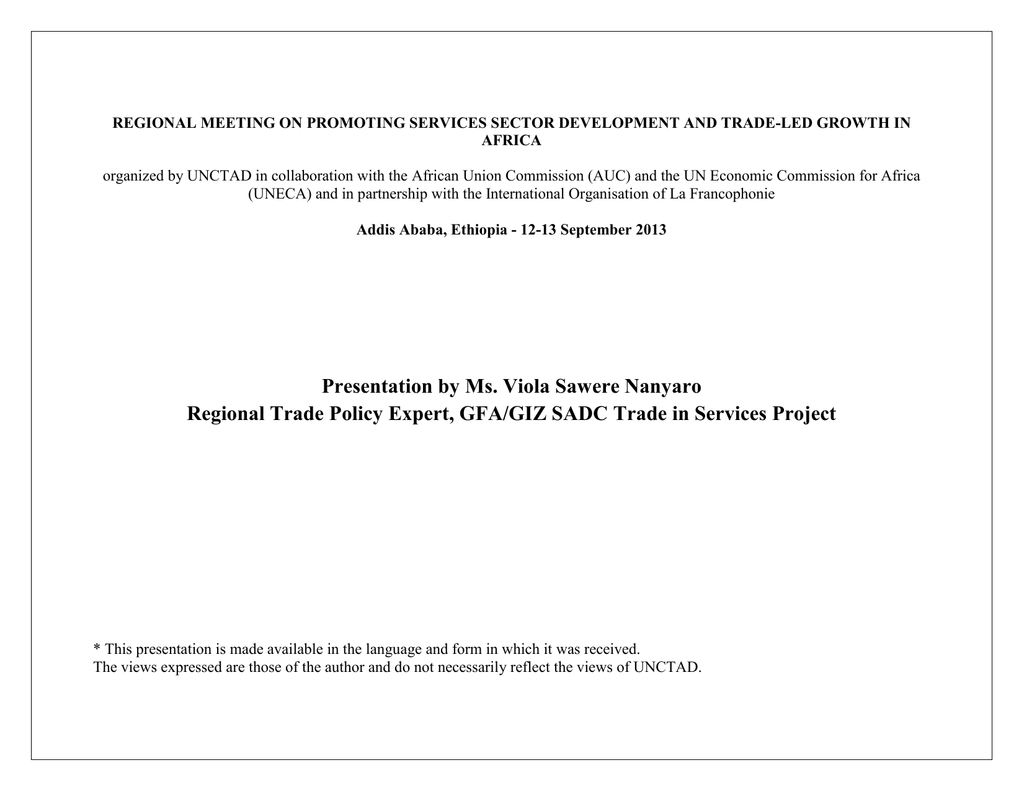 REGIONAL MEETING ON PROMOTING SERVICES SECTOR DEVELOPMENT AND TRADE-LED GROWTH IN
AFRICA
organized by UNCTAD in collaboration with the African Union Commission (AUC) and the UN Economic Commission for Africa
(UNECA) and in partnership with the International Organisation of La Francophonie
Addis Ababa, Ethiopia - 12-13 September 2013
Presentation by Ms. Viola Sawere Nanyaro
Regional Trade Policy Expert, GFA/GIZ SADC Trade in Services Project
* This presentation is made available in the language and form in which it was received.
The views expressed are those of the author and do not necessarily reflect the views of UNCTAD.
Development Partners, Public &
Private Sector in Services Sector
Development: Case of GIZ/SADC
Support
Addis Ababa
12-13 Sept 2013
Presented by: Viola Sawere-Nanyaro
[email protected]
[email protected]
Challenges Encountered
Services Sector in Southern Africa
•
•
•
•
Insufficient resources (monetary and human resources)
Limited coordination at national level
Un-organised/disintegrated stakeholder
Lack of national consultation mechanism and
– permanent structures Vs ad hoc structures
– Shift of resources
• Involvement in multiple fora involving services agenda (in most cases) with
no clear & strategic vision
• In ability to identify real challenges (issues for negotiations) in the sector
• Uncoordinated/ policies in the services sectors
–
–
–
–
Often sector development policies don not speak to other sector policies
value chain?
Limited sector stakeholder involvement
Limited services statistics
• Mostly from the BOP which is highly aggregated
• Trade restrictions
Role of DPs support in the SADC Trade
in Services Programme
• Two main DPs and 2 ad hoc support
– GIZ and EU
– Others (world bank, UNCTAD & ILEAP)
• GIZ & EU Main focus: support of the regional trade in
services negotiation on liberalisation commitments
–
–
–
–
Support during the request offer process
Technical support (two fulltime experts at SADC Secretariat)
A couple of Short-term experts
Support is provided both at regional level and MS level
• Others (World bank, UNCTAD & ILEAP)
– Sector policy development
– Private sector involvement (capacity building)
SADC TiS Programme
2000
Services Annex to SADC Trade Protocol
Liberalisation of 6 priority sectors
2006
Standalone Protocol instead of Annex
Build on other Protocol (TiS relevant)
2009
Adoption of Draft Protocol by CMT
Adoption of Negotiating Guidelines TNF -Services)
2011
CMT approved the Negotiating Guidelines
CMT approved the start of negotiations
2012
Roadmap & start of negotiations
Clearance of Protocol by MOJ
MS signed the Protocol
1st Round of Negotiations (3years)
Sectors of Focus
Sectors of Focus
• Construction
• Energy related
Communication
Finance
Tourism
Transport
Offer in
at least
2/4
Roadmap
Requests
in at least
2/4
Offers in
the 4
Offer in
the 6 (4+2)
Request
in 6
(4+2)
Requests
in the 4
Mile stones
•
•
•
•
April
2012
Aug
2012
Nov.
2012
March
2013
June
2013
Aug
2013
Nov.
2013
Time lines
Requests –Offers Process
Request-Offer Process: State of Play
4 Offers Requests
- MS not committed
so far
•Seychelles (3 sectors),
Mauritius (4) , Swaziland
(4) , Malawi (4)
•Angola & Madagascar
- MS far behind in
domestic processes:
•Namibia, DRC,
Mozambique and
Zimbabwe
NB: Yet to sign the Protocol
• Namibia
• South Africa
• Angola
• Madagascar
MS able to table an
offer:
•Zambia and Tanzania
5 requests:
•Lesotho, Mauritius, South
Africa, Swaziland, Zambia
MS far advanced in
preparation of
offers:
•South Africa, Botswana
(2), Lesotho (4-6);
Why do Member States have difficulty
to comply with the Roadmap?
• The ownership paradox of the negotiations: Trade Ministry runs the
negotiations but is not a substantive stakeholder
• Lack of one internalized strategic position for the country at the outset, …and
lack of mandate and capacity for Trade to develop such a strategy
• Difficulty to obtain cooperation/coordination from public sector stakeholders
(line ministries, investment authority, immigration/labour department, attorney
general, economic planning agency) and private sector stakeholders (sectoral
associations, Chambers of Commerce, consumer associations, etc,)
• Lack of analytical capacity by Trade (regulatory audits & reform)
• No discernible resource shift with the beginning of the negotiations to support
the process
• …and all the other reasons typical for public administrations (communication,
flexibility, accountability, etc.)
Balancing Services Sector Development
Strategic Vision
Input to services sector
• Resources (incl. human
capital and systems )
Businesses or
Private sector
Sector
Development
Sector development
programmes
• Value chain support
• Investment promotion
Policy &
Regulations
Universal access
to services
Liberalisation
Consumers
Services negotiations: complexity
Parliamentary/cabinet process
Trade offs
Domestic
and foreign
Rapid evaluations
consultations
Strategic Assessment
Negotiations
Decision making
Trade agreements
baseline
Quantitative
Request offer
formulation
Regulatory
audits
Regulatory
capacity
Survey
Data
Economic
Analysis
consumers
Regulatory
assessment
Regulatory
changes
BOP
Analytics
Qualitative
Indicatives
Domestic &
foreign
markets
consultations
Producer
Consistency with national development policies
NGO
GIZ Support at regional level
Sector
Studies
MS' regulations
Trade restrictions
in MS
Issues for TiS
negotiations
Sector Fora
Technical
Backstopping
Share
knowledge
Steering the
negotiations
work under
other
Protocols
Quality
control
(offers)
GIZ Support for National Activities
Demand driven, flexible, and quick wherever needed
Training and
consultative
workshops
• Address specific
needs as requested
Legal & technical
analysis
• Short paper
analysis by the
Secretariat
Combined
Consultations and
analysis by STE
• Sector/regulatory
analysis
• Stakeholder
consultations
• Draft requests and
offers
Involvement of the Stakeholders
• Appointment of focal points
– Legally provided for in the Protocol
– Formally submission by MS (incl. alternates)
• Capacity building
– Establishment of services coalitions
– Technical training to private sector associations (both
national and regional levels
• Decision making
– Give options and guidance
– Brainstorm together
– Remind them of early decision on the issues under
discussion
Coherence in services agreement
• Same teams deals with all services agreement
– Establish national system (committee representing all sectors)
– Defined role for the team
• Development of new offers must always use existing
commitment as basis
– Verify existence of restrictions in the laws in operation
– Add new interests not capture in the previous agreement
– Policy objective must always guide any re-direction to obtain
stakeholder buy-in before deciding
• Analyse compatibility, economic and legal implication of
new agreement with existing
• important to know who is doing what and when?
Strategic issues: Engaging DP
•
•
•
•
Know their strategic area of support by the DP
Seek clarity every time
Do not ask for same support to two or more DPs
Avoid duplication (target request per DPs
strategic area of support)
• Ensure effective participation in from design to
implementation of programme design
• De-brief your stakeholder regularly
Areas where no support currently
• Improvement of services statistics
• SADC data base for trade restriction:
monitoring implementation
• ??????