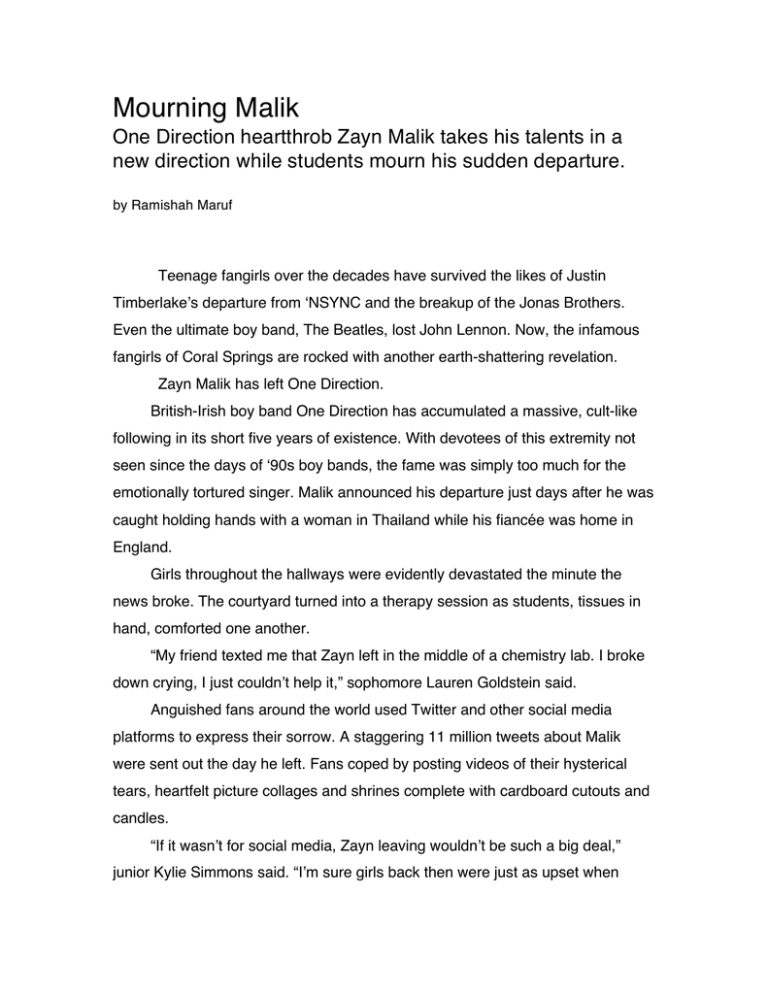 Mourning Malik
One Direction heartthrob Zayn Malik takes his talents in a
new direction while students mourn his sudden departure.
by Ramishah Maruf
Teenage fangirls over the decades have survived the likes of Justin
Timberlake's departure from ʻNSYNC and the breakup of the Jonas Brothers.
Even the ultimate boy band, The Beatles, lost John Lennon. Now, the infamous
fangirls of Coral Springs are rocked with another earth-shattering revelation.
Zayn Malik has left One Direction.
British-Irish boy band One Direction has accumulated a massive, cult-like
following in its short five years of existence. With devotees of this extremity not
seen since the days of ʻ90s boy bands, the fame was simply too much for the
emotionally tortured singer. Malik announced his departure just days after he was
caught holding hands with a woman in Thailand while his fiancée was home in
England.
Girls throughout the hallways were evidently devastated the minute the
news broke. The courtyard turned into a therapy session as students, tissues in
hand, comforted one another.
"My friend texted me that Zayn left in the middle of a chemistry lab. I broke
down crying, I just couldn't help it," sophomore Lauren Goldstein said.
Anguished fans around the world used Twitter and other social media
platforms to express their sorrow. A staggering 11 million tweets about Malik
were sent out the day he left. Fans coped by posting videos of their hysterical
tears, heartfelt picture collages and shrines complete with cardboard cutouts and
candles.
"If it wasn't for social media, Zayn leaving wouldn't be such a big deal,"
junior Kylie Simmons said. "I'm sure girls back then were just as upset when
bands like the Beatles broke up, but they didn't have the opportunity to
communicate that sorrow with millions of people on the internet."
Zayn Malik may be going in another direction, but his angelic voice and
good looks will remain everlasting in the minds -- and Twitter accounts -- of
fangirls everywhere.