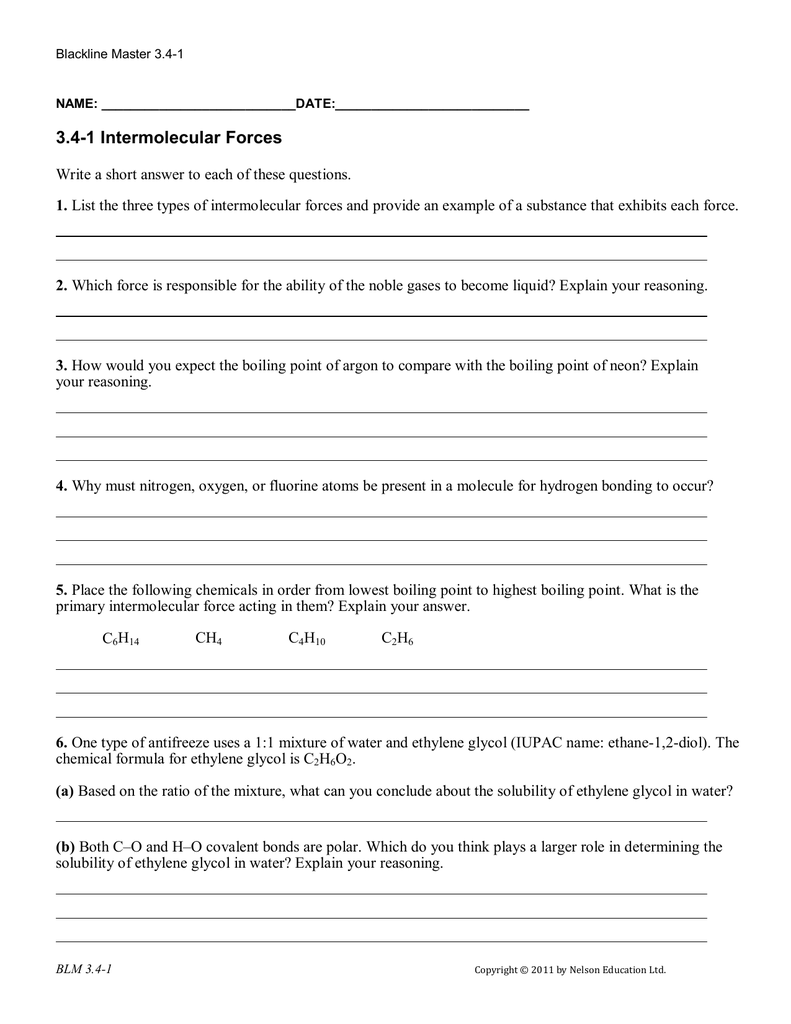 Blackline Master 3.4-1
NAME: ___________________________DATE:___________________________
3.4-1 Intermolecular Forces
Write a short answer to each of these questions.
1. List the three types of intermolecular forces and provide an example of a substance that exhibits each force.
2. Which force is responsible for the ability of the noble gases to become liquid? Explain your reasoning.
3. How would you expect the boiling point of argon to compare with the boiling point of neon? Explain
your reasoning.
4. Why must nitrogen, oxygen, or fluorine atoms be present in a molecule for hydrogen bonding to occur?
5. Place the following chemicals in order from lowest boiling point to highest boiling point. What is the
primary intermolecular force acting in them? Explain your answer.
C6H14
CH4
C4H10
C2H6
6. One type of antifreeze uses a 1:1 mixture of water and ethylene glycol (IUPAC name: ethane-1,2-diol). The
chemical formula for ethylene glycol is C2H6O2.
(a) Based on the ratio of the mixture, what can you conclude about the solubility of ethylene glycol in water?
(b) Both C–O and H–O covalent bonds are polar. Which do you think plays a larger role in determining the
solubility of ethylene glycol in water? Explain your reasoning.
BLM 3.4-1
Copyright © 2011 by Nelson Education Ltd.