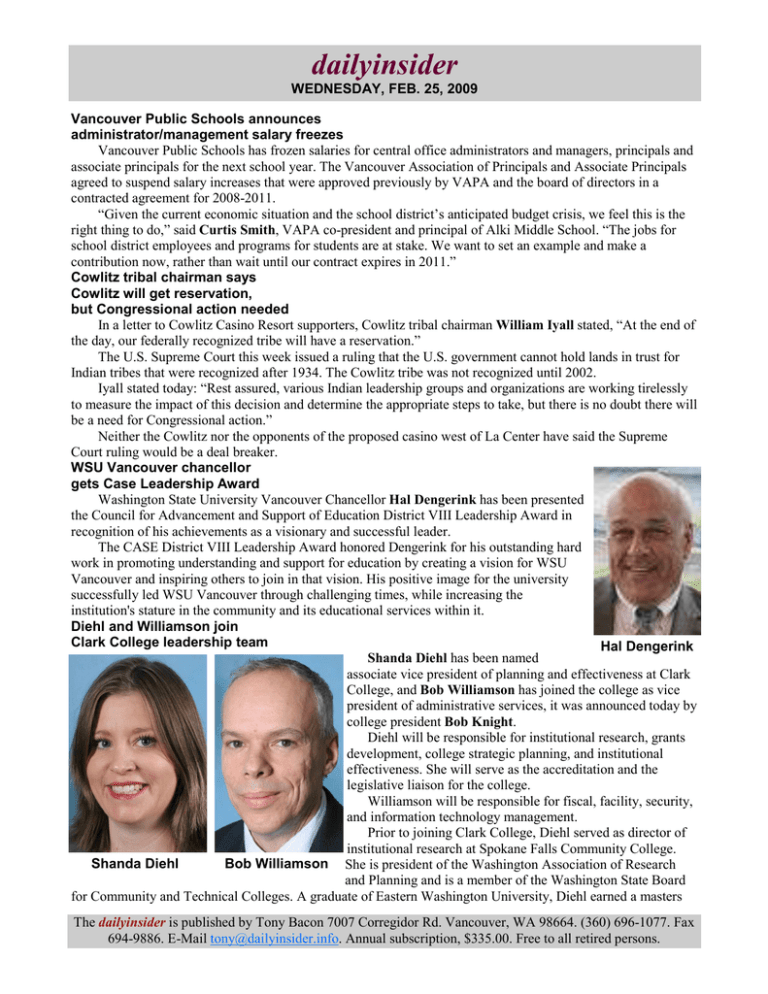 dailyinsider
WEDNESDAY, FEB. 25, 2009
Vancouver Public Schools announces
administrator/management salary freezes
Vancouver Public Schools has frozen salaries for central office administrators and managers, principals and
associate principals for the next school year. The Vancouver Association of Principals and Associate Principals
agreed to suspend salary increases that were approved previously by VAPA and the board of directors in a
contracted agreement for 2008-2011.
"Given the current economic situation and the school district's anticipated budget crisis, we feel this is the
right thing to do," said Curtis Smith, VAPA co-president and principal of Alki Middle School. "The jobs for
school district employees and programs for students are at stake. We want to set an example and make a
contribution now, rather than wait until our contract expires in 2011."
Cowlitz tribal chairman says
Cowlitz will get reservation,
but Congressional action needed
In a letter to Cowlitz Casino Resort supporters, Cowlitz tribal chairman William Iyall stated, "At the end of
the day, our federally recognized tribe will have a reservation."
The U.S. Supreme Court this week issued a ruling that the U.S. government cannot hold lands in trust for
Indian tribes that were recognized after 1934. The Cowlitz tribe was not recognized until 2002.
Iyall stated today: "Rest assured, various Indian leadership groups and organizations are working tirelessly
to measure the impact of this decision and determine the appropriate steps to take, but there is no doubt there will
be a need for Congressional action."
Neither the Cowlitz nor the opponents of the proposed casino west of La Center have said the Supreme
Court ruling would be a deal breaker.
WSU Vancouver chancellor
gets Case Leadership Award
Washington State University Vancouver Chancellor Hal Dengerink has been presented
the Council for Advancement and Support of Education District VIII Leadership Award in
recognition of his achievements as a visionary and successful leader.
The CASE District VIII Leadership Award honored Dengerink for his outstanding hard
work in promoting understanding and support for education by creating a vision for WSU
Vancouver and inspiring others to join in that vision. His positive image for the university
successfully led WSU Vancouver through challenging times, while increasing the
institution's stature in the community and its educational services within it.
Diehl and Williamson join
Clark College leadership team
Hal Dengerink
Shanda Diehl has been named
associate vice president of planning and effectiveness at Clark
College, and Bob Williamson has joined the college as vice
president of administrative services, it was announced today by
college president Bob Knight.
Diehl will be responsible for institutional research, grants
development, college strategic planning, and institutional
effectiveness. She will serve as the accreditation and the
legislative liaison for the college.
Williamson will be responsible for fiscal, facility, security,
and information technology management.
Prior to joining Clark College, Diehl served as director of
institutional research at Spokane Falls Community College.
Shanda Diehl
Bob Williamson She is president of the Washington Association of Research
and Planning and is a member of the Washington State Board
for Community and Technical Colleges. A graduate of Eastern Washington University, Diehl earned a masters
The dailyinsider is published by Tony Bacon 7007 Corregidor Rd. Vancouver, WA 98664. (360) 696-1077. Fax
694-9886. E-Mail tony@dailyinsider.info. Annual subscription, $335.00. Free to all retired persons.
dailyinsider
Wednesday, Feb. 25, 2009
Page 2
degree in public health from the University of Washington.
Williamson most recently served as administrative services manager and was promoted to deputy director of
Clark County Public Health. He brings more than 20 years of leadership experience to Clark College.
Williamson is a graduate of Fort Steilacoom Community College, Tacoma, and Western Washington
University, from which he also earned a masters degree in political science.
Williamson is a member of the Washington State Association of Head Start. He also served as chair of the
Clark County Community Network and has been active with the National Head Start Association and the Public
Health Executive Leadership Forum.
People
Mary Stone, Washougal pianist, who earned third place and a $250 scholarship in the Vancouver Symphony
Orchestra's 15th annual Young Artists Competition, will not perform with the Vancouver Symphony Orchestra
during its April 18 and 19 concerts. The Insider was in error yesterday in reporting that she would play with the orchestra.
Calendar
Vancouver Mayor Royce Pollard presents the State of the City address at 10 a.m. tomorrow, Feb. 26, in the
Hilton Vancouver Washington. Doors open at 9:30 a.m. Admission is a donation of nonperishable food for the
Salvation Army. Reservations are required. For further information, call 487-8000. <> "Downsizing Tools for
Tough Timers" is a free presentation by the Columbia River Economic Development Council, Greater Vancouver
Chamber of Commerce and Southwest Washington Workforce Development Council, is from 4 to 5:30 p.m.
Thursday, Feb. 26, in the Rose F. Besserman Room in C-TRAN's Fishers Landing. There is no charge and
reservations are not required.
Wednesday on the air
Port of Vancouver Commissioners (2/24)—4:30 p.m. CVTV
Portland Blazers at San Antonio (live)—5:30 p.m. KGW-TV, KXTG
Montana State at Portland State (live)—7 p.m. KPDQ
Forum: Water Supply (2/19)—7:30 p.m. CVTV
Vancouver Land Use Hearings (2/5)—9:15 p.m. CVTV
Port of Vancouver Report (2/5)—10:15 p.m. CVTV
Clark College Vocal Jazz (1/29)—10:30 p.m. CVTV
Town Tabloids and the Weather
Sandy Hoyt offering pleasant hello. <> Liana Casaba brings home butler. <> Rich Braes clarifying. <> David
Gray accepting gray over green. <> Astrid Coats calling clan together. <> Wednesday, early April showers,
some sun breaks, 37-52. Thursday, cold rain, possible snow flakes, 30-43. Friday, mostly cloudy, 34-47.
The daily insider is published by Tony Bacon 7007 Corregidor Rd. Vancouver, WA 98664. (360) 696-1077. Fax
694-9886. E-mail tony@dailyinsider.info. Annual subscription, $335.00. Free to all retired persons.