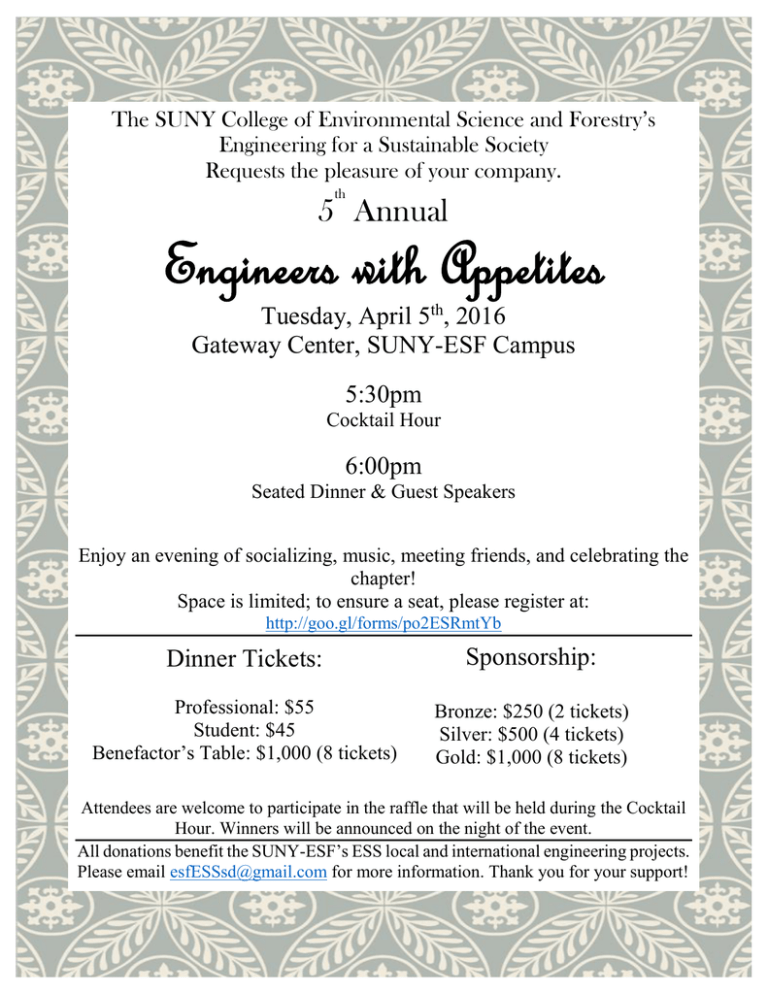 The SUNY College of Environmental Science and Forestry's
Engineering for a Sustainable Society
Requests the pleasure of your company.
th
5 Annual
Engineers with Appetites
Tuesday, April 5th, 2016
Gateway Center, SUNY-ESF Campus
5:30pm
Cocktail Hour
6:00pm
Seated Dinner & Guest Speakers
Enjoy an evening of socializing, music, meeting friends, and celebrating the
chapter!
Space is limited; to ensure a seat, please register at:
http://goo.gl/forms/po2ESRmtYb
Dinner Tickets:
Sponsorship:
Professional: $55
Student: $45
Benefactor's Table: $1,000 (8 tickets)
Bronze: $250 (2 tickets)
Silver: $500 (4 tickets)
Gold: $1,000 (8 tickets)
Attendees are welcome to participate in the raffle that will be held during the Cocktail
Hour. Winners will be announced on the night of the event.
All donations benefit the SUNY-ESF's ESS local and international engineering projects.
Please email esfESSsd@gmail.com for more information. Thank you for your support!