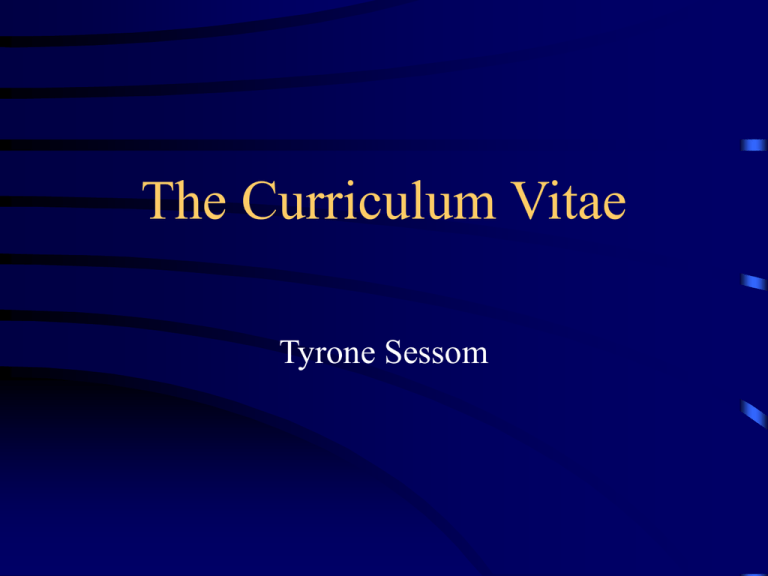 The Curriculum Vitae
Tyrone Sessom
Demystifying The CV
"Without precise definitions or universal
acknowledged distinctions, the terms
resume and CV, the abbreviation of
curriculum vitae and vita have been subject
to personal opinions, biases, and esoteric
interpretations."
~Anthony, Roe
The Resume
• The resume is a document that summarizes
qualifications, education, experience, skills,
and other items relative to your objective.
• Typical resumes include nonacademic
pursuits, such as civic or community
activities, and hobbies/interests.
The CV
• The CV is a special type of resume
traditionally used in the academic
community. Earned degrees, teaching and
research experience, publications,
presentations and relative activities are
featured.
• The CV is an academic version of a Resume
Similarities
•
•
•
•
•
Identification
Education
Relevant Experience
Professional Skills
Activities
Differences
Resume is to Business
as
CV is to Academia
~Refer to Handouts
Building A Good CV
•
•
•
•
•
•
Do's
12 Font Size (Times)
Clear and Forward
Easy to Scan
Stress achievements
Laser Quality Print
Use Action Words
•
•
•
•
•
•
Don'ts
Include Illegal Info
No Pictures
No Abbreviations
Special Fonts/Colors
Waste Space
Staple
Keep in Mind!
•
•
•
•
•
•
This is not you autobiography—keep focus
Tell employers what they want to know
Don't use long paragraphs or sentences
Make it simple and plain
Format must be consistent
DO NOT USE TEMPLATES!!
Starting Out
For starters, don't worry about the length of
the CV or the appearance. At this point,
simply get your story down on paper.
Editing comes later (That's my job).