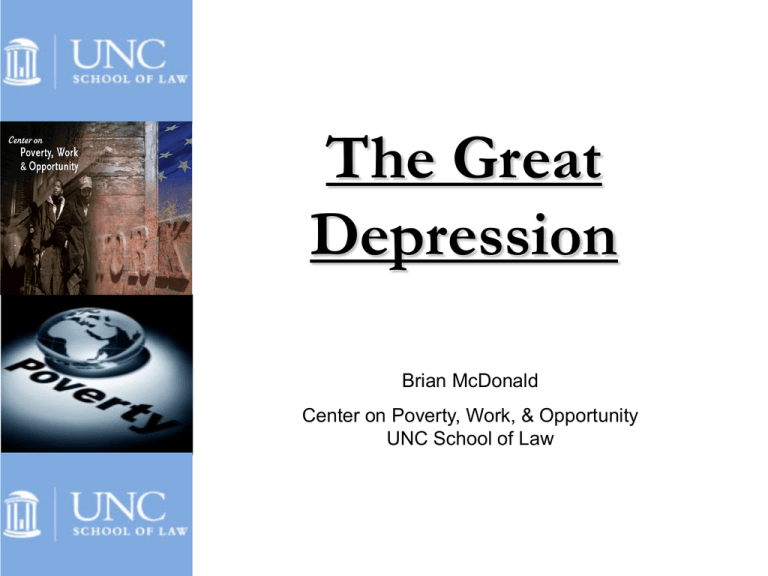 The Great
Depression
Brian McDonald
Center on Poverty, Work, & Opportunity
UNC School of Law
Trends of the 1920s
• Economic prosperity for much of
the country
• Improvements and setbacks for
both women and minorities
• Significant technological changes in
society
• Republican domination of the
American Presidency
• Laissez-faire approach from the
federal government
America in the 1920s
Election of 1928
Herbert Hoover (Red) – Republican
Alfred Smith (Blue) - Democrat
Wall Street Crash
• October 24th, 1929: Black Thursday
– The market lost 11% of its value
(many investors decided to sell)
– Major bankers/investors pumped
money in to prevent a larger drop
and try to stop the fall
• October 29th, 1929: Black Tuesday
– Market lost an additional 12%; many
investors sold, economic depression
Herbert Hoover
• Much debate exists as to Hoover's
effectiveness when the market crashed
• In lieu of federal involvement, he left much
of the decision-making to the states (laissezfaire)
• Hoover blamed for
economic problems
of the country
– Homeless communities
emerge; media calls them
"Hoovervilles"
Causes of the Great
Depression
• Stock Market Crash buying on the
margin and stock speculation
• Continued crop failure in the dust bowl
• Rest of the world (global economic
issues)
• Excessive goods (overproduction)
• Weak farm economy (and agricultural
issues)
• Excessive use of credit
• Direction of government and monetary
policies
Photographic Essay
Photographic Essay
Photographic Essay
Photographic Essay
Photographic Essay
Photographic Essay
Election of 1932
Franklin D. Roosevelt (Democrat) - Blue
Herbert Hoover (Republican) - Red
Franklin Roosevelt
After Roosevelt overwhelmingly wins the
election, he tells the nation:
"I pledge you, I pledge myself, to a new
deal for the American people."
The resulting New Deal is
his comprehensive set of
programs to put people
back to work motivating
relief, recovery, and reform
for the country.
Significant New
Deal Programs
• Civilian
Conservation Corp
• Public Works
Administration
• Securities &
Exchange
Commission
• Tennessee Valley
Authority
• Agricultural
Adjustment
Administration
• National Labor
Relations Act
• Social Security Act
• Emergency
Banking Act
• Civil Works
Administration
• Federal Deposit
Insurance
Corporation
• Reconstruction
Finance Corp
New Deal Programs
Public Works
Administration Project
(Mississippi River)
Civilian
Conservation Corp
Construction
Consequences of the
Great Depression
• Job loss, increased unemployment
(25% in 1932); recession from
1937-39
• Homelessness and increases in
economic inequality; limited
resources
• Culture of poverty (including
psychological problems and
substance abuse)
Questions
1.
2.
3.
What were the strengths and
weaknesses of Hoover and
Roosevelt's responses to the Great
Depression?
How successful was the New Deal?
Did that, or World War II, get the
nation out of the Great Depression?
What role should the federal
government play in the economic
success of our country?