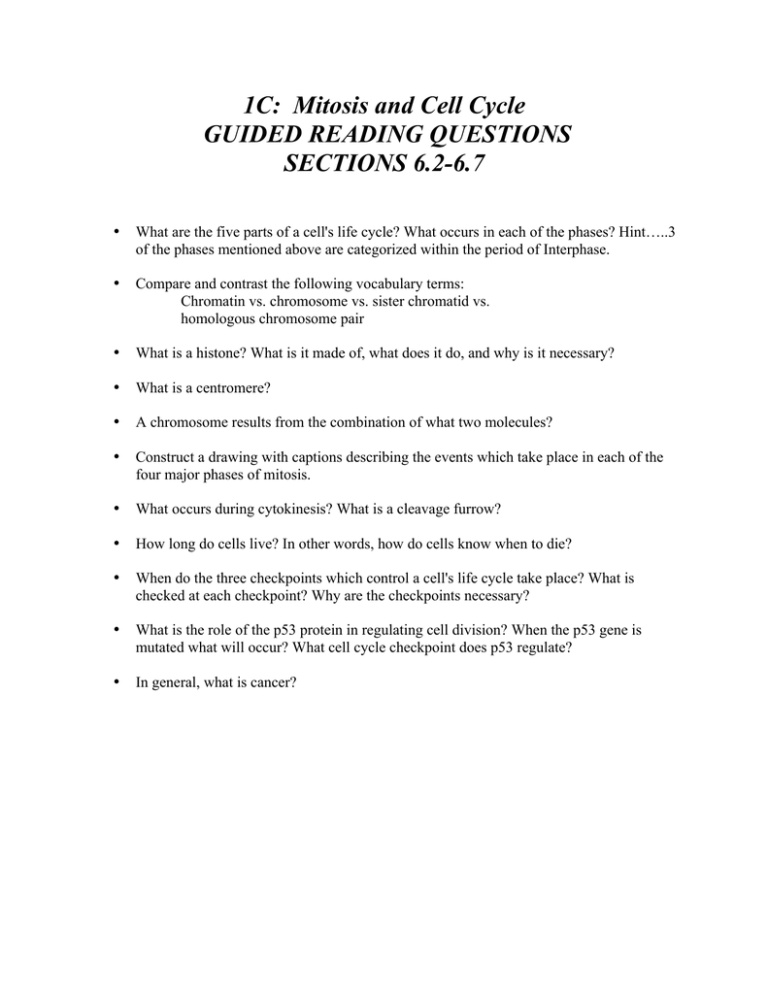 1C: Mitosis and Cell Cycle
GUIDED READING QUESTIONS
SECTIONS 6.2-6.7
•
What are the five parts of a cell's life cycle? What occurs in each of the phases? Hint…..3
of the phases mentioned above are categorized within the period of Interphase.
•
Compare and contrast the following vocabulary terms:
Chromatin vs. chromosome vs. sister chromatid vs.
homologous chromosome pair
•
What is a histone? What is it made of, what does it do, and why is it necessary?
•
What is a centromere?
•
A chromosome results from the combination of what two molecules?
•
Construct a drawing with captions describing the events which take place in each of the
four major phases of mitosis.
•
What occurs during cytokinesis? What is a cleavage furrow?
•
How long do cells live? In other words, how do cells know when to die?
•
When do the three checkpoints which control a cell's life cycle take place? What is
checked at each checkpoint? Why are the checkpoints necessary?
•
What is the role of the p53 protein in regulating cell division? When the p53 gene is
mutated what will occur? What cell cycle checkpoint does p53 regulate?
•
In general, what is cancer?