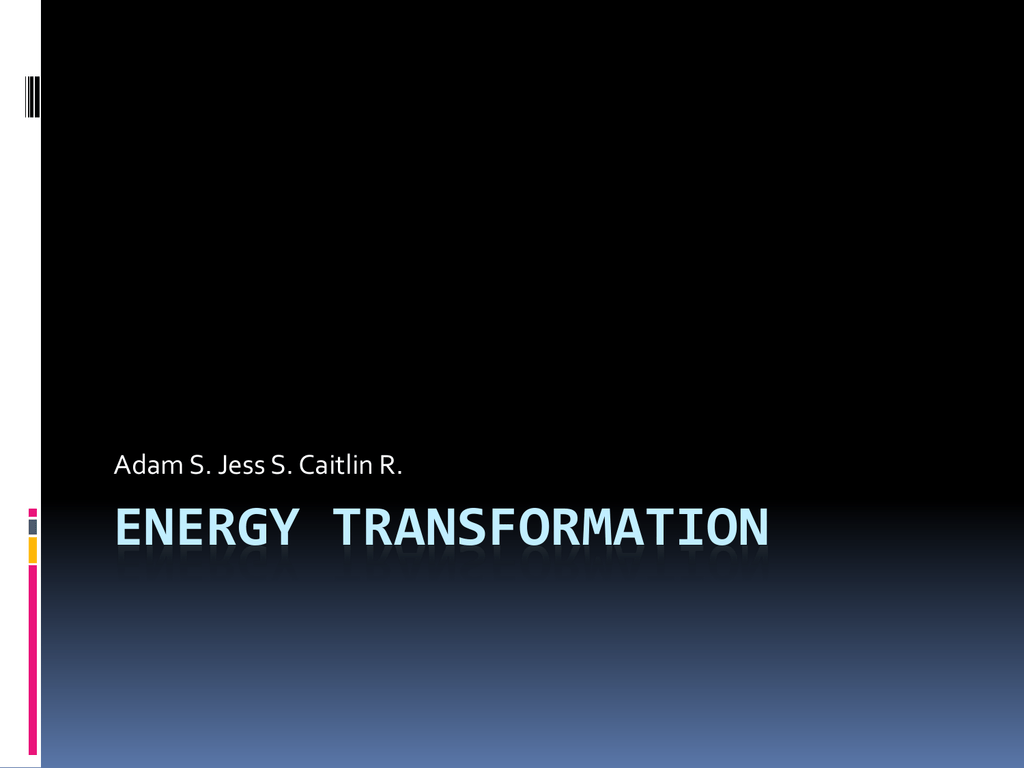 Adam S. Jess S. Caitlin R.
ENERGY TRANSFORMATION
Kinetic Energy
 RECTALINEAR: (x,y,z)
 ELECTRICAL: electric
movement
 VIBRATIONAL: back
and forth
 ROTATIONAL:
spinning (no velocity)
current
 EM RADIATION:
visible/invisible waves
(light, micro, gamma,
ect.)
 HEAT: any particle
movement (no energy
can be used without
some turning to heat)
How Boat Engine Works
 Pull start cord
 Air + fuel injected into piston




chamber
Piston compresses gas/air
mixture
Battery send energy to spark
plug
Spark plug ignites gas/air
Moves piston down which turns
shaft and moves next piston up
compressing next gas/air

Happens over and over again
 Shaft turns which turns propeller
Rectilinear
 Pull start cord
 Boat moves
Electrical
 Battery sends
electricity to spark plug
ignites fuel
EM Radiation
 Electric current creates
electromagnetic field
 Form of EM Radiation
Vibration
 Piston moves up and
down
 Hole motor vibrates
Rotational
 When pistons travel
up/down turns crank
shaft which turns drive
shaft which turns
propeller
 Another shaft turns
alternator which
charges battery
Heat
 All these energy
transformations create
heat
 Explosion
 friction
 Particle movement
VIDEO
http://www.youtube.com/watch?v=60QX5RY_ohQ&
feature=related
Citations













http://en.wikipedia.org/wiki/Internal_combustion_engine
http://www.partdiagrams.com/2010/03/bmw-b130-marine-engines-stern-drive-parts-diagram/
http://www.aowingins.com/Website/Marine.html
http://www.rctech.net/forum/onroad-nitro-engine-zone/59523-sts-28-pull-start-engine-18.html
http://janetairong.en.busytrade.com/products/info/100061/spark-plug-moto-battery.html
http://blogs.basspro.com/blog/outdoorsite-library/boat-battery-buying-guide
http://www.ndted.org/EducationResources/CommunityCollege/MagParticle/Physics/CoilField.htm
http://hawaii.hawaii.edu/math/Courses/Math100/Chapter2/Notes/Exercises/Demo233.htm
http://www.pt-boat.com/propeller/propeller.html
http://www.microficher.com/1996-yamaha-exciter-ext1100u-boat-crankshaft-piston-explodeddiagram
http://www.alistaircraven.com/java/basic/basic.htm
http://www.youtube.com/watch?v=60QX5RY_ohQ&feature=related
WELCH!!!