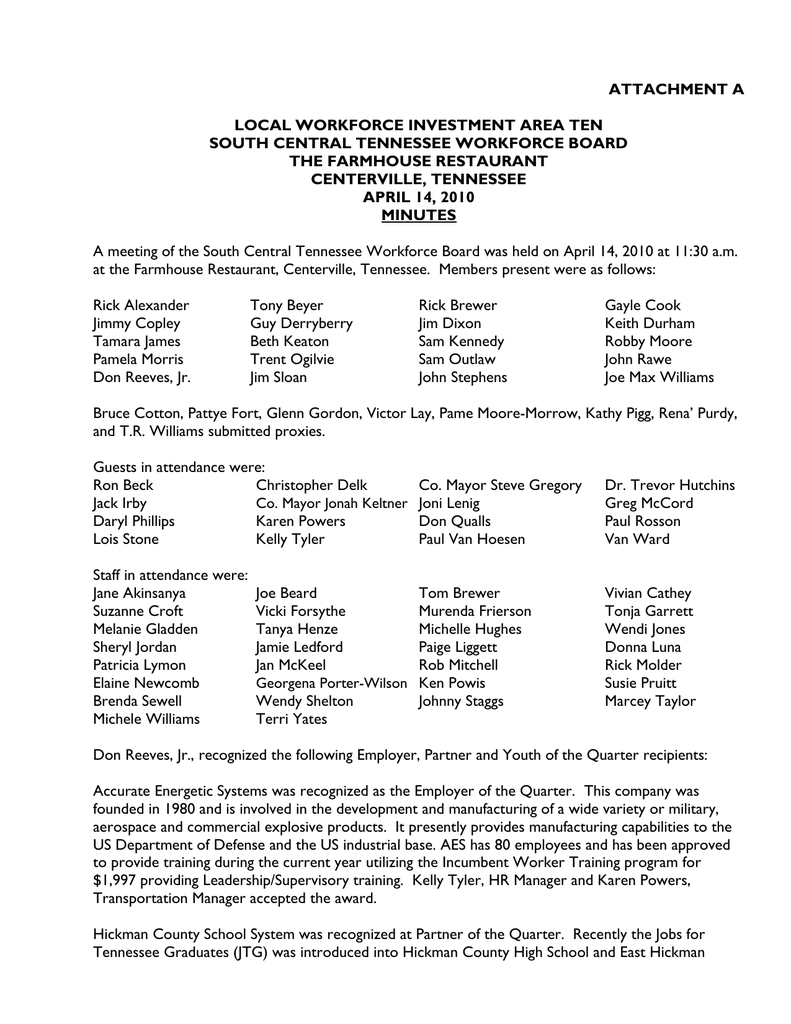 ATTACHMENT A
LOCAL WORKFORCE INVESTMENT AREA TEN
SOUTH CENTRAL TENNESSEE WORKFORCE BOARD
THE FARMHOUSE RESTAURANT
CENTERVILLE, TENNESSEE
APRIL 14, 2010
MINUTES
A meeting of the South Central Tennessee Workforce Board was held on April 14, 2010 at 11:30 a.m.
at the Farmhouse Restaurant, Centerville, Tennessee. Members present were as follows:
Rick Alexander
Jimmy Copley
Tamara James
Pamela Morris
Don Reeves, Jr.
Tony Beyer
Guy Derryberry
Beth Keaton
Trent Ogilvie
Jim Sloan
Rick Brewer
Jim Dixon
Sam Kennedy
Sam Outlaw
John Stephens
Gayle Cook
Keith Durham
Robby Moore
John Rawe
Joe Max Williams
Bruce Cotton, Pattye Fort, Glenn Gordon, Victor Lay, Pame Moore-Morrow, Kathy Pigg, Rena' Purdy,
and T.R. Williams submitted proxies.
Guests in attendance were:
Ron Beck
Christopher Delk
Jack Irby
Co. Mayor Jonah Keltner
Daryl Phillips
Karen Powers
Lois Stone
Kelly Tyler
Staff in attendance were:
Jane Akinsanya
Suzanne Croft
Melanie Gladden
Sheryl Jordan
Patricia Lymon
Elaine Newcomb
Brenda Sewell
Michele Williams
Joe Beard
Vicki Forsythe
Tanya Henze
Jamie Ledford
Jan McKeel
Georgena Porter-Wilson
Wendy Shelton
Terri Yates
Co. Mayor Steve Gregory
Joni Lenig
Don Qualls
Paul Van Hoesen
Dr. Trevor Hutchins
Greg McCord
Paul Rosson
Van Ward
Tom Brewer
Murenda Frierson
Michelle Hughes
Paige Liggett
Rob Mitchell
Ken Powis
Johnny Staggs
Vivian Cathey
Tonja Garrett
Wendi Jones
Donna Luna
Rick Molder
Susie Pruitt
Marcey Taylor
Don Reeves, Jr., recognized the following Employer, Partner and Youth of the Quarter recipients:
Accurate Energetic Systems was recognized as the Employer of the Quarter. This company was
founded in 1980 and is involved in the development and manufacturing of a wide variety or military,
aerospace and commercial explosive products. It presently provides manufacturing capabilities to the
US Department of Defense and the US industrial base. AES has 80 employees and has been approved
to provide training during the current year utilizing the Incumbent Worker Training program for
$1,997 providing Leadership/Supervisory training. Kelly Tyler, HR Manager and Karen Powers,
Transportation Manager accepted the award.
Hickman County School System was recognized at Partner of the Quarter. Recently the Jobs for
Tennessee Graduates (JTG) was introduced into Hickman County High School and East Hickman
County School through the use of video conference technology to reach students at both schools with
one instructor.
For students as they prepared for the ACT exam in March. Students were
provided with Test Taking Strategies Workshop during the days leading up to the test. Don Qualls,
Vocational Education Director and Greg McCord, Assistant Director of Schools, accepted the award.
Christopher Delk recognized as Youth of the Quarter. Mr. Delk, a senior at East Hickman High
School, recently placed first in Telephone Techniques at the 1st Annual Jobs for Tennessee Graduates
Regional Conference in Linden, Tennessee. This achievement allows him the opportunity to
participate in the State Competition in Nashville on April 19 and 20. Mr. Delk serves as Vice President
of the JTG Tennessee Career Association and is working in cosmetology at the Beacon Light in
Fairview. He will be pursuing a career in cosmetology after high school graduation.
The meeting was called to order at 12:05 p.m.
The minutes from the January 13, 2010 meeting were approved by consent.
Don Reeves, Jr., Chairman, selected Robby Moore, Sue MacArthur, Jim Sloan, Gayle Cook, and Sam
Outlaw so serve as the Nominating Committee for 2010-12 Board Election.
Suzanne Croft, Director of Fiscal and Administrative Services, briefly reviewed the Resource Sharing
Agreement Budgets. She stated it shows the estimates of the partners share of expenses in the career
centers where they are co-located. The partners are South Central Tennessee Workforce Alliance,
Tennessee Department of Labor and Workforce Development, Vocational Rehabilitation, and Adult
Education. Mr. Reeves asked for a motion to approve the Resource Sharing Agreement Budgets. Guy
Derryberry made the motion to approve. Trent Ogilvie seconded the motion. The motion was
passed.
Mr. Reeves deferred to Brenda Sewell to talk about new training requests . Ms. Sewell asked that
representatives from each provider talk about their respective program requests:
Paul Van Hoesen, Director of cTechnology, Inc., briefly talked about the Open Source Programming
Course including PHP (Personal Home Page), Drupal, and JQuery (Online Web-based Training )
provided by Tennessee State University request to be added to Tennessee Eligible Training Providers
List. This four to six month program at a cost per of $4,995.00 students can obtain a Zend PHP
certification. Staff recommended adding the Open Source Programming Course to the Tennessee
Eligible Training Provider's List.
Dr. Trevor Hutchins, Associate Dean, School of Education, from Belmont University talked about the
Teacher's Certification in Math or Science program; cost per for Bachelor's $14,400.00 and Master's
$3,600.00. Staff recommended the Teacher's Certification (Bachelor's program) as a special class and
adding both Bachelor' and Master's programs to Tennessee Eligible Training Provider's List.
Joni Lenig, Assist Vice President of Faculty Student Curriculum, Columbia State Community College,
briefly talked about the Health Information Technology program provided by Volunteer State
Community College and Columbia State Community College; cost per $12,068.70. Staff
recommended adding the Health Information Technology program as a special class.
Rick Brewer, Director of the Tennessee Technology Center at Hohenwald, briefly talked about the
Electronics Technology program; cost per $8,909.00. Staff recommended adding the Electronic
Technology program as a special class.
Mr. Reeves asked for a motion to accept staff's recommendations on all the program requests
presented with the approvals from the Daily Operations Committee and Executive Committee. Jim
Sloan made the motion. Sam Kennedy seconded the motion. Rick Brewer abstained from voting. The
motion passed.
The Youth Proposals for 2010-11 were tabled until the July Workforce Board meeting.
Sheryl Jordan, Director of Career Center Services, briefly reviewed and discussed the Paid Internship
Policy. Mr. Reeves asked for a motion to approve staff's recommendation on the Paid Internship
Policy. Rick Alexander made the motion. John Rawe seconded the motion. The motion was passed.
Ms. Croft briefly reviewed the Fiscal Update Summary showing the different funding sources for 20092010 Budget Highlights. Ms. McKeel mentioned a grant for $3 million to fund for the Marshall County
Recovery Project. Ms. Croft mentioned that the audit report is pending approval by the South
Central Tennessee Workforce Board of Directors. She also introduced Jane Akinsanya and the new
Director of Fiscal Services.
Director's Update on:

Best of the Best – the Nashville Business Journal is hosting a Best in Business luncheon on April
22 in Nashville where the South Central Tennessee Workforce Alliance was selected as one of
the finalist in the non-profit organization category.

Northfield Update – Over 200 customers started or completed courses. There are 8 different
courses offered at Northfield. Northfield is also the location for Project 2010 luncheon on
April 16 and on May 5 a regional partnership meeting will be held that includes representatives
from local regional government, economic and community development..

Perry County Recovery Program – Several job fairs have been held in Linden and approximately
433 jobs have been filled.

Marshall County Recovery Program – Job fair is scheduled for April 20th from 9 a.m. to 2 p.m.
at the Lewisburg Recreation Center. A $3 million grant from the Tennessee Department of
Human Services will be used to serve eligible individuals in Marshall County. Tia Anderson was
appointed as Project Manager for this program.

State Plan Recommendation – 2010 Plan is being recommended for approval.

Jobs for Tennessee Graduates Competition Update – JTG Regional Competition was held a
Camp Linden, Linden Tennessee. 125 students competed in various categories. First place
winners would go on to compete at the state level. The JTG program is currently in 15 schools
in our 8 county area.

Race to the Top – The U.S. Department of Education awarded $500 million to Tennessee
school systems.

TACIR Report – A report that looked at areas on a regionalism concept.
The remaining information items were deferred to the Board to review at their convenience.
The meeting adjourned at 12:52 p.m.