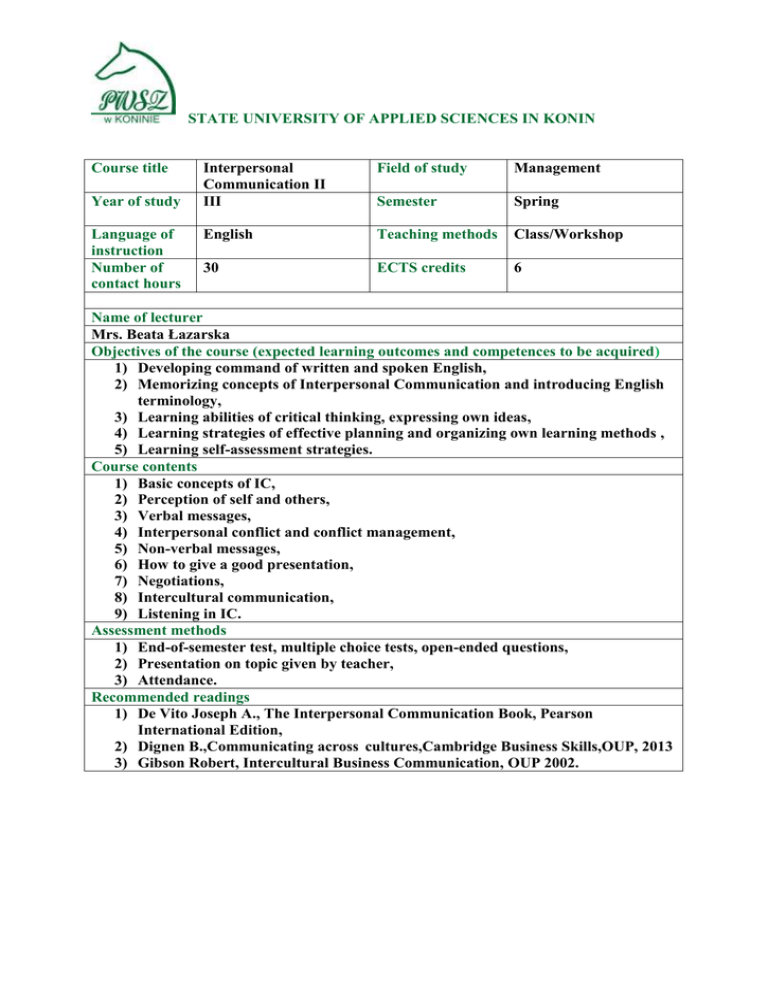 STATE UNIVERSITY OF APPLIED SCIENCES IN KONIN
Course title
Year of study
Language of
instruction
Number of
contact hours
Interpersonal
Communication II
III
Field of study
Management
Semester
Spring
English
Teaching methods
Class/Workshop
30
ECTS credits
6
Name of lecturer
Mrs. Beata Łazarska
Objectives of the course (expected learning outcomes and competences to be acquired)
1) Developing command of written and spoken English,
2) Memorizing concepts of Interpersonal Communication and introducing English
terminology,
3) Learning abilities of critical thinking, expressing own ideas,
4) Learning strategies of effective planning and organizing own learning methods ,
5) Learning self-assessment strategies.
Course contents
1) Basic concepts of IC,
2) Perception of self and others,
3) Verbal messages,
4) Interpersonal conflict and conflict management,
5) Non-verbal messages,
6) How to give a good presentation,
7) Negotiations,
8) Intercultural communication,
9) Listening in IC.
Assessment methods
1) End-of-semester test, multiple choice tests, open-ended questions,
2) Presentation on topic given by teacher,
3) Attendance.
Recommended readings
1) De Vito Joseph A., The Interpersonal Communication Book, Pearson
International Edition,
2) Dignen B.,Communicating across cultures,Cambridge Business Skills,OUP, 2013
3) Gibson Robert, Intercultural Business Communication, OUP 2002.