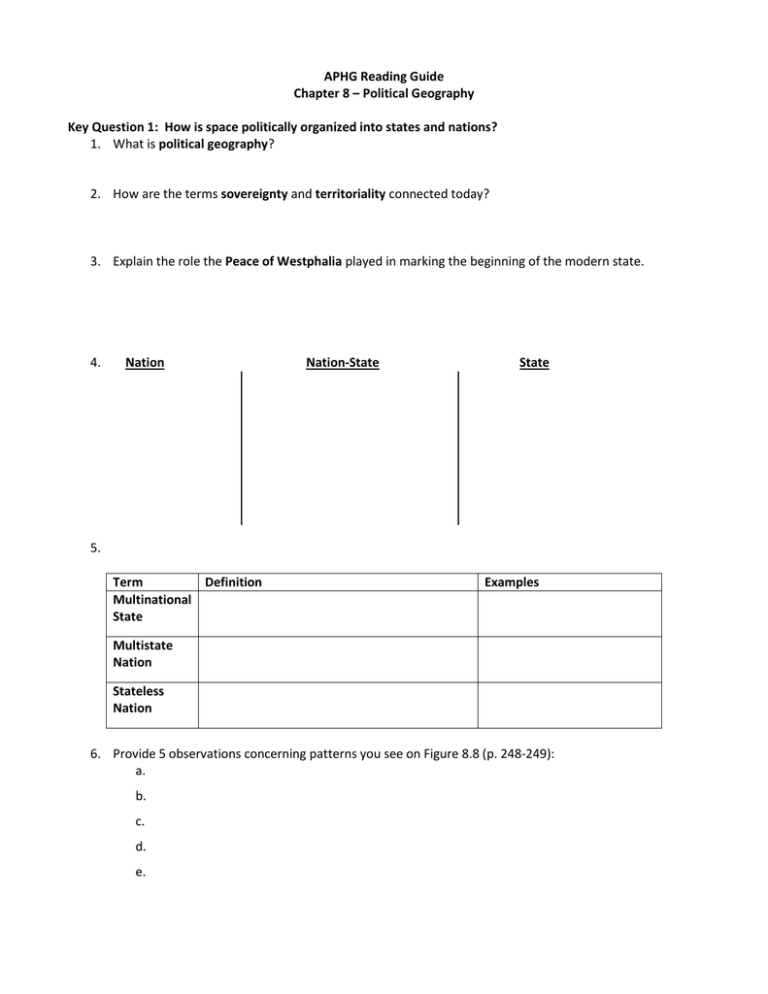 APHG Reading Guide
Chapter 8 – Political Geography
Key Question 1: How is space politically organized into states and nations?
1. What is political geography?
2. How are the terms sovereignty and territoriality connected today?
3. Explain the role the Peace of Westphalia played in marking the beginning of the modern state.
4.
Nation
Nation-State
State
5.
Term
Definition
Multinational
State
Examples
Multistate
Nation
Stateless
Nation
6. Provide 5 observations concerning patterns you see on Figure 8.8 (p. 248-249):
a.
b.
c.
d.
e.
7. World Systems Theory
a. Author:
b. 3 basic tenets:
i.
ii.
iii.
c. Key economic principal behind the theory:
d. Use Figure 8.10 to explain the location and interdependence of the core, semi-periphery and
periphery.
Key Question 2: How do states spatially organize their governments?
8. Define and give 2 examples of each:
a. Centripetal Forces
b. Centrifugal Forces
9. How does a unitary system of government differ from a federal system of government?
10. Devolutionary Forces:
Type of Force
Description
Ethnocultural
Economic
Spatial
11. When or why does reapportionment occur?
12. What is a majority-minority district? Do we have any here in Texas?
13. What is gerrymandering?
Specific Examples
Key Question 3: How are boundaries established and why do boundary disputes occur?
14. Boundary Disputes
Type
Description
Examples
Definitional
Locational
Operational
Allocational
Key Question 4: How do Geopolitics and critical Geopolitics help us understand the world?
15. Two schools of thought in geopolitics:
a. The German School
i. Key author:
ii. Main ideas:
b. The British/American School
i. Key author:
ii. Main ideas:
16. How has the geopolitical world order changed over time (Mid 1940s – present day)?
Key Question 5: What are supranational organizations and what is the future of the state?
17. What is a supranational organization? How does it differ from a state?
a. What might be advantages membership offers?
b. What might be some disadvantages?
18. Explain the UN's role as a supranational organization. How has it changed over time?
19. What is the EU's role as a regional supranational organization? How has it changed over time?
20. How has globalization posed challenges for the state? Has it increased or diminished the power a state
has?