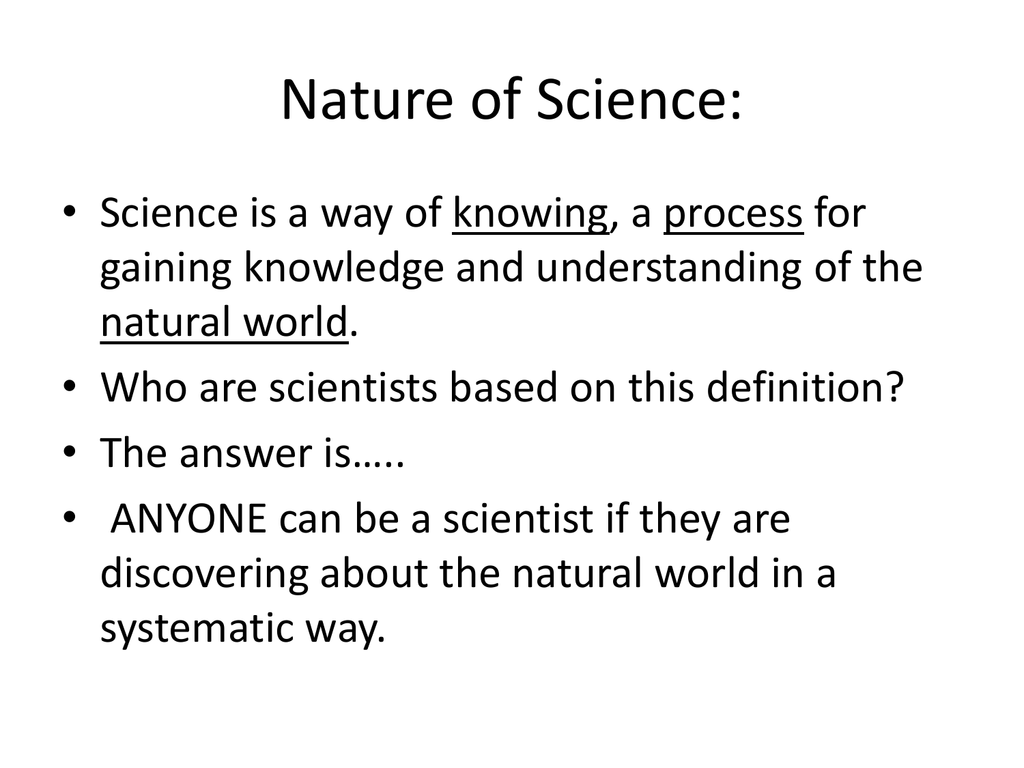 Nature of Science:
• Science is a way of knowing, a process for
gaining knowledge and understanding of the
natural world.
• Who are scientists based on this definition?
• The answer is…..
• ANYONE can be a scientist if they are
discovering about the natural world in a
systematic way.
Nature of Science Discussion
• Take some time and determine whether or
not you can qualify being a scientist. Please
write down why you can be a scientist even
though you are an 8th grade student.
• Name someone in your family or who is close
to you, that is a scientist and why.
– Remember, if they are finding out about the world
in a systematic way, then they are a scientist.
Nature of Science:
• Each science process is unique depending on: 1)
what is observed and 2) how scientists modify
(change) their conceptual models and their
experiments.
• Mrs. Walker will show you one scientific method that
as we go through this scientific process. (These
slides are in a different color so you know not to
write notes on these slides.)
• Here are some of the processes in a scientific
investigation:
Form a research question.
•
Sometimes when we observe something in the
natural world we may have many questions.
However, when we want to collect data to find
out our answer, we choose one question so we
test one question at a time.
How do peacock butterflies
avoid being eaten?
Main Points from the research
conducted before the experiment:
 Peacock
butterflies are eaten by birds
 They are camouflaged with wings closed
but open wings to show bright "eyespots"
when threatened
 The butterfly wings make a variety of
noises as they open
 Some of the birds do not eat the
butterflies after the butterflies open their
wings
Discuss possible outcomes of
investigation
• Both of these steps would include;
• Researching on the topic and
– Which I discussed I did in the last slide.
• Creating a model.
– I came up with a visual way to show what I thought.
– What one ends up deciding to test on is considered
the Hypothesis.
Identify variables.
• A variable is anything that can change the
experiment.
• There are three different variables.
– Independent variable: what you test.
– Constant variables: what is not tested is kept the
same between test groups.
– Dependent variable: the results (how it is
measured)
• Control groups: sometimes occur if one wants to
compare what would normally happen. A control
group is the norm.
~ Try to determine in your groups what the variables are
in my experiment.
Variables
 Independent
Variable- Butterfly
characteristic (noise, eyespots, both)
 Constant
Variables- Type of butterfly, type
of predator, time since predator's last
meal, time of day, approximate size of
butterfly
 Dependent
Variable- Result of
predator/butterfly interaction
(Did the butterfly get eaten?)
Experimental Groups
Butterfly with
Eyespots
Painted Over
Butterfly with
no eyespots or
noise maker
Butterfly with
noise maker
removed
Plan procedures to control
independent variable
• As much as to the extent possible, plan to
control the constant variables and only test one
independent variable.
– The experiment I've shown was tricky to control,
they had to make sure the paint didn't affect
whether or not the butterflies were eaten and that
the predators and butterflies were as similar to each
other as possible!
Experimental Groups (Top) and
Control Groups (bottom)
Collect data on the
dependent variable.
• You should know ahead of time how you will be
collecting the data.
• Then when the experiment is occurring you will
be prepared to record the data as it comes.
– If you choose to record something that happens
during your day, you need to record it
– Example: time between meals and stomach rumbles
Data
Select appropriate format
to summarize data
obtained.
• Some ways that you can analyze the data
appropriately are through:
– Graphs
– Charts
– Diagrams
• Etc.
Results
Analyze data and construct
reasonable conclusions.
• Think about what worked and what didn't
work before coming up with a main
statement.
• Many scientists must say that data was
inconclusive (meaning it didn't work)… but
this gives them the chance to change their
experiment and try again.
• - This whole process relies on inference: which
is to make a strong assumption based on the
data that is collected.
Conclusion
 Eyespots
provide peacock butterflies with
the effective defense against bird
predators. Sound made by the butterfly's
wings does not seem to be as important
as the eyespots in startling predators.
Prepare written and oral
reports of the
investigation.
• Include questions, models, experimental plan,
data, graphs etc. …
• It may also include limitations of the study, what
needs to be improved, and a revised model.
Which Laundry Detergent is
Best?
Mitchell Stone
3rd Hour
Hypothesized Result and Why
TYPES OF DETERGENT
Will work Best
Higher Cost
Popular Brand
Will work 2nd Best
Also a popular brand
Higher Cost
Works 3rd Best
Lower Cost
Not as Popular
Will work the Worst
Lower Cost
Not seen as Frequently
Stains, Material of
Towels, Amount of
Detergent, Water
Temperature, Time of
Agitation
CONSTANT VARIABLES
Using 4 different detergents
INDEPENDENT VARIABLES
Stain Makers
Stains applied to Towels
How well the
Stains come
out
DEPENDENT
PROCEDURES OF CONTROL
1.
2.
3.
4.
5.
6.
7.
Apply stains to towels & allow to dry
Measure ½ cup detergent
Add water at 125o F
Soak for 1 minute then Agitate for 2
minutes in closed container
Wring out excess water
Repeat steps 2-5 twice per detergent
Record results in a data table
Procedures of Control
Results of Procedures
Results of Procedure
Results of Procedure
Results of Procedure
Model:
• She should have a model of what she thinks
would work and why
Select an Appropriate Format
• Her data would be much more
understandable if she created a graph on
which treats were selected the most (the
number of times).
After The Three Trials, I Concluded
That Each Dog Preferred A
Different Treat Each Time, But
Their Choices Were Much Different
Than The Others.
Science Experiment
By Kurt Olsen
Topic of Interest:
Boiling Water
Investigation Question:
Does the Altitude affect the Temperature at
Which Water Boils?
Hypothesis:
My hypothesis is that if the water is boiled
closer to sea level, then the temperature at
which the water will boil will be hotter.
(Lower Elevation means Hotter Temperature)
Possible Outcomes as a Model
Experiment
1. Boil water in a pot.
2. Take the temperature of the water.
Control/Constant Variable:
I used only water and the same amount of
water. - Same kind and size of pot.
Independent Variable:
The different altitudes at which the water is
brought to a boil.
Dependent Variable:
The temperature at which it boils
At sea
level the
water
boiled at
about
212°F.
At about
4500 ft.
above
sea level
the
water
boiled at
203°F.
Results:
212
210
208
Sea
level
4500
Ft.
206
204
202
200
198
Boiling Point
Conclusion:
My hypothesis was correct. The closer to
sea level, the hotter the water is when it boils.
That is because at sea level, there is more air
pressure pushing down on the water then
there is at 4500 ft. above sea level. The air
pressure makes it harder for the water to boil.