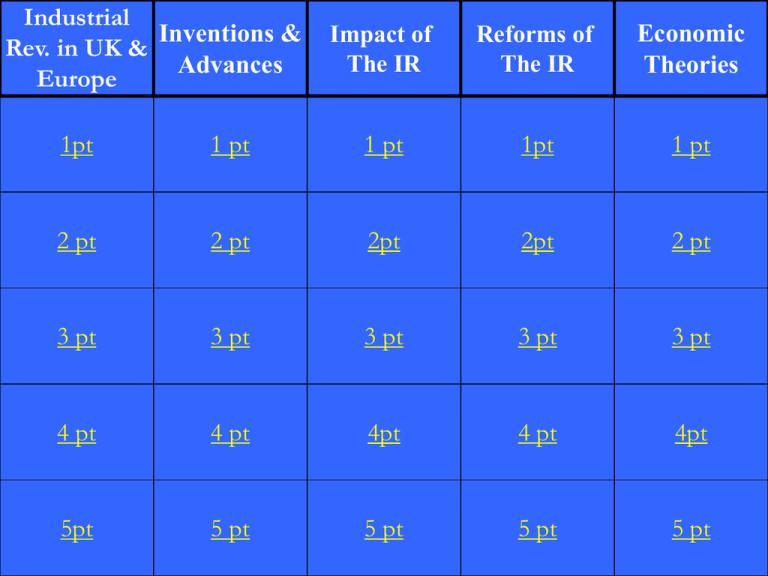 Industrial
Inventions &
Rev. in UK &
Advances
Europe
Impact of
The IR
Reforms of
The IR
Economic
Theories
1pt
1 pt
1 pt
1pt
1 pt
2 pt
2 pt
2pt
2pt
2 pt
3 pt
3 pt
3 pt
3 pt
3 pt
4 pt
4 pt
4pt
4 pt
4pt
5pt
5 pt
5 pt
5 pt
5 pt
This was the first industry
to industrialize.
What is the textile
industry?
1
These two continental
European countries worked
with England to learn
industrial techniques.
What were Belgium and
Germany?
2
These are the three
factors of production.
What are land, labor &
capital?
3
This is the name of the
practice of wealthy
English landowners to
experiment in part of their
fields to increase
efficiency.
What are enclosures?
4
List four reasons why England
was the first European country
to industrialize.
What were…
(1) Entrepreneurs
(2) Expanding economy
(3) Sophisticated finance
(banking) system
(4) Form of government
(5) Climate of progress?
5
This was arguably the single
most important invention of the
Industrial Revolution, because it
powered so many things, from
railroads and ships to factories.
What is the steam engine?
1
This was an agricultural
advance that involved moving
grains to different fields to
increase production and avoid
exhausting the soil.
What is crop rotation?
2
This was a location where
expensive machinery was
united with workers to
produce goods.
What is a factory?
3
These are four textile industry
inventions that were part of our
Industrial Revolution game
AND part of our review of that
industry in class.
What are …
1)
2)
3)
4)
5)
4
Flying shuttle
Spinning jenny
Spinning mule
Steam Powered loom
Water Frame?
These are four effects of the
development of railroads.
1)
2)
3)
4)
5)
5
What are …
Spurred economic growth
Creation of 1000s of jobs
Boosted agricultural
production
Made migration easier
Killed canal industry
Complete the following
sentence: "The rich got
richer and the poor…"
What is "got poorer"?
1
As the industrial revolution
progressed, economic power
was concentrated in the
hands of these two regions or
continents.
What are Europe and
America?
2
These are three of the dangers
of working conditions in
Industrial Revolution-era
workplaces, mills, and mines.
1)
2)
3)
4)
5)
6)3
What are …
no safety devices
Few / no windows
No heat during the winter
Textile / mine workers
developed lung conditions
Dangers to steel workers
Cave ins, for miners
This is the explanation as to
how imperialism developed
from the Industrial Revolution.
What is industrialized
nations needed raw materials
to make their goods and vast
markets to sell their
products; non-industrialized
countries fit both those
needs?
4
DAILY DOUBLE!!!
Pick another question /
category and the points of
that question will be
DOUBLED!!!
DAILY DOUBLE!!!.
5
This law made it illegal for
women or children to work
more than ten hours in a day.
What is the Ten Hours
Act?
1
Poor people lived in the inner
part of cities, in these buildings
(it is a synonym for apartment
building).
What were tenements?
2
This is what the Mines Act did.
What is forbid women and
children from working
underground?
3
The first groups to organize
in the labor movement
formed these kinds of
organizations, based around
their occupation.
What were trade unions?
4
These are the options available
to workers to protest against
their employers, AND the
options available to an employer
in response (two part answer:
options for workers and options
for employers).
What is / are . . .
Workers: strike or slow
down production;
Employers: give in to
demands or suffer loss of
production (fire workers is
ok)?
5
"Workers of the world, unite!"
is a slogan for believers in this
economic theory.
What is communism?
1
This is the literal translation of
"laissez faire", from French.
What is "hands off"?
2
Achieving this idea is
socialism's goal or aim; it
justifies that theory's belief that
government should control key
industries in an economy.
What is social justice?
3
These are the three "natural
laws" of Adam Smith's "Wealth
of Nations."
What are …
1) People work for their own
benefit
2) Competition (forces people
to make better goods)
3) Supply and demand?
4
This is the process by which
Marx and Engels believed
that a communist society
would be achieved in an
industrialized society.
1)
2)
3)
4)
5
What is …
Big business would destroy
the bourgeoisie
A few capitalists would
control all wealth
Proletariat would revolt
State would wither away?