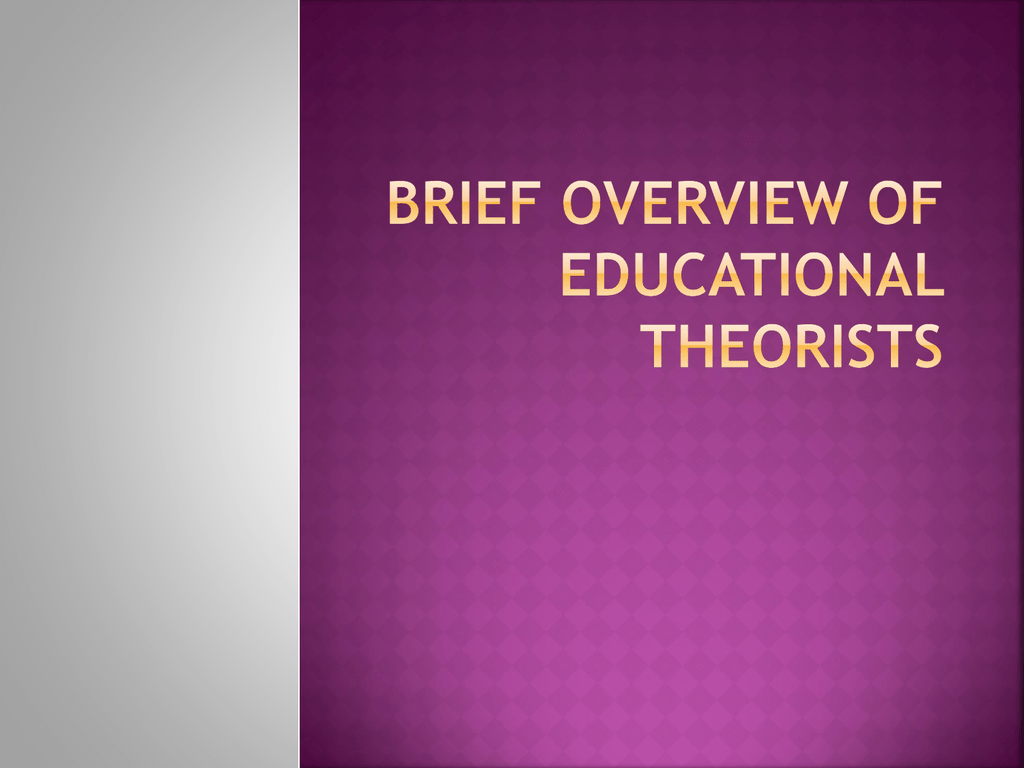  Humanism
 Psychologist—Father
of client-centered
therapy
 Student-directed
 Each
child reacts or responds based on his
perception of the world
 Erik
Erickson's theory of
psychosocial development is
one of the best-known theories
of personality in psychology.
Erikson believed that
personality develops in a series
of stages, and his theory
describes the impact of social
experience across the whole
lifespan.
 Psychosocial
Stage 1 - Trust vs. Mistrust
 Psychosocial Stage 2 - Autonomy vs. Shame and
Doubt
 Psychosocial Stage 3 - Initiative vs. Guilt
 Psychosocial Stage 4 - Industry vs. Inferiority
 Identity vs. Role Diffusion (12—18 years).
 Intimacy vs. Isolation (young adulthood).
 Generative vs. Stagnation (adult middle years).
 Ego Integrity vs. Despair (older years).
--1859-1952
• Pragmatism
• Traditional
and
Progressive
Education
•
•
•
•
•
•
•
Experiential Learning
Improving the human
condition—societal purposes
and individual purposes
Teacher-directed
Continuity
Interaction
Learning is active
Children should be involved
in real-life tasks
 Burrhus
Frederic Skinner
 Behaviorism
 Behavior
is formed by its consequences
(reinforcements or punishments)
 Computer-based
self instruction
Father of Operant Conditioning
developmental
psychologist
known for his
sociocultural perspective
Constructivism


Vygotsky posited two types of psychological
functioning: "natural," consisting of biological
growth, both physical and cognitive development;
and "cultural," consisting of learning to use
psychological and cultural tools, including signs,
symbols, and language

He suggested that learning and development are
facilitated in a hypothetical region called the
zone of proximal development (ZPD).

Scaffolding
a psychologist and professor at Harvard
 Graduate School of Education,

challenged the view that something
called "intelligence" can be objectively
measured and reduced to a single number or "IQ"
score.


definition of intelligence is multifaceted

Project Zero, at Harvard

intelligence can be learned and improved upon
throughout a lifetime.

Maria Montessori
(1870 - 1952)
 Student-centered
 Experiential Learning
 Supports the natural
development of
children
 Encourages creativity,
problem solving and
critical thinking

Children develop self-care
skills
first woman in Italy to qualify as a
physician
 children
learn best in a "child-sized"
environment
 stimulating and inviting
 offers beauty and order
 child chooses own work
 activities have meaning and purpose
 hands-on; self-correcting; sensorial;
didactic
 daily living skills practiced
 conceptual.