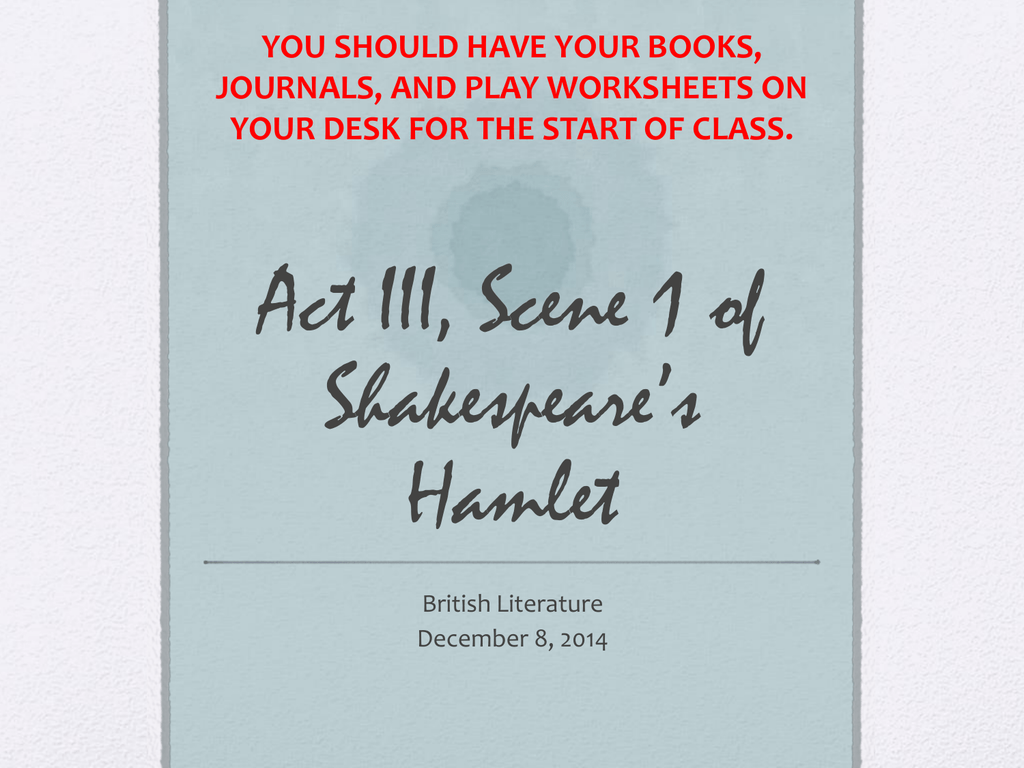 YOU SHOULD HAVE YOUR BOOKS,
JOURNALS, AND PLAY WORKSHEETS ON
YOUR DESK FOR THE START OF CLASS.
Act III, Scene 1 of
Shakespeare's
Hamlet
British Literature
December 8, 2014
A Little Hamlet Humor
Objectives
• Students will be able to analyze various
interpretations of characterization in William
Shakespeare's Hamlet.
• Students will be able to have fun (if they choose)
to perform and enjoy Hamlet.
HOW?
• Performance of Act III, Scene 1
• "To Be or Not To Be" Soliloquy Comparisons
Performances of
Act III, Scene 1
ACTORS
• Entertain us with your interpretations of your role.
• Remember to clip your name tag in a clear, visible place.
• Use a different accent each time you accept a new role.
AUDIENCE
• Enjoy the show and jot down notes in your Records journal,
character chart, and literary elements worksheet.
• For each scene, record a summary of the scene, significant
quotes (key word with line numbers), and a reaction
(question, comment, prediction, analysis)
"To Be or Not To Be" Analysis
& Comparison Journal
We are going to watch five different versions of Hamlet's famous "To Be or Not to
Be" soliloquy. In your journal, analyze each version and record your conclusions in
the following chart:
Version
Kenneth Branagh
(1996)
Lawrence Olivier
(1948)
Mel Gibson (1990)
Richard Burton
(1964)
David Tennant
(2009)
What do you notice about
this Hamlet's soliloquy?
What makes this version unique
compared to the others?